Creative Landscaping Ideas


For Eye Catching Projects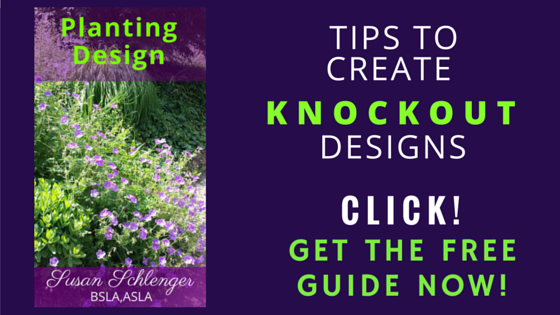 Here are some great landscaping ideas to help you design in an artistic and professional way. In case you are wondering, I am a graduate of Rutgers University with a degree in Landscape Architecture.
You might be needing help with some of the following landscaping issues.
Learn more about special garden features you can add as focal points such as beautiful sundials.

Please read on to find out about many landscaping ideas used for my clients!
Front Yards
What do you and others see when they first approach you house? The front yard, of course! That is why many homeowners struggle over such things as foundation plantings, front walkways, and all the other parts of designing a front yard.
Visit Front Yard Landscapes


Back Yard Ideas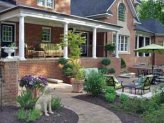 Landscaping ideas for a backyard...eek! Patios, walkways, plantings, play areas...where to start? Educate yourself and start with a plan, or higher a landscape designer!
Backyard Landscaping
Patio Designs
Photos of Backyard Design
Focal Points

Screening You Property
Sometimes you might want landscaping ideas for:
privacy from neighbors
to block out an unwanted view
attractive property line plantings
Or you may desire all of the above! There are various ways to create screening.
Read more: Privacy Plantings

Screening Techniques

Plant evergreen trees, but stagger them to make a softer line.

Place ornamental trees at various points in front of the evergreen trees. The trees should have a nice feature, such as interesting bark or showy flowers so that they stand out against the evergreen trees.

Groups of shrubs and perennials can also be added to the design. When using a particular shrub, try to use at least five. This will be more dramatic.

Go here to learn about some great fast growing privacy trees.
You might also be interested in reading about Outdoor Garden Rooms, which can be private areas on your property to meander to and enjoy.

Also visit:
Inexpensive Landscaping Ideas - your design does not have to break the bank!
Foundation Planting Design
I get so many questions about foundation plant designs. A great design can be achieved by using evergreen shrubs along the house with perennials in front.
Be sure to add trees at house corners and a taller shrub here and there.
Foundation Plants

Tips For Foundation Plantings
Use the right size plants. Know the size a plant will be when it is full grown. This provides for a low maintenance design also...no trimming!

Try to keep mostly one kind of evergreen shrub as the background layer for unity. If you would like to add an additional variety, place this group towards the center.

Place lower shrubs in groups of a minimum of 3 (preferably 5 or more) in front of the taller background shrubs. Use just a few types.

Place perennials in the front layer. Use 5 to 9 of each kind. Groundcover can be used with perennials or alone for lower maintenance.

Place landscape trees at house corners and one tree near the front door. My Favorite - Red Maple "October Glory"


Designing Your Patio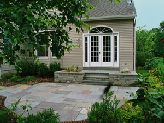 Sure...you want a patio!
But what material will you use?
What shape will it be?
What are you going to do to make it special?

See more Patio Pictures



Designing Your Driveway
Whether you want a straight driveway with some pizzazz or an elegant circular drive, there are still paving materials, plantings and drainage to consider. Take a look at some of my professional tips, drawings and photos.
Interesting Walkways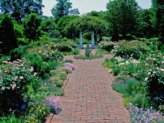 Swimming Pool Ideas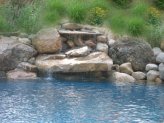 Swimming pools can be made exciting with the addition of waterfalls, spas, and beach edges (tanning shelves). Waterfalls should be built within a higher elevation to look natural.
Swimming Pool Designs
Pool Pictures



Professional Landscape Designs

AutoCad Drawings
Take a look at the detail that can be provided in professional landscape designs. These design examples show some great patio ideas too.
Landscape Design Drawings
Patio Pergola Drawing
Patio Pond Drawing



Landscape Designs in 3D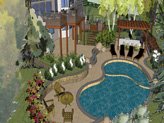 There is nothing like a 3D landscape design to help you envision your project! See what you like, what you don't and what you might like different.

3D Landscape Designs




Other Interesting Pages:
Landscaping Cost - how much do things really cost?!
Sketchup - 3D landscape design sofware
Further Help With Front Yards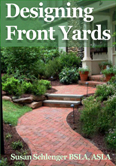 Designing Front Yards
Learn some great tips on how to create a front yard design that will really be unique and special! Confused about front foundation plants? Are you not sure where to place your plants? Do you want some low maintenance colorful perennials? You will find out about all that and more...take a look.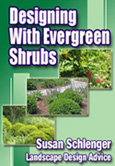 Designing With Evergreen Shrubs
Take a look at this ebook which has professional landscaping ideas, plant recommendations and pictures. You will find out how to use plants together to create an outstanding design and find out which are the right plants to use for your property.



More Ideas
Sundial clocks
Bird bath fountains
Solar bird baths
Fall landscape


Outdoor Lighting
Lighting - ideas and tips
Types of Lighting
Lighting Contractors
Solar Lighting
Old Fashioned Gas Lights


You might also like to add an interesting landscape structure such as a garden trellis on your house or free standing. A friend of mine has a great shed on it with a green roof which is really unique!


Thinking About a Career In Landscape Architecture?
Landscape Architecture Education
Careers in Landscape Architecture
Landscape Architecture Schools


If you are considering a large project, you may want an equity loan.
In addition, you might enjoy visiting About.com Landscaping - great ideas and information on landscape design.
All of these landscaping ideas follow principles of good landscape architecture, with my own personal twist. Try using them in your landscape design and I think you will find that your garden will be above and beyond the ordinary!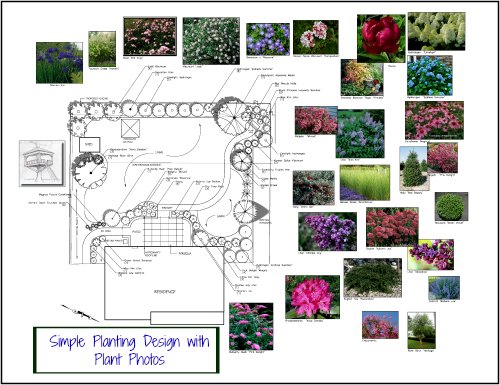 Landscape Design Questions & Answers
Do you have a Landscape Design question or a situation that you would like some help with? Patio design questions? Paving material confusion? Flower garden design advice? This is the place to ask! I only ask that questions be design related...thanks!

I decided to create this section due to the many questions people have regarding Landscape Design.

The idea is - Ask one, or Answer one!

You may ask a question yourself, comment on or answer questions of others, and rate comments too. All helpful comments will be greatly appreciated!
Other Vistiors' Questions and Answers!
Click below to see questions and answers from other visitors...
If you enjoyed this page, please share it!