Designing With Evergreen Shrubs
Learn About The Very Best Plants To Use


With my detailed ebook, Designing With Evergreen Shrubs, you will learn how to choose the best evergreen shrubs for your landscape. I have included what I consider to be 18 of the best ones to use in the landscape...and I tell you why.


What's in the Book?

Personal recommendations of more than 18 evergreen shrubs.


Each plant's correct planting zone range.


Height and width of each plant in the book.


Sun/shade requirements for every plant.


Pictures from my projects showing specific plants and my comments.


Tips on creative plant placement.


Examples of plants that look beautiful together.


Designing the front foundation planting.


Working with textures and heights.


Achieving seasonal color and interest.


Deer resistant evergreen shrubs.


Planting on a slope.


Screening with evergreen shrubs.


Integrating deciduous shrubs and perennials for color.


How to plant with masses to create the most striking effects.


Knowing when to repeat a variety.


When you should introduce another type for interest.


Where to place taller plants for a sense of scale.


Where to add other planting beds so that they look as if they are part of the landscape.

I designed and wrote this book because I understand that many homeowners want the following:
A sensational looking planting design.


A design that is above and beyond what you mostly see.


A landscape that looks as if it were professionally designed.


A design that you can be proud of and where people say "wow".


A landscape with healthy plants.


Choosing the right plants for your home.


Landscaping which adds value to your home.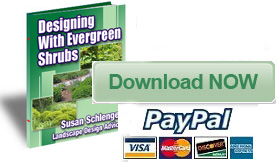 $19.95

Testimonials

Great detail and excellent photographs of many of these choice shrubs are obvious assets to this e-book. Examples of how to combine them, their preferred companions and other details should help even the novice landscape designer to pick a perfect combination of some of the best evergreen shrubs available. Susan has chosen only those plants with a certainty of success without a lot of fuss – who has time for pruning and catering, when there are more important things to do in your garden?
In particular, I like Susan's reference to the ground covering plants that work as a base, blending the whole planting together. This is an important technique, one that is often overlooked by many landscapers who prefer to use bark mulch instead of plant material to shelter the soil and provide cool colour.
As a Certified Horticulturist, I approve of the varieties that Susan has chosen to highlight in this e-book – they are not the common run of the mill types that have been planted everywhere for ages, but they are not so unusual that they can't be found in a good quality nursery or garden center.
Jacki Cammidge,
Certified Horticulturist, Owner and Webmaster
www.drought-smart-plants.com



Susan,
I make great use of your e-book designing with evergreen shrubs. People are always requesting flowers for color and interest. With our extreme climate changes here in Houston that means planting annuals at least 3 times a year. I use the book with clients to help them understand you can get a great deal of interest and pop from shrubs and foundation plants. I love creating gardens that mix textures and leaf color to make good visual interest all year long. Thank you for the valuable and useful information and pictures.
Laurin Lindsey, Garden Designer
Ravenscourt Landscaping



Hi Susan,
I love your book! I am using the information on a Comfort Inn project, I am re-doing the front entrance area, using you book.
Roger Kohl
Sunsets & Horizons, Inc.



I think Designing With Evergreen Shrubs is a great ebook. The content would be exceptionally helpful to homeowners and even other designers. The content itself is stellar and would be of great value for anyone landscaping with evergreens.
Gen Schmidt
www.NorthCoastGardening.com
www.GenevieveSchmidtDesign.com



I offer an unconditional money back guarantee....
no questions asked.
That's how sure I am that you will love this book.


You can pay by Credit Card or PayPal. Just click the Buy Now button and follow the instructions.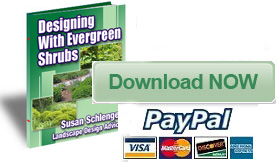 $19.95


Return From Designing With Evergreen Shrubs to Landscape Design Ebooks
Landscape Design Advice Home Page