Selecting Plants For Landscaping




Hardiness and Low Maintenance




With so many beautiful plants for landscaping available to choose for your garden, how do you actually decide on the right ones? Which ones will make you smile, do what you want them to, and also...survive? This page is your landscape plant guide to help you choose!

Factors such as height, color, texture, evergreen or deciduous all impact a landscape design. An attractive landscape design incorporates many different kinds of plants for landscaping. It is important, however to select the right plant for the right location.

---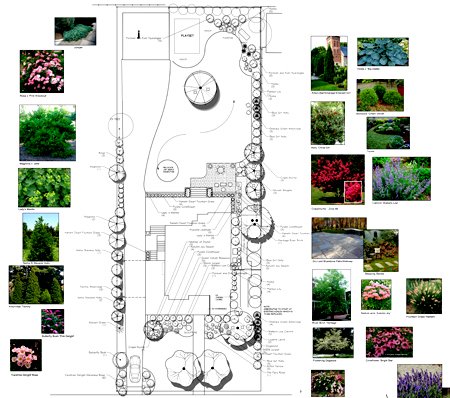 Take a look at my affordable packages of landscape designs!
(I have sold many and homeowners lover them.)
---

Plant Types

Related Pages: Xeriscape Plants - Ground Cover Perennial - Easy To Grow Flowers - Long blooming Perennials - Purple Perennials - Blue Flowers - Shade Loving Perennials - Ornamental Grass - Easy To Grow Roses - Sun Perennials - Hydrangea Plant - Flowering Vine Plants - Flower Garden Design - Perennial Garden Design - English Garden Design - Cottage Garden Design
Landscape Trees
Landscape trees are used in landscape designs for different purposes.
The type of features you would like and the planting solutions you are looking for can guide you in selecting the right trees for you landscape plants.
Some things to think about when selecting trees are evergreen foliage, flowers, screening features, heights and widths, and color of the bark or leaves.
Evergreen Trees - These plants for landscaping do not lose their leaves in the winter. They will always keep their foliage and thus the name "evergreen". American Holly and Douglas Fir are typical evergreen trees.
Ornamental Trees - Flowering trees or plants for landscaping (trees) that have interesting structure or bark are called ornamental trees. They are usually smaller than shade trees. An example would be the Flowering Dogwood Tree.
Shade Trees - These trees offer a cool area to your landscape. They generally are large with wide canopies, thus providing shade.



Landscape Shrubs
Evergreen - Flowering and Non Flowering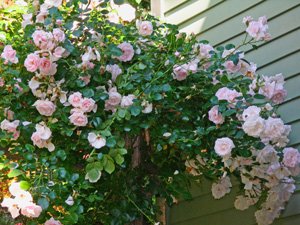 Like evergreen trees, these garden shrubs keep their leaves all year long. These plants for landscaping may be a needle type, like Junipers, or they may be a broadleaf type, like Rhododendron.
Evergreen landscape shrubs are often used for front foundation plantings, but can be used anywhere in the garden.
Some types flower, while others do not. Please visit my page on Evergreen Shrubs.


Deciduous Shrubs - Flowering and Non-Flowering

These plants for landscaping lose their leaves in the winter, so only the branching structure remains. However, deciduous garden shrubs usually have features that are very nice during the season. For example, they may have reddish leaves or produce beautiful flowers.
Beautiful Flowering Shrubs
Easy To Grow Roses
Hydrangea Plant
Perennials
Perennial flowers come back year after year. These landscaping plants will die down in early winter, leaving their finished foliage. This foliage must removed either in the Fall or Spring, but prior to the new growth beginning again.
Some perennials love the sun, and only do well when they are planted in sunny areas. Some shade is acceptable to them, as long as it is sunny most of the day.
Other perennials will do their best in shady areas. They prefer a lot of shade, although some sun is needed. There are shade perennials that flower, but often they are known for their beautiful foliage.
Annuals
Annuals live for one season and then they are gone. However, these landscaping plants flower all summer long providing wonderful color. As with perennials, and all plants for that matter, use the correct annuals for your sun/shade conditions. Some prefer sun while other like the shade.
Groundcover
This would be a low growing plant that usually covers a wide area. Sometimes that's all that is needed in the planting bed. Groundcover can be evergreen or deciduous, and can flower or be non-flowering. Sample groundcovers for shady, or somewhat shady areas, are Pachysandra, Ivy, and Vinca. Sometimes low growing shrubs can be used as groundcover. For sunny places on your property, consider Juniper Horizontalis, Thyme, and Ajuga. Also see Grass Seeds



Sun and Shade Conditions For Plants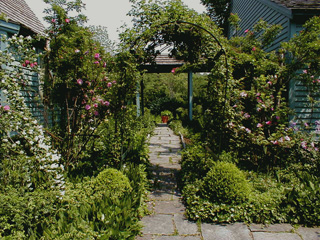 Some plants need sun to do well.
Others only grow well in the shade...and some will do fine with a little of both.
Many plants do not perform the way they should due to being placed in the wrong area.
When choosing the plants for landscaping your property, this is very important! Don't just purchase a plant because you are taken with it....do your research.
Plants that like sunny conditions require at least 4 hours of sun per day. Monitor your sun to see if this is what you get on your property. If not, you will need plants that like shade.


Deer Problems - My Plants Have Been Eaten!
If you really want to eliminate a deer problem, you might consider deer fencing. It's the most foolproof solution.
If you have no fencing, monitor your plants closely. If you see some nibbling, use one of the deer repellents that are available, but this must be reapplied frequently. Also, use the most deer resistant plants.
You have to be very regimented in applying deer repellents in order for them to work on the landscape plants. I missed a couple of days once since I went away for the weekend, and the flowers on my beautiful Annabelle Hydrangea were all gone when I returned!



How Tall Will My Plants Get?
Know how large the plants that you are using will get. We have all seen overgrown gardens. Plan for the future. If, for example, you are using a Dogwood Tree at the corner of your house, know that it can get to be about 18 feet wide. Therefore, it must be planted at least nine feet away from the house.
This rule can be "adjusted" with certain plants however if they are very slow growers. As one of my professors said many years ago, " I love the Gingko Tree, but I would like to see it get relatively tall in my lifetime!"



You Do Want Color, Right?
Consider the blooming times of your landscape trees, flowering shrubs and perennials. Ideally, include plants for landscaping that flower during all seasons. Don't forget the beautiful Fall color of trees and shrubs. Red Maples and Burning Bush provide dazzling red foliage. Don't you admire them when the fall comes and wish you had some fall color on your property?!
Spring, summer, fall and even winter should all be considered for color and interest. Winter is the season usually considered the least. However plants such as those with beautiful branching structures or evergreen foliage will be appreciated when winter arrives.
See my page on how to add color to your front yard.


Foundation Plants
Consider using evergreen shrubs in the background for foundation plantings. When winter comes, you will appreciate the greenery. Consider window heights when selecting shrubs. Do you have a blank wall? Think about how you will address it....tall landscaping plants, climbing vines and/or trellises are some options.



Xeriscaping - Drought Tolerant Plants For Landscaping
The main idea of xeriscaping is using drought tolerant plants in your landscape. These can be found in all types of plants. This practice makes life easier by reducing the amount of water needed by the plants. You will conserve water too. See how I addressed a slope on my property with xeriscape plants
(Click for details)
For Clients in All Areas of the U.S. and Canada
Professional Package of Ready Made Front Yard Designs 
(Click for details)
The More Affordable Option
If you enjoyed this page, please share it!

Landscape Design Advice Home
> Plants for Landscaping