All About Bluestone Patios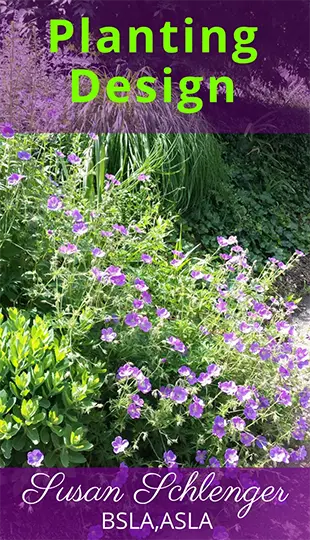 Get your free planting design guide!

Bluestone patios can be very beautiful. They are my favorite stone! The stone itself is lovely. Bluestone can be rectilinear (squared off) or it can have a natural, uneven shape.
If choosing the rectilinear style, you may use all one size or varying sizes in the pattern. As I explain below, when using this type of bluestone, one of the most important considerations is quality workmanship.
I have some large pieces of bluestone set into my brick patio at my house. While I have issues with the brick (which is porous, old brick), the bluestone is just old faithful...looks good all the time with a timeless elegance. I wish the entire patio was bluestone!


Shapes and Patterns

When designing bluestone patios, I often use various sizes and shapes. The photo below, taken on a Virginia garden tour, is a nice example. Typical bluestone sizes are 12" x 12", 12" x 18", 18" x 24", and 24" x 24". These rectilinear stones can be laid parallel to another structure such as your residence, or they can be laid on the diagonal. Laying it on the diagonal gives it even more interest.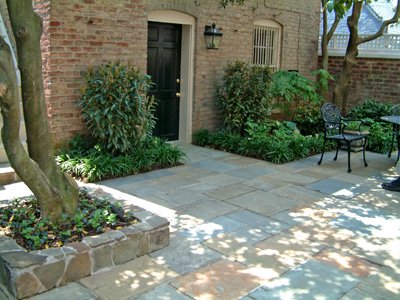 ---

Other Bluestone Pages

Pictures of Bluestone Patios - see photos of some great bluestone design ideas
Bluestone Walkway - walkways with different bluestone shapes and installation methods
Bluestone Steps - some of my projects with various types of bluestone you can use for steps
Bluestone In Cold Climates - Q&A regarding using bluestone in climates which have lots of freeze thaw conditions
Installing Bluestone Over Concrete - lots of questions and answers on this topic and related ones
Other Natural Stone Patios - other beautiful stones to consider
Bluestone Pavers - Amazing pavers that look like bluestone!
Also visit:
comparison of pavers and bluestone
or
compare bluestone and brick

But What Are the Costs?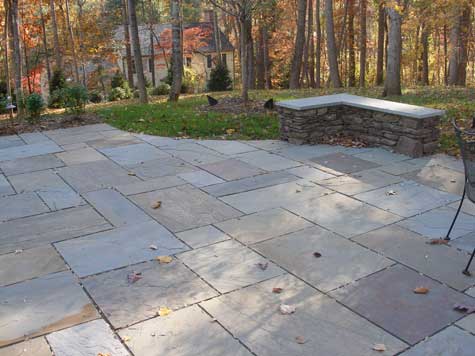 This design has some nice features. There is a seat wall, landing and steps. The bluestone is dry laid. Discover what it costs.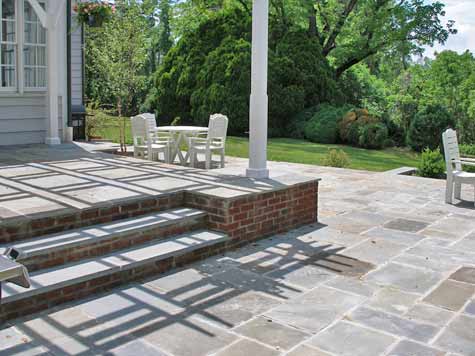 This is a high end project which was featured on the Nate Berkus Show. Find out what it costs (and how you can save money).
It just goes to show that a simple design can be nice and fit a nice amount of furniture on it. What would the price be for this patio be in bluestone? Also find out the difference if you used pavers, brick or concrete!


Ways To Set Bluestone
Bluestone can be dry laid.
The ground is excavated. Stone, such as quarry stone is placed in the bottom layer. Sand or stone dust is the next layer and the stones laid on top of this.


The stones may be laid tight together or a small space may be left between them. Joint sizes of 1/4 inch to 3/8 inch look nice. A sandy material is then swept into the joints. You may also place pea gravel in the joints.


Another option for the joints is polymeric sand, but this can have issues, such as cracking. Also, it rather defeats the purpose of having a dry laid application, since polymeric sand hardens.
Bluestone can also be wet laid where it is set in concrete.
Cracking is possible with this method, particularly in areas with lots of freeze-thaw conditions.


A concrete base must be laid on virgin soil or soil that is tamped in layers.


See a diagram of the correct way to build a concrete patio (and also a dry laid one too).

I prefer dry laid, as it is less expensive, creates a wonderful bluestone patio look, and is also forgiving. What does forgiving mean? It means that it won't crack, and if a stone ever shifts, it can easily be reset. (Not so if you use polymeric sand in the joints.)
I encourage you to take a look at my ebook on patio plans for some great information, ideas, and designs.


Bluestone Colors



Yes, there are different color choices! Bluestone is often called Pennsylvania Bluestone, as much of it comes from there. Bluestone comes in 2 different color ranges which are both nice. (There is a third color range, but it's not as attractive as the others.)

All Blue - all stones are the typical blue color and are pretty much the same. This can create an elegant look. It is easy for other materials to look well with it as colors are not fighting each other.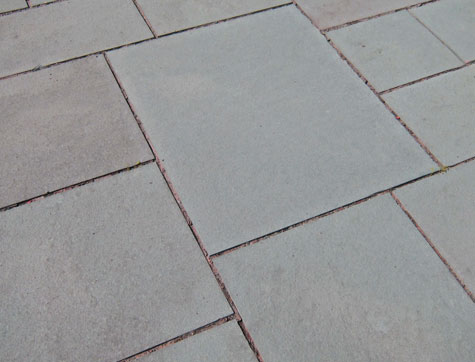 Full Range - stones are a mix of blues, tans and to a lesser degree purples. This is a kaleidoscope of colors. It is very pretty and interesting. If you are adding other stone materials in the area, such as a natural stone wall, make sure the colors blend well with each other.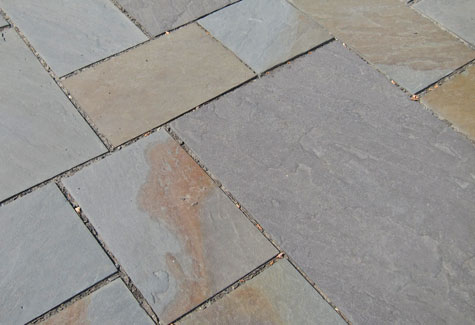 Personally, I like bluestone in the full range color choice. However, if you are adding any kind of stone wall nearby, the all blue is easier to work with as wall stones usually have many colors in them themselves. You can still get a nice look with full range...you just have to work a little harder to make sure the colors of all the stones go well together.
Another kind of bluestone is called "thermal finish". Here, the stones are slightly rougher than regular bluestone. It is a slightly different kind of look. Thermal finish bluestone is also more expensive.

Comments About Rectilinear Bluestone
Good Workmanship a Must!
When using rectilinear bluestones, be aware that often they are not exactly squared off. This is not good!


In this situation, when they are placed, the joints between the stones will not be straight.

Here is the solution:


Have your contractor cut the stones with a wet saw to make them square. This is more work, and he will probably charge more for this, but it is important for a professional look for bluestone patios.


You can also have the contractor select only the squared stones in the shipment. More stones may have to be ordered to accomplish this.

There is nothing worse than looking at a bluestone patio and seeing joints that are not completely straight!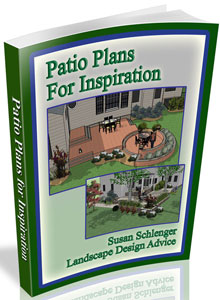 Get some great ideas for your patio by seeing designs that I have done for clients. I am sure you will find this book a great help.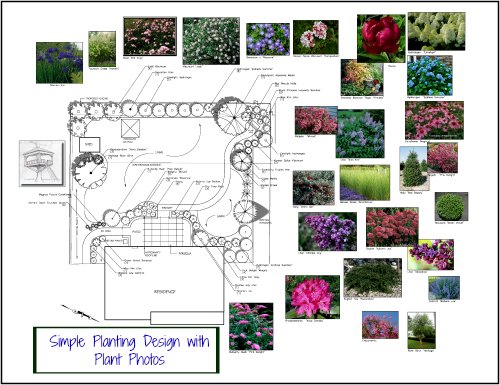 If you enjoyed this page, please share it!

Landscape Design Advice

› Bluestone Patios