Bluestone Walkway


Patterns, Designs, and Pictures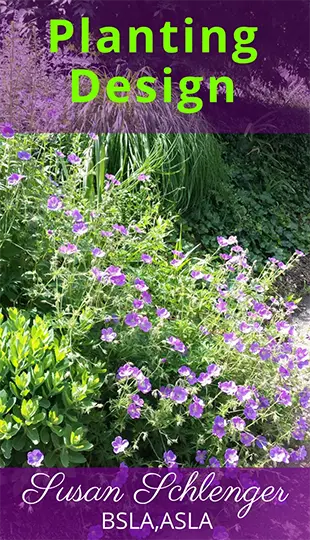 Get your free planting design guide!

A bluestone walkway blends well into many landscapes. Houses of brick, wood siding, stone, cedar shakes, and stucco all go well with bluestone.
You can choose from bluestone with geometric lines or those that are free form. You can also dry lay it or set in in concrete. I prefer the dry lay method. It's less expensive and won't crack.
You can also use bluestone for stepping stone walkways.


They can be laid close together or they can be separated by lawn or groundcover plants.


Pebbles can also be used in between the stones, but I would recommend an edging so the the pebbles do not spill over onto lawn or mulched beds.

Here are some photos of what I consider lovely walkways done in bluestone.



Straight Walkways

| | |
| --- | --- |
| Bluestone walk leading to backyard. | Walkway leading to to front yard. |
The stone for this walkway was dry laid. We used different sized geometric blue stone.
Notice how the joints look very professional as they are straight and all very similar in width.
The color is full range. The adjacent stone steps have solid bluestone treads and stone risers.
As you can see, the area is very flat. Drainage was a real challenge. A combination of sloping and drainage pipe provided an excellent solution.

Curved Bluestone Walkway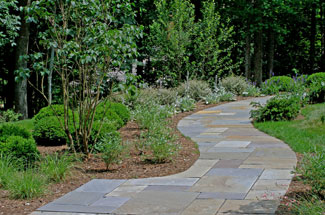 A meandering front with plantings on both sides.

This is the same type of walk as above, except that it is curvilinear. To keep the curved pattern, the edges were saw cut on the curve.


The stones were laid horizontal and perpendicular to the front porch and driveway.


Another option would have been to lay them on the diagonal which produces an interesting pattern.


Plantings for this curved walkway were added on both sides providing lots of color, texture and winter interest. Walkway Pictures has a video of this project!
Would you like to know what the above pictured walkway costs using bluestone, pavers or concrete? Just click here.



Irregular Shaped Stones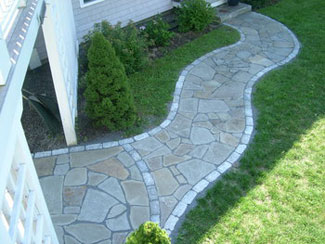 Irregular bluestone was used for this lovely walkway by Rocksmith, Inc.

It appears that the stones were dry laid and sand or polymeric sand placed in the joints.
The design was further enhanced by the addition of a cobblestone edging and detail through the walk.

Related Pages
Bluestone Steps
Porch Steps
Paver Walkways
Brick Walkways
Concrete Walkways
Stepping Stone Bluestone Walkway


More Help With My Ebooks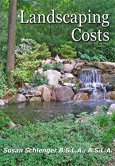 Landscaping Costs
Find out what actual parts of a landscape cost. Plants, different paving materials, steps, pools, ponds, lighting, and more are all listed along with many photos to show examples!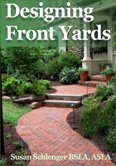 Designing Front Yards
Learn some great tips on how to create a front yard design that will really be unique and special! Confused about front foundation plants? Are you not sure where to place your plants? Do you want some low maintenance colorful perennials? You will find out about all that and more...take a look.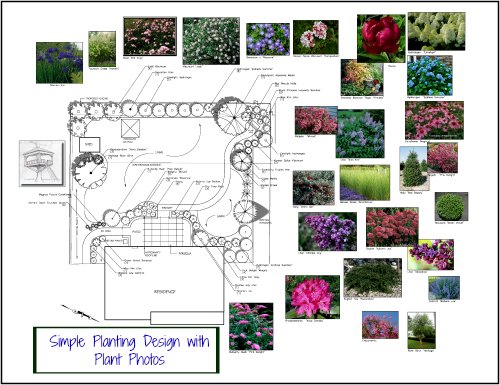 If you enjoyed this page, please share it!

Landscape Design Advice

›
Walkway Designs

›
Bluestone Walkway