Tips For Beautiful Water Features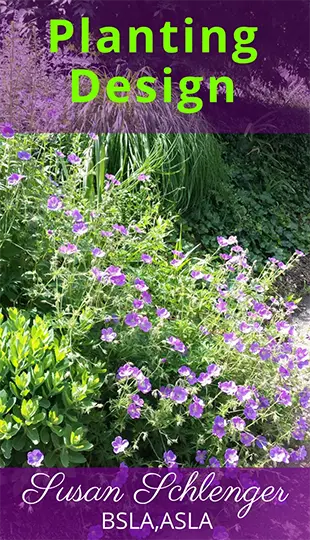 Get your free planting design guide!
Water features are intriguing garden elements! Just about everyone loves water in the garden. Some of the most famous landscapes in the world have one thing in common, and that is some type of water element. (This was brought to my attention by one of my professors at Rutgers, many years ago.)

If you would like to have water in your garden, there are many choices. You may choose a formal pond or a more naturalistic water garden.
A garden fountain is also a wonderful landscaping idea to add water into your landscape.
You might consider a garden sculpture, a bird bath, or even a contemporary water sculpture.
I happen to love the bird baths, as not only can you have a pretty architectural element in your garden, but also attract a variety of birds.
There are now solar water features also.


Formal Pond Design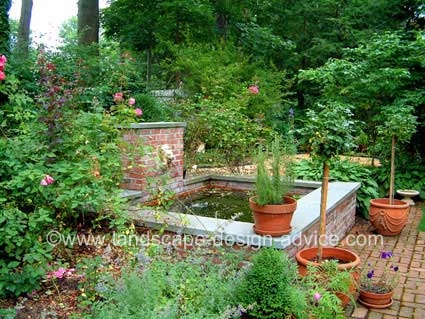 Use a beautiful fountain in the center.

You can also opt for simplicity and just have lovely bubblers.

The pool might have a seatwall around it, where you walk up to the pond and sit at the edge.

You can set the pool in paving, where it becomes part of a main patio. Wouldn't it be nice to go out to your patio and have moving water right there?

Formal ponds can also be set right in the lawn. This is a very European look. It's simple, but beautiful.


Natural Pond Design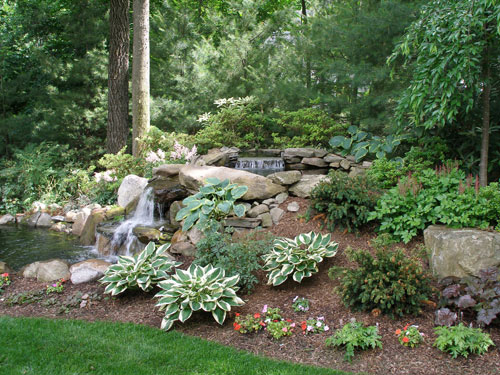 Naturalistic ponds are normally free form in shape as found in nature, typical as you would see in nature.
Did you ever go for a walk through the woods and see a pond?
Often they have rocks or stone at the edges.
They are beautifully curved - try to mimic nature!
Many times, they have water coming from a higher elevation, tumbling into the pond.
When creating a pond on your property, you can do the same thing. The stones at the edges will secure the liner. Include some boulders. (The more the better!)
In this way it will look the most natural. The boulders can be as small as 2' round or as large as you like. Set them in different directions...don't be afraid to stand a tall one on its' end.
These ponds, as formal ones, can also be set in paving. If it is set at a corner location with plants behind it, it becomes a very inviting setting.
They can also be located at the edge of woods. This gives an extremely natural look.
Natural ponds look better if they are adjacent to either a patio or wood edges, rather than out in open lawn.
Often a naturalistic pond incorporates a waterfall. However, as mentioned elsewhere, try to create a waterfall where it comes from a higher elevation so it looks the most natural. If you have the space, a natural pond can be designed as part of a stream.
Related Pages
Waterfall Pictures
Waterfall Designs


Additional Natural Pond Notes
The garden stream can have one waterfall or multiple ones in different areas of the stream. Your property should be sloped for this to look natural. It is quite an exciting garden feature! Please visit my page on waterfall designs for more information on designing natural waterfalls.
Depending on the height of the land behind the pond, the waterfall can be as low as 6" and as high as you like. You can create dramatic falls appearing to come down a cliff or mountains. There are lots of waterfall pictures where you can see examples of this.
Try to select a big beautiful rock for the fall itself. If your pond is situated in a shady area, a moss rock is a beautiful choice. Moss will grow over the rock, as it would naturally in the woods.
Here are some photos of large natural ponds I took at a botanical garden. Although they may be too big for many properties, there are still some features to look at that you can use.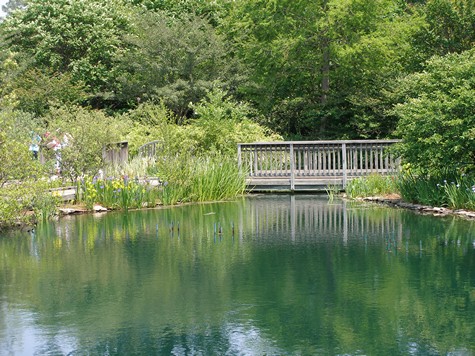 Narrow an area of the pond and add a bridge...charming!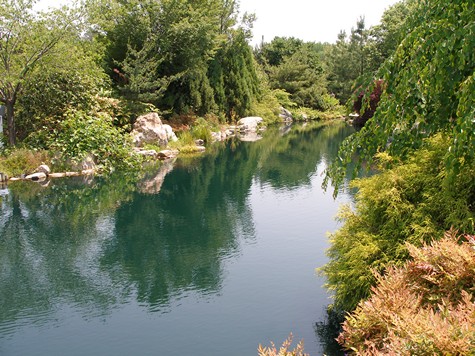 Add some huge boulders along the water's edge, adding natural pond features.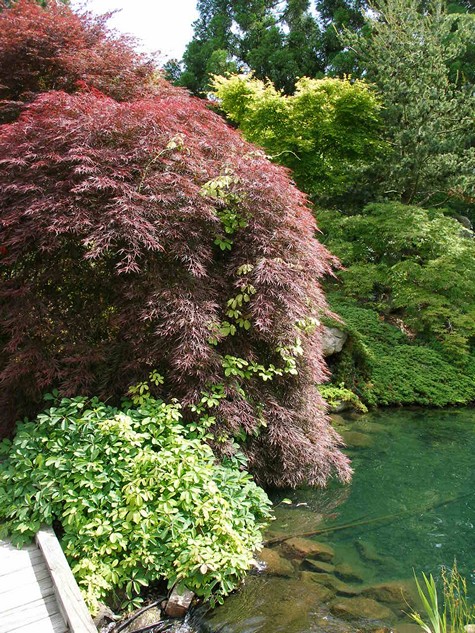 A beautiful tree near the edge can be very striking, especially if it has a special feature to make it stand out. Here, the Japanese Maple with its red foliage does just that. Add lots more lush plantings too.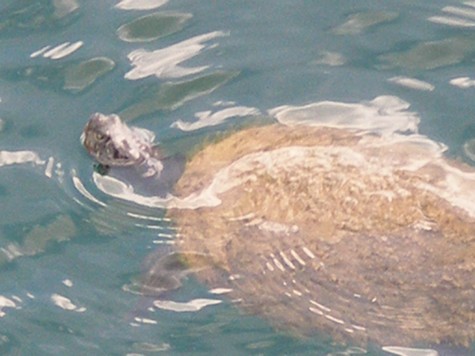 Just love this turtle in the water!


Garden Fountains
Fountains can be large and bold or small and subtle. There are so many places they can be used successfully. A large garden fountain might be placed out in the open as a backyard landscaping focal point. You also might consider a wonderful bird bath fountain. You can also think about solar garden fountains or solar bird baths.
There are some very beautiful (and different!) limestone fountains (see pictures) available. These are very upscale, made by both American and English companies.
Smaller garden fountains and bird baths might be tucked in a planting bed, where it becomes part of the garden. Fountains can also be placed on patios and become a patio water feature.
You might also consider a wall fountain to become part of a landscape wall. A wall fountain can also be placed on a blank wall of a house to add some interest.
If you thinking about adding a swimming pool to your landscape, pool waterfalls are nice water features also.
Water features in the garden will definitely add interest to your landscape and also provide something for you to particularly enjoy.
Related Pages
Patio Pond Design
Pondless Water Elements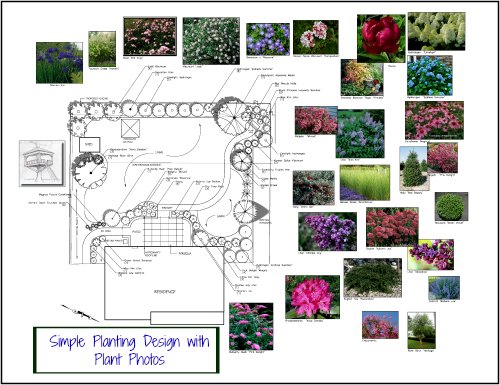 If you enjoyed this page, please share it!