BEAUTIFUL SLOPE DESIGNS
(The More Affordable Option)

What To Do With My Slope?
You have probably looked at your slope in frustration. Perhaps you just do not know what to do. Maybe you have tried to do it yourself, only to have in not look exactly as you imagined. Slopes can be challenging ... but also absolutely beautiful and low maintenance if done the right way.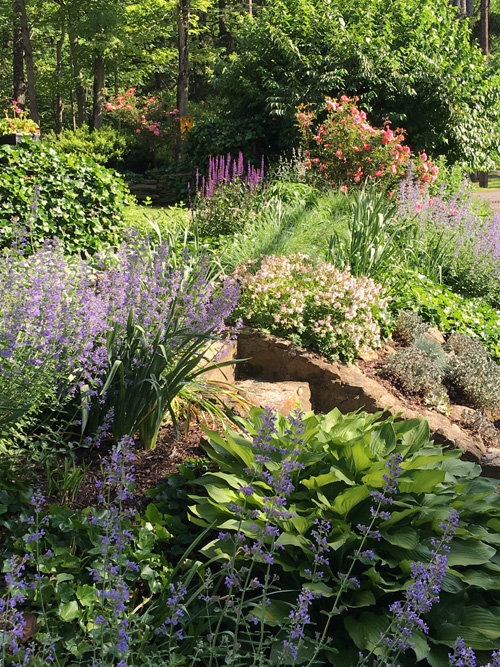 BEAUTIFUL - LOW MAINTENANCE - COLORFUL

---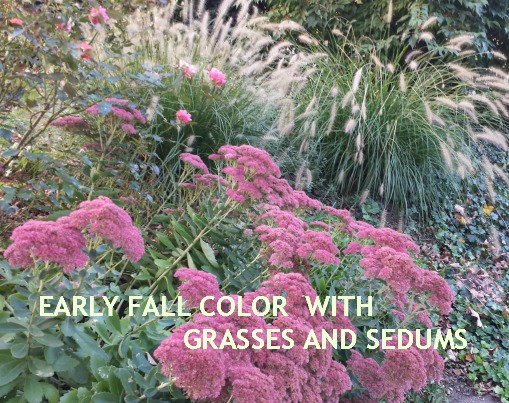 ---
When I bought my current house I hated my front slope. There were plants there from the previous owner, but it certainly did not look lush, full, and beautiful.
And the weeding !!
Since I have a degree in Landscape Architecture at Rutgers University and professional training, I knew what needed to be done. 
Like most slopes, the design had to be full to almost eliminate weeding.
The plants needed to be drought tolerant.
I wanted low maintenance. (Who doesn't?)
I wanted lots of color, textures and a variety of beautiful plants.
It's easy to make mistakes and waste money (and serious time) on a poor design.  You have to worry about all the following...


    Type of Plants 
    Number of Plants  
    Plant Sizes 
    Design Layouts
    Low Maintenance
Plus ... there are all these concerns. (And rightfully so!)
What if the plants get overgrown and just look a mess? This can happen if you buy the wrong plants for the wrong places.


Speaking of the wrong place, how do you know whether a plant likes sun or shade or something in between? When you are buying a lot of plants, you can easily make a mistake in this area. You can just about say goodbye if you put a shrub that likes sun in a shady spot. Not good!


And what about deer? I like looking at deer as much as the next person but certainly don't want them to have my costly plants for lunch!


What if the plantings become a maintenance nightmare

?

Most people want a design that looks great, provides color and interest, and is striking. BUT, you don't want one that you become a slave to by having to trim the shrubs, water constantly, clean up after, etc.


And another very important concern....after spending all the time, effort and money on new plantings, what if it just doesn't look like you hoped and dreamed?!
---
The Solution

A Package of Professional Landscape Designs for Slopes

Created By Susan Schlenger - Award Winning Designer

---
These plans are perfect for you if you live in Zones 3 - 7 
shown below in green.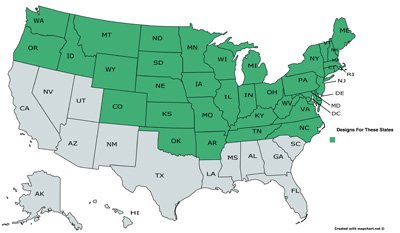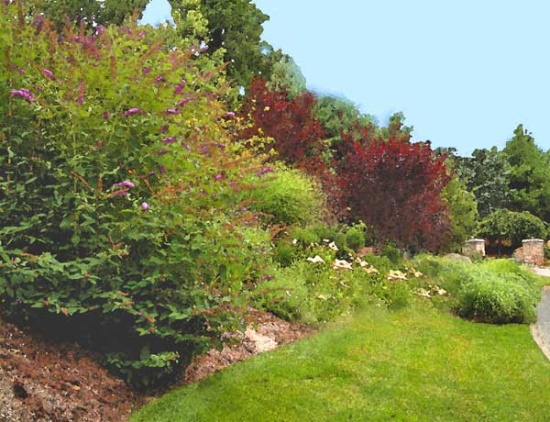 Do you envision a landscape like those you see displayed on the pages of home and garden magazines?


Do you want your landscape to be visually exciting and full of seasonal color?



Value in Landscaping
There was a study done by the American Society of Landscape Architects in conjunction with Money Magazine. A recovery value of 100% to 200% of landscaping costs can be gained when you sell you home.


Why My Landscape Design Package is So Affordable
This was created to help people who:
Would love to have 

a professionally landscaped look


Do not have the budget for a completely customized design nor need a full design.



Would like a professional design at a fraction of the cost of custom designs.

(Custom designs start at $ 750.00)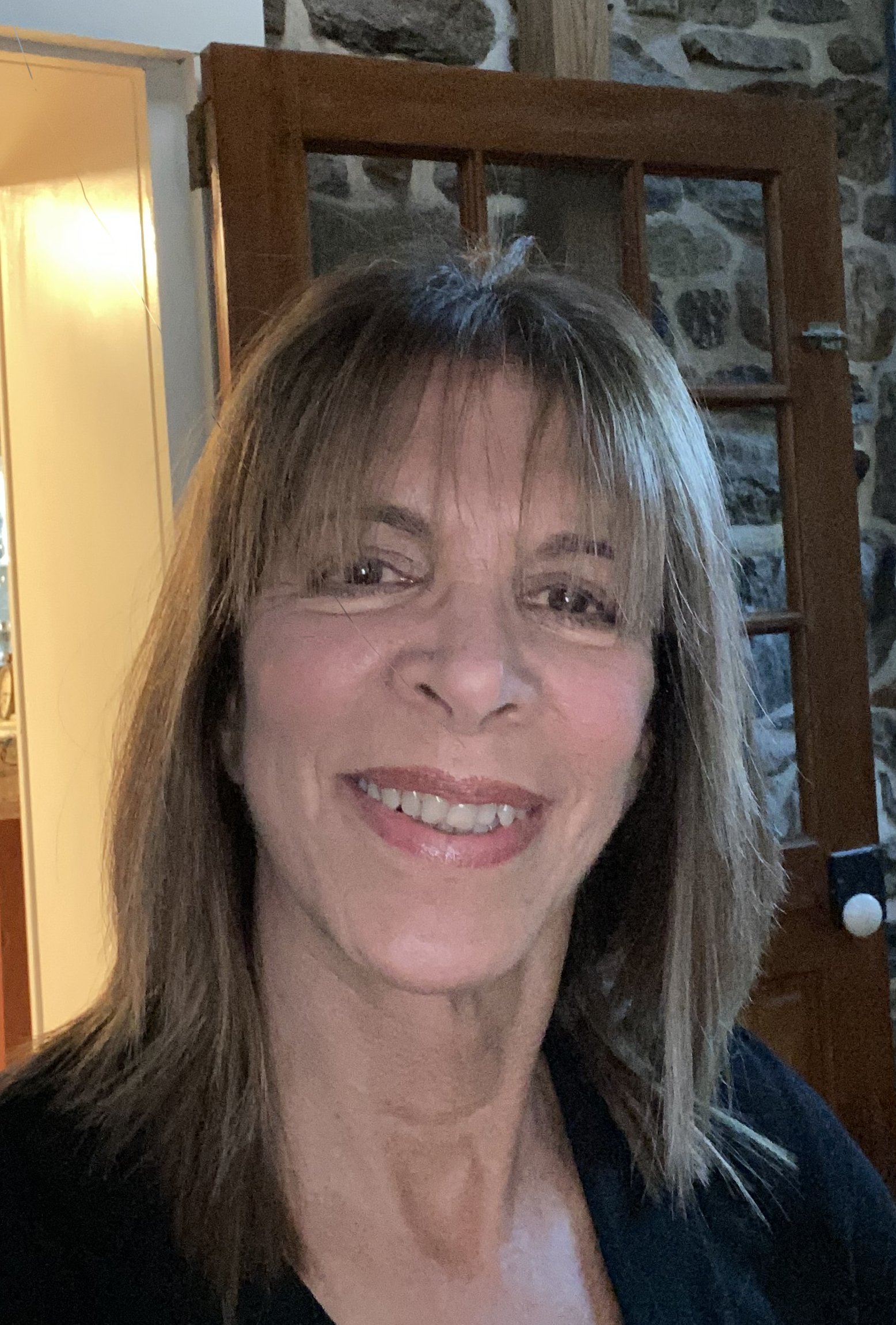 My New Landscape Design Package  
This is a set of 5 professional, easy-to-use and affordable design plans with  plant sizes, plant varieties, seasonal color, deer issues, plant substitutions, scaled drawings and plant lists with details for implementation.
And plant photos of all plants in the designs.
Visit the FAQ section located at the bottom of this page.
What You Will Receive:
Package of 5 beautiful, easy-to-follow slope designs that I created myself. 





Professional drawings completely executed to scale so that everything can be measured out accurately.





Directions for printing design.





All plants labeled on the designs.




A complete plant list for each design



Plant names, quantities and recommended purchase sizes.
Directions for planting, mulching and watering.



Full color photos of every plant.
How Much Does This 
Landscape Design Package Cost?
It costs less than if you hired me to do a professional design for you.
(Custom designs start at $750)
 $197.00

---

Credentials, Experience and Recognition
Featured in the following magazines and TV show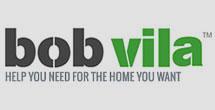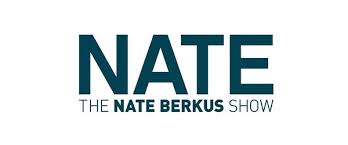 My name is Susan Schlenger. I am a professional landscape designer possessing more than 20 years of experience in designing versatile gardens and breathtaking landscapes for properties across the United States. 
Many of my designs incorporate features such as exciting plantings, walls, walkways, ponds, pools, patios, pergolas, decks, and driveways. Here is a brief summary of my professional background.
Produced front yard planting design makeover for  This Old House Magazine.


This Old House Magazine, October 2016
Designed by Susan Schlenger
Interviewed for the Website by home improvement TV host,  Bob Vila .


Featured on the  Nate Berkus Show .



Featured in the luxury-lifestyle magazine,

 Robb Report .


Attracted an average of 53,000 visitors per month on my Website.


Followed by more than 20,000 people on my  Pinterest 

page with 5 million monthly views.




Received more than 500 referrals on my LinkedIn page
Obtained a Bachelor of Science degree in Landscape Architecture from Rutgers University.


Created thousands of landscape designs for residential and corporate clients across the country.


Received numerous landscape design awards for gardens, plantings and pools.



Client Testimonials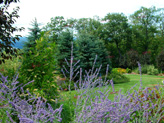 "I was so thrilled about my experience with Susan that I have to share it! Not only did Susan come up with a design that gave me everything I wanted, she also gave me what's most important… every person I have shown her design to has said "wow". "
Margaret, Albany, NY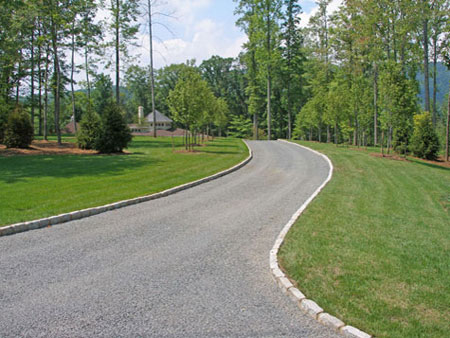 "Susan,
Thank you for all that you did to help beautify our little plot of paradise. We enjoyed working with you - thanks.
Ken, New York State "
"Oh my !!!!!!!!!! It's beautiful."
Lori, Indiana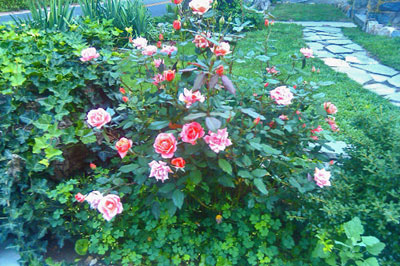 "Oh, Susan!
We do LOVE this design. It's everything that I wanted. I completely love that you've integrated Grasses and Roses and Purple Coneflower and Salvia and oh it will be beautiful. I can not wait to have it completed! Thank you ! "
Jill, Maryland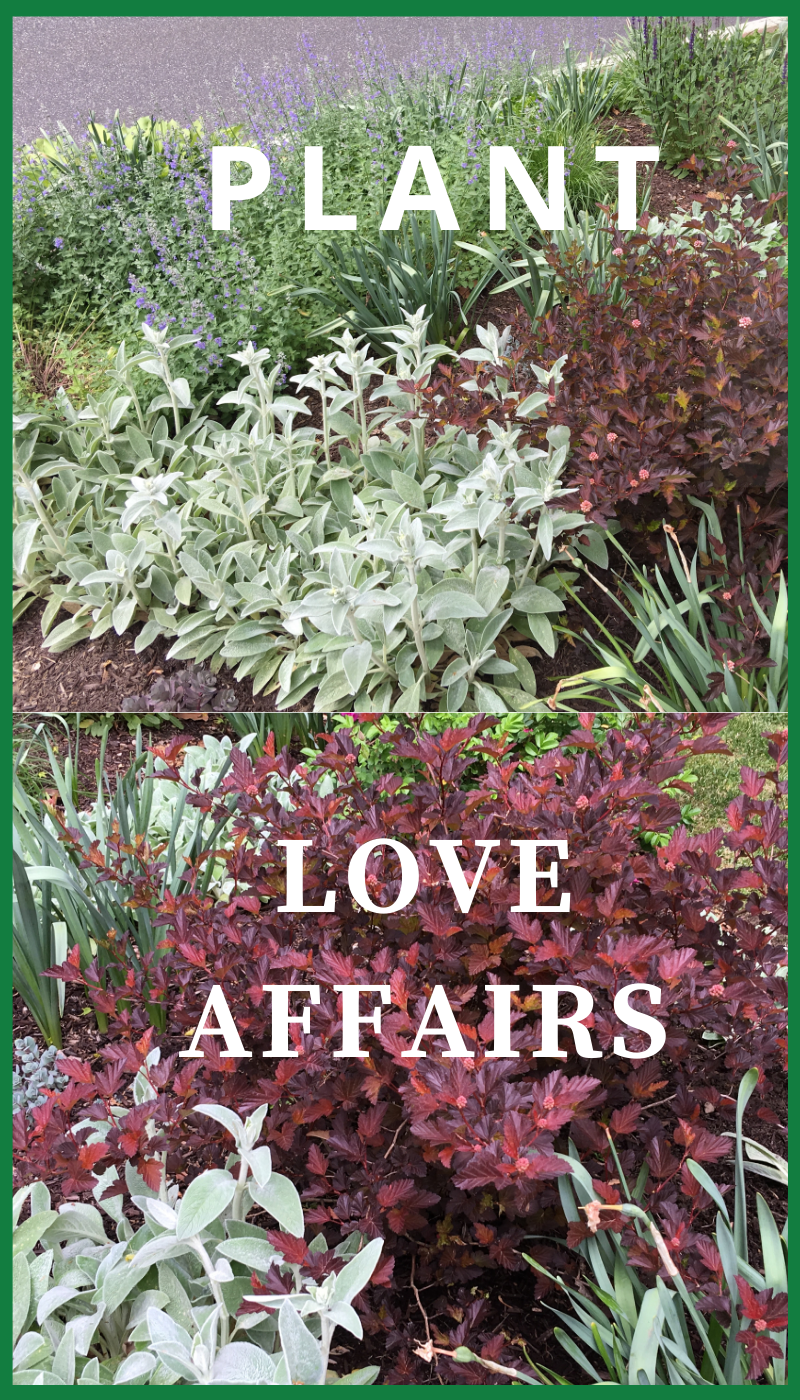 "It was a very easy process and I am so pleased with the design and grateful for the exact plant sizes; I think it will be beautiful. It was a real pleasure working with you as well, Susan! Again I'm really happy about how it turned out and I appreciate the opportunity to ask additional questions if I need to later. "
Kimberly, Conn.
"Susan,
Many, many thanks for your brilliant design and incredibly patient and insightful help! I could not have done this any other way."

Elise, New York 
"Susan, what a pleasure it was to work with you. You made me feel like I was your only client - responding late at night and always so quickly! Your design is amazing and we only hope we can do justice to it when we plant . You have such fantastic ideas and you are so open to suggestions and changes. Loved working with you - now if you could only come to Canada and plant it !!! "
Helen, Ontario-Canada 
"Hi Susan,
Thank you for putting so much thought into the design. We really like it, especially the curvilinear shape with clean lines. I love the curved seat wall and hypothetical placement of furniture, the shape of the path, etc."
Elaine, Pennsylvania
"Susan,
I want to let you know that we are very happy with your design and we are enjoying watching it all grow. We have received many compliments."
Michael, NY
---
(Custom designs start at $750)
 $197.00

---
How My Package Compares
There is really nothing out there to compare to my package of designs. Believe me, I have checked.
Sure, you can gather some photos of plants you love. But are they really appropriate for slope conditions? 
You can follow some YouTube videos. But how do you select the right plants for your conditions.
Do you know how far apart to plant the plants? There is nothing like experience in seeing how plants really grow. (I have been a landscape designer for 24 years with a degree in Landscape Architecture from Rutgers. Many of my designs have won awards.)
Pretty sketches are great and enchanting. But what happens if you can not find the plant. Or worse yet, the plants suggested are not deer resistant?
My designs address all of this and more. It took me a long time to develop these designs and I would say that I have left nothing out!
Please read FAQ section below.

Have Questions?
FAQs
• What do I do if the length of my slope is different than the design I chose to use?
Each design includes step-by-step instructions on how to add or subtract plants to fit your space. Drawings are done completely to scale which makes it easy to adjust any plant numbers, if necessary. These drawings will help you create a gorgeous landscape that you will be proud to show to friends, family and neighbors.
• How can I be sure the deer will not eat the plants?
I would never want this to happen! So I have provided a list of plants that deer like to eat and substitutions for each of these plants with plants that deer generally stay away from.

• What if a plant on the list is not available ?
Most of the plants should be readily available, but in case you cannot find some of them, I have provided a separate list with substitutions for each plant in the designs.  
• What if my area is mostly sunny but I do have some shady areas ?
The plants in the designs are mostly for sunny conditions. 
• How do I print out the drawing?
Instructions are provided. The drawings are in PDF format. Send the drawing file to a printer, such as Staples. You can also put it on a zip drive and bring it to the printer.
• How do I make sure the drawing I print out is to scale so that everything fits correctly?
There is a scale bar at the bottom of the drawing which you can check. Directions are provided.
• Can I buy different plant sizes other than what is specified on the list?
Yes. The sizes to buy the plants at are just my recommendations.
• How do I measure out where the plants go?
The designs are drawn to scale at 1 "= 10 '. Everything on the drawing can be measured.
• Will the plants get too large for their spaces?
No. The plants are drawn at or near their mature sizes and I have selected the right sized plants for the slope. 
• How do I know how to water my plants and how much they need?
I have provided detailed instructions.
• How do I plant the plants and do I need to change or add to the existing soil ?
I have provided detailed instructions.
• How much care do the plants take? I want low maintenance !
Most of the plants are definitely low maintenance. Perennials need to be cut down once per year, either in the fall or spring.
• Will I have to trim the plants? Should I?
This will typically not be necessary, except for a stray branches. I do not like trimming plants either! There are just a few on the lists that will need some trimming, but hardly any.
• How do I know how to space the plants ?

They can be measured out on the design which is drawn to scale. Measurements should be from plant center to plant center.
• Will I have a lot of color ?
Yes! The designs are created so that you will have lots of color with a mix of perennials, flowering shrubs, evergreen shrubs, flowering or colorful trees and ground cover. If you look at the designs on my website, you will see that I love color!
• How do I know what the plants look like?
I know you can always Google a plant, but how tedious! I have provided plant photos for every plant in the designs!
• Who is this NOT for ?
This product is not for you if you want a completely customized design. Although the designs offered will fit most slopes, some people may have to adjust slightly, as mentioned above. For a customized design, please contact me.  
 $197.00