Concrete Patio Designs
Let's Make them Exciting
Concrete patio designs do not have to be boring! Here are some interesting ways to many your patio interesting and exciting. One idea is to add color to the concrete. The other is to create a large, geometric pattern. (This is different than stamped concrete.) Read on to find out more.


Adding Color To Concrete

Although there are various methods of adding color to concrete, the most long lasting way is to add the color right into the concrete mixture before it is poured.
I had a client once who stained his concrete pool decking, and in no time the color was coming off! So don't do it this way.
You can select from many colors, although keeping them soft and natural will look best for the concrete decorative patio or pool paving. For example, colors such as light to medium gray, beige and even soft peach are nice choices.
I once worked on a project where we used a combination of a very quiet peach and Tennessee Crab Orchard stone...this was a great color blend. The natural stone added to the cost and was more than just using concrete, but if something like this is within your budget, you might consider it. It's a nice compromise!
When the color is added to the concrete mixture it will be streak free, long lasting and non-fading.
Acid based stains are another interesting way to color concrete, as you can see in this concrete design (2nd photo). The color is variegated and translucent. It gives an aged look, with shades of color similar to natural stone. The process can be tricky, so an experienced professional should be used.

Creating Patterns
Very attractive concrete patio designs can be made by creating a pattern of squares. The geometry is created by scoring the concrete. Squares can be created in various sizes. Eighteen inch to twenty four inch squares are a good place to start as considerations.
One of the advantages of this method, is that construction joints, which keep concrete from cracking, are blended into the scoring pattern. They are not visible.
This concrete patio design process works well on hardscape that has a large expanse of concrete, such as patios or swimming pool decking.
You might lay the concrete pattern straight or you might give it even more interest by laying it on the diagonal.
Other Concrete Pages:
Concrete Patio Pictures
Concrete Walkway Pictures
Stamped Concrete Driveways
Considering pavers too? See my comparison between concrete and pavers.


Stamped Concrete

This is another patio material that can be used to create a concrete decorative patio. However, I stay away from this method. Most people find this attractive because there are many patterns available that look like natural stone.
The problem is the construction joints. If you have a natural stone pattern, you will see a straight line (construction joint) going through the paving. It's very unattractive.
---

Concrete patio designs are one of the least expensive ways to have a patio but within a budget. When used, a project can be very attractive if some of the above methods are incorporated to give the patio or pool decking some spice!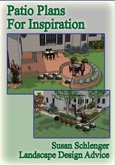 Patio Plans For Inspiration
This ebook shows patio plans that I did for some of my clients. They can be used with any paving material, such as concrete. Many of the designs are shown in 3D so that you can really understand them. You can use them or get ideas for your own project. Lots of explanations are also provided.
Consider a Professional
Online Landscape Design
Unique Services Throughout the US and Canada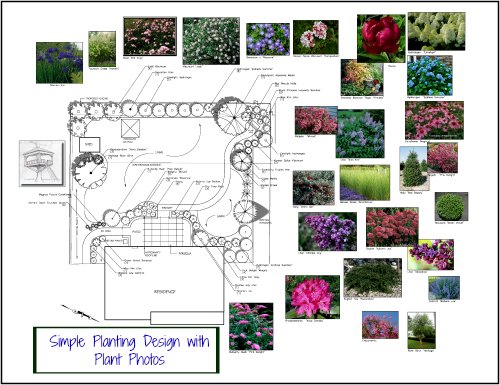 "Susan, what a pleasure it was to work with you. You made me feel like I was your only client - responding late at night and always so quickly! Your design is amazing and we only hope we can do justice to it when we plant . You have such fantastic ideas and you are so open to suggestions and changes. Loved working with you - now if you could only come to Canada and plant it !!! "
Helen, Ontario-Canada 


If you enjoyed this page, please share it!

Questions About Concrete Patios?
Do you have a question about a concrete patio that you need some help with? Here is the place to ask! The more information you can give, the better I can answer. And photos are a great help too!

I decided to create this section due to the many questions people have regarding patio designs and materials.

You may ask a question yourself, comment on or answer questions of others. All helpful comments will be greatly appreciated!
Other Visitors' Questions and Answers
Click below to see contributions from other visitors to this page...