Choosing Concrete Pavers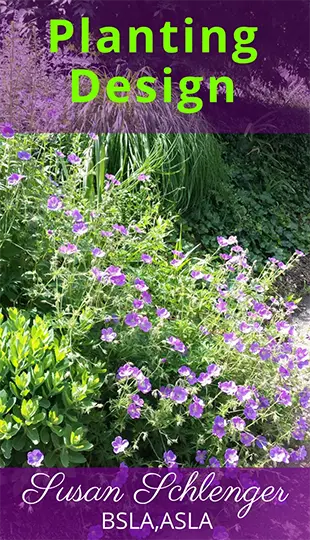 Get your free planting design guide!
Concrete pavers are available in so many varieties today! They come in a multitude of colors, patterns and finishes. But this makes the selection process confusing!
What colors should you use?
Which pattern is the nicest?
Is one company better than another?
Is there another hardscape material you should consider?
I am going to help you with these decisions...so read on!
Designing With Pavers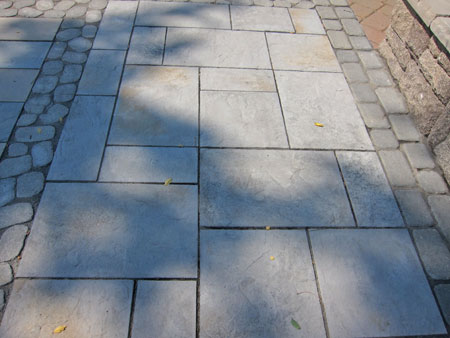 Visit my page on these bluestone pavers.

Pavers are made from a concrete blend with coloring and are compacted in a special machine at very high pressures. An outdoor paver is different from brick in that brick is actually made from clay and baked at very high temperatures.
Concrete pavers can be used for almost any hardscape project.
patios
walkways
porches
pool paving
driveway designs
pool coping
steps
They can have a more finished look, or they can look like stone to give a more natural look.
The nicest looking pavers are those that are tumbled, providing a stone-like appearance. There are various ways to create tumbled pavers, but often they are actually tumbled in a large drum to create a rough, stone-like appearance.

Compare pavers to concrete

Compare pavers to bluestone
Cobblestone/Tumbled Pavers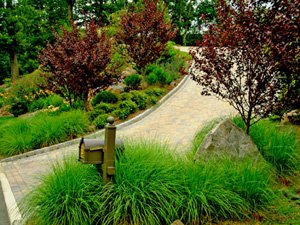 Tumbled pavers are also know as cobblestone pavers. They can be uneven on the surface or smooth. Although they often are called cobblestone pavers, they are not true granite cobblestone pavers.
These are sometimes used on a cobblestone driveway or driveway apron.
However, concrete pavers can be used to to mimic the real deal.
Beveled pavers have what looks like a chiseled, smooth edge. They are a clean cut look and are not tumbled.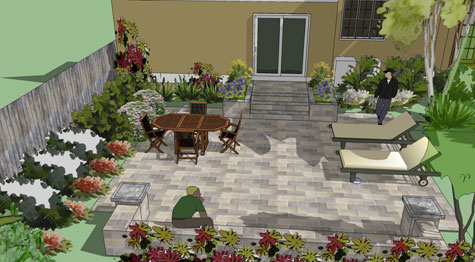 Find out how much this patio costs.


Choosing Colors

When selecting a color, one of the first things I do is look at both the paver color and the color of your house. You want the color of both to blend or contrast exceptionally well together.
If you have a white clapboard house, there are many colors that will look well. You can use grays, beiges, browns, carmel and rust.

Sometimes it is more challenging. This would be the case with a brick house. In this case, take a look at the color of the grout. Gray grout and brick looks well with gray pavers. Beige grout lends itself to those that are more of a beige color.

A beige or taupe colored house - use the same color paver with another color running through the paver or add a contrasting color into the paver mixture.

A stone house will lend itself to more of a solid colored concrete paver, unless you can really get pavers with various color that match almost perfectly.

The best thing to do is get some samples and look at them next to your home. Be sure to get enough (eight or more) so that you can tell. If you only have a couple of pavers it won't give you a clear picture.
Pictures and Ideas:
Paver Patio Design
Paver Walkways
Paver Driveways - ***see my design options in 3D!
Paver Installation - how to install pavers
Building a Patio - photo of procedure
***The concrete pavers you choose can be one, uniform color. They can also be a blend, where each paver is a mixture of two or more colors. You might use the blend, and then add in a certain percentage of another complimentary color for interest, say 20%.
You can include a border along the edge of the hardscape, called a soldier course, and this may be a complimentary color.


Patterns and Sizes
Whether using the pavers for a walkway, paver patio design, or another area, I like the pattern to compliment the material of the house. For example, if your house is faced with brick, try using larger sized concrete pavers, to compliment rather than fight the brick shapes.

I find that there are very few situations where a random pattern does not look good. It is interesting and fun. You can incorporate 3 or 4 different sizes. See photo. Also, because of the layout, there are very few continuous straight lines (which can show up poor workmanship with the evidence of crooked lines).

An interesting feature to include in the design is what is called a "circle kit". It is a radiating circle of pavers that is placed in the design. It can be a lot of fun and adds excitement to large paved areas.
If you would like to read about some of my recommendations, please visit my page on paver suppliers. Some of the well known companies are Cambridge, Techo-Bloc, Belgard, and Eagle Bay. Also, read my valuable advice on hiring paver contractors.


One of the advantages of pavers is that they are dry-laid so there is no concrete involved. Here is a very brief explanation of how pavers are installed.
Excavate the soil to a depth of 4" to 10", depending on your soil conditions. The base soil should be undisturbed or else it must be compacted.
Crushed stone is added on top of the soil. Then a layer of coarse sand is laid on top of the stone.
The pavers are placed on top of the sand, and they are swept with either joint sand or polymeric sand, which hardens and prevents weeds from growing in the joints.
Because of this installation method, pavers are very forgiving. If by any chance over time there is movement, pavers can be easily picked up and laid again. Pavers are also not as hot on the feet as bluestone, particularly the lighter color pavers. Therefore, they can be a good choice for swimming pool decking.
However, some of the darker colors can still be very hot and uncomfortable. Bluestone looks very nice with concrete pavers. You might incorporate it as the treads for steps or as the coping on a patio seatwall. Natural stone also works well with concrete pavers. Stone can be used as the risers for steps and for patio walls.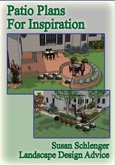 Patio Plans For Inspiration
Here are actual patio designs I have created for clients. You can take these ideas and use them, substituting materials as you like. The 3D images are especially nice to help you see what a design looks like. Read reviews also.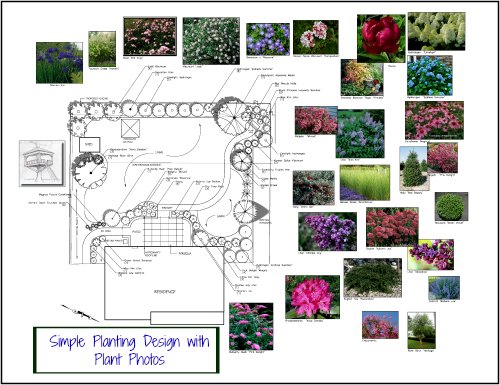 If you enjoyed this page, please share it!