Driveway Apron & Designs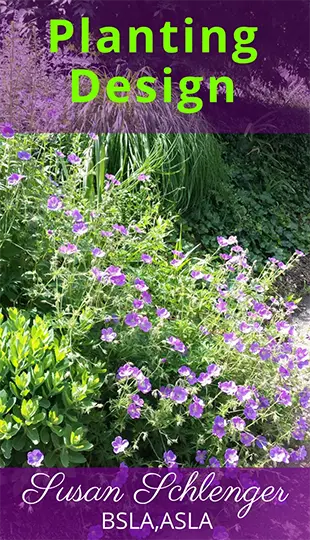 Get your free planting design guide!

A driveway apron is an optional design element, which is located at the beginning of your driveway. It can vary in length. Most of the ones that I design are a minimum of 15 feet long.
Depending on the driveway paving that is being used, aprons can be either a similar or completely different material from the rest of the driveway surface. Either way, this type of driveway entry creates a welcoming approach.
Since it is a small area, it is usually not too expensive.
An appropriate dimension for a driveway entry area is 15 or 20 feet long from the beginning of the drive at the street. The width is as wide as the rest of your driveway, which is usually anywhere from nine to twelve feet. A driveway, however, normally flairs out at the entry. This creates a comfortable turning radius for cars.If you have a circular driveway, there should be an apron on either end. For more information on circular driveways see Driveway Designs.

Driveway Materials
There are many driveway materials to choose from for a driveway entry. If your driveway is asphalt or loose stone, you might use pavers, brick or cobblestone pavers, the latter being the most expensive.
his creates interest upon entry and breaks up the asphalt or stone. You can also use old cobblestones.
Perhaps your driveway is all pavers. In that case, you might consider still using pavers at the entry, but differently. You might change the pattern.
Changing the color to a complementary one also creates a nice look. Please visit my page on driveway paving.
The above photo shows nice old cobblestones used for the apron.

Paving Designs

Be creative with paving designs for this area. When using pavers as the driveway apron, add anywhere from one to three rows of a soldier course to frame it.
The wider the driveway, the more rows you can use. A soldier course is a border that goes around the field.
Another paving design idea is to add a circle pattern within this area. Your driveway should be wider rather than narrow in order for this to look right. The circle must be a decent size so that it is in scale.
As an example, a driveway entry might be twelve feet and have an eight foot diameter circle. This would leave two feet of concrete pavers on either side. A narrow soldier course would be used so as to leave space around the circle.
Paving bricks can be used in the same way as concrete pavers. Various brick patterns can be used, along with a soldier course. Brick circles also make a nice design element.

Cobblestone Driveway
An authentic cobblestone driveway apron can be created by using cobblestone pavers, which are made from granite. However, cobblestones can also be used for just the driveway entry.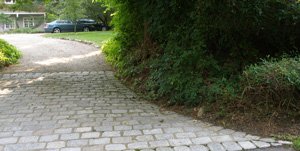 These same cobblestones, or Belgian Block, are often placed as raised, driveway edgings. Locate them as edgings on either side and continue along the entire driveway length. When using Belgian block curbing, the soldier course is optional.
There are other driveway materials that can be used for a driveway apron, but I have found the above to work best. You might like to visit my page where I discuss specific Paving Costs.



| | |
| --- | --- |
| I wrote this ebook to provide even more help specifically with front yard designs. Take a look to find out how it can help you. | And if you'd like to know real pricing for almost all areas of landscaping, you will find this book extremely informative! |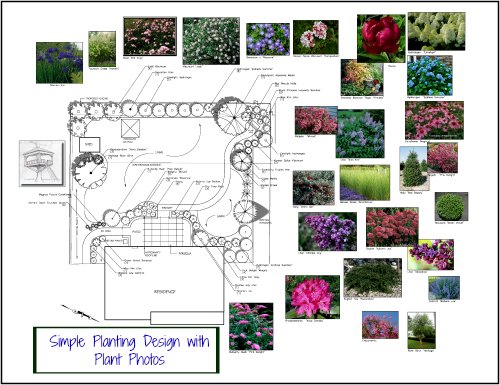 If you enjoyed this page, please share it!

Landscape Design Advice

›
Driveway Designs

›
Driveway Apron