Driveway Costs And How To Save Money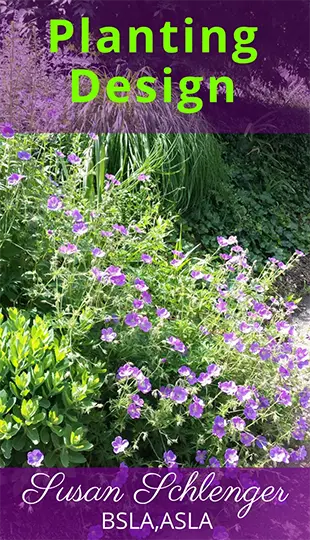 Get your free planting design guide!
Are you wondering what driveway costs might be for your project?

I thought it would be interesting to let you know the price of this driveway in different materials. By doing this, you can see not only what it costs for a large and creative driveway design in different paving materials, but also how you can save money.
In addition, I have provided another cost scenario with a much simpler and smaller design.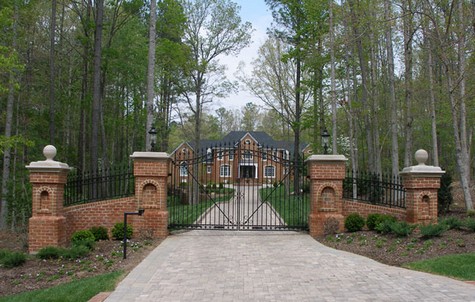 This paver driveway is quite long. Together with the courtyard, there is a lot of square footage. While pavers definitely escalate driveway costs, this is even more true for a large driveway such as this.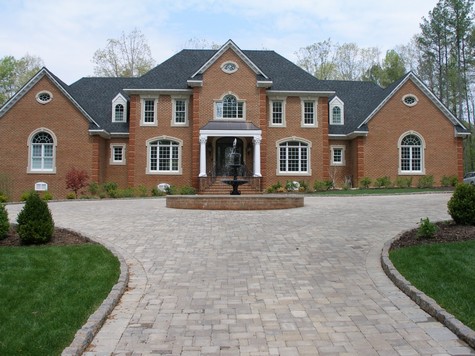 This picture shows how the driveway leads up to a large, paver courtyard.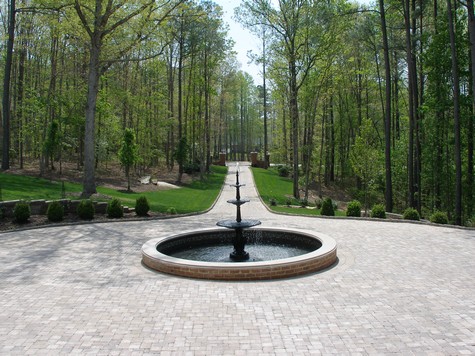 Here is the view from the house looking out towards the street.



· This driveway is 233 feet long and it is 12 feet wide.
· This comes to 3372 square feet.
· The driveway circle courtyard area is an additional 3372 square feet (without the fountain area).
If I were helping a client choose materials, I would suggest the following materials as options.
*Pavers $92,520
*Asphalt $15,420
(big difference!)
*Tar and chip $9,252
(even bigger difference!)

*Asphalt with paver apron $18,920
*Tar and chip with paver courtyard $54,774

There are other options too. Belgian block (granite) could be used instead of pavers for the apron and courtyard. The asphalt and tar and chip options could have both paver aprons and courtyards. As you can see there are many different choices.
My favorite would probably be a Belgian block apron, tar and chip driveway and Belgian block courtyard. That is from a design point of view, not a budgetary one.
Tar and Chip With Belgian Block Courtyard

You can save on driveway costs using tar and chip as a material.

Read about why tar and chip driveways are a great choice..

For this project we used the lovely tar and chip material for a very casual appearance.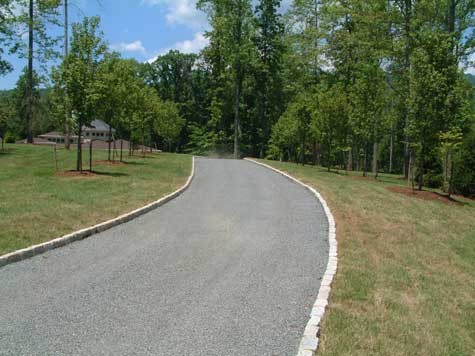 Tar and chip provides a more textured appearance than asphalt.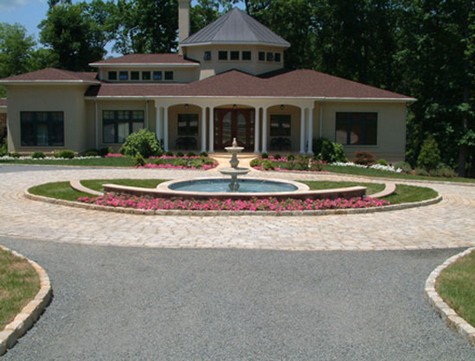 While the less expensive material was used for the main driveway, the courtyard is belgian block, which is a granite stone.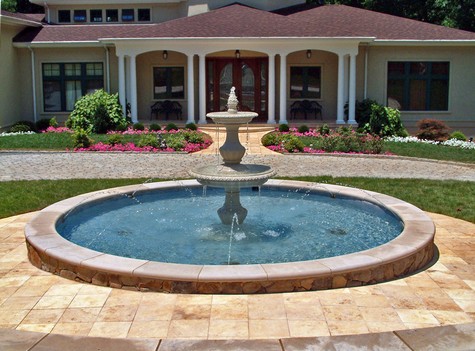 Go here to discover driveway courtyard costs.

Driveways and Realistic Costs or...
Back to Reality!

If your driveway is much smaller, you can still have a great design within your budget. It's a matter of what you like, what will look good with your house and property, and tweeking the driveway materials so that the best design is created within your budget.
Let's say your driveway is about 50 feet long. It is wide enough to fit one car but widens at the garage where two cars will be. 1700 square feet is a fair guess as to the size. How did I come to this?
Main driveway area 50 feet long by 10 feet wide = 500 sf
Parking/garage area 30 feet long by 40 feet wide = 1200 sf
Total 1700 sf
What will this driveway cost in different materials? Let's compare prices for a simple driveway without an apron or edging. (This can always be added on.)
Tar and Chip $2,550
Asphalt $4,250
Concrete $13,600
Pavers $25,500



Here are two books that I wrote which you might find helpful. Just click on the image to find out more about them.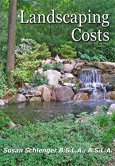 This ebook not only lets you know what many different types of paving materials cost, but also many other areas of the landscaping...plants, grading, retaining walls, steps and much much more.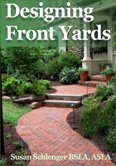 If you need help and would like some professional guidance for other parts of your front yard, take a look at Designing Front Yard, a book I was inspired to write by my clients.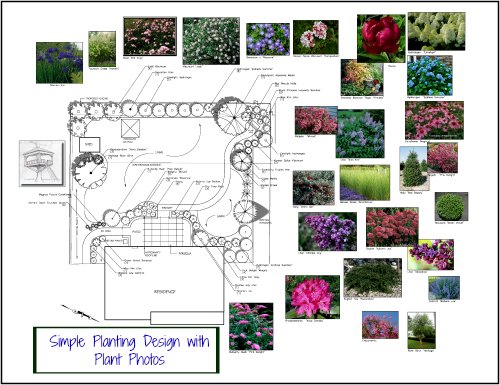 If you enjoyed this page, please share it!

Landscape Design Advice

›

Paving Costs

› Driveway Costs