Patio Designs and Ideas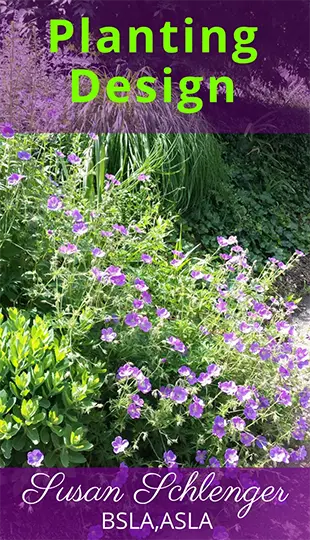 Get your free planting design guide!


Patio designs involve many different elements to think about. You want one that really stands out as something special, right?! There are lots of decisions to make and I know it can be very confusing!
Which paving material should you use and how much does each one cost? What's a good size? How can you make your patio special and not run of the mill?

Please enjoy this slideshow of just a few of my patio projects.

See more photos and read about any of the following:

Special Features -- Patio Costs -- Shapes and Sizes -- Patio Materials
Special Features
| | |
| --- | --- |
| | See my ebook on patios with pictures, professional tips and ideas. It will help you create a great patio. |
An interesting feature to add is a seat wall. They are both functional and artistic, adding an architectural element to patio designs. What are the pros of seat walls? More seating, beautiful elements, and great chatting areas are just a few.
Raised Patios
Raised terraces help provide a gradual transition to ground level when there is a significant change in elevation from the house to existing grade. These elevated patios have patio walls and usually steps.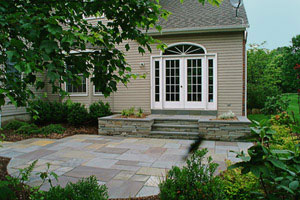 This project shows a nicely designed patio where the entrance to the house was above the grade. We used dry laid, patterned bluestone for this lovely patio. The bluestone color is "full range", which looks great on many patio designs.
You can also use the color "all blue", which is all the same blue color.
See more bluestone patio designs and pictures.

Notice the landing. Or, perhaps you didn't, since it blends in nicely with the design. Beautiful stone is used along with planters instead of a railing.

To eliminate the need for railings with these types of patio designs, here is what to do! Add a planting bed at the edge of the patio. The bed should be at least 2 feet wide, to accommodate substantial plantings. In addition to the 2 feet of depth, you will have the depth of the outer wall which should be 12 to 18 inches thick. The patio planting bed serves as both a physical and mental barrier at the edge, but does not block your view or make the patio design feel closed in.
Design landscape steps off the patio to be at least 4' wide. The wider they are, the more dramatic!


Seven Great Patio Design Ideas
Watch this fun filled video until the end to see it all come together!
These are some patio design ideas that can add interest.
A moveable fire pit is the least expensive.
Walls can be very pretty and add more seating.
A pergola provides shade and become a vertical feature.
Ponds - who can resist the peacefulness of water while relaxing?



Patio Costs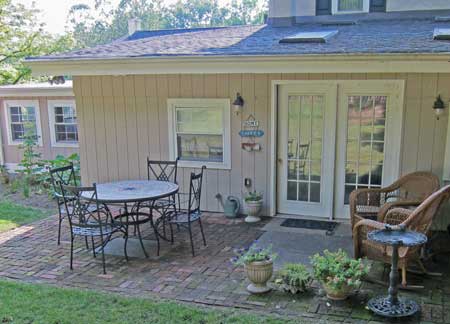 Cost of Bluestone Patio With Seat Wall and Landing



Cost of Two Level High End Project
(And Different Options)



Paving Costs - Find out the costs for paving materials including brick, pavers, concrete, bluestone, travertine and other natural stones.

Other Landscaping Costs - Discover the pricing for other parts of a landscape, such as plants, walls, fencing, ponds and even some tips on how to reduce costs (while still having a great looking project)!
Shapes and Sizes
Patio Design Divided by Seat Wall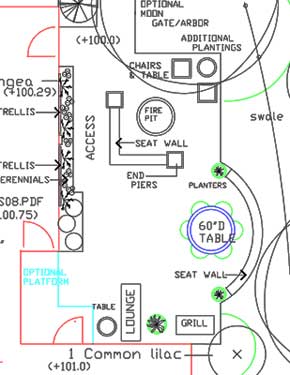 Patio shapes can be curved, straight or a combination of both.
Many people love curves!

Decide what type of furniture you would like and how many pieces...even the sizes...before you decide on your patio size.
A patio a little bit larger will not make that much different in the cost. It is the different paving costs that will.
Notice how this patio is large, but it becomes two distinct areas by dividing the space with some seatwalls.
Also, the two areas are made up of different shapes for interest.

This design offers lots of seating. There is a dining table and chairs, a curved seatwall, a geometric seatwall, fire pit with a seating group, grill and lounge chair.




---
Patio With Trellis Work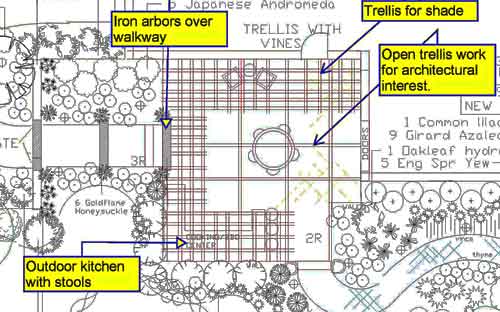 This design includes and outdoor kitchen with stools, a pergola, and open trellis work. The material used was bluestone and it was dry laid. Notice how a simple square patio can have lots of interest.

---
Curved Patios

Curves should be large and sweeping
Use a specific radius which will be more precise for installation
Create interest by combining curves and straight lines.
Straight Line Patio Designs

Begin perpendicular to your house.
For large patios, consider separate spaces by dividing the areas with a seat wall or planter.
Add interesting elements as circle designs, seatwalls, planters, or even a patio pond.
How Large?

A patio should be a minimum of 15 feet wide to accommodate a dining table. The space needed for lounges is 10 feet. These are minimums. You can always go larger.

Have you thought about outdoor entertainment such as audio, video and more, to enjoy on your patio? Read about the latest technology.
Patio Materials
Undecided about which paving material to use? See these helpful pages:

Compare
There are so many paving materials to choose from. The main choices for patio designs are concrete, stamped concrete, concrete pavers, brick, travertine (yes!), bluestone and other natural stones. They all have advantages, but I do like some more than others.
Ok, if you really want to know which is my favorite...it would be a bluestone patio!


Concrete
Concrete is the least expensive paving material, but it has a bad name. This is too bad, because there are outstanding projects (some quite high end!) done with this hardscape choice.
Instead of just letting the mason pour a plain old gray colored patio, you can do the following to make it very eye-catching.
Create a geometric design of 18" - 24" sqaures by "scoring" the pattern.
The design can be set parallel to the house, or it can be set on the diagonal, which can be very interesting.
Color the concrete. The best way to do this is by adding the color directly to the concrete mix.
Note: There is the possibility of concrete cracking, particularly if you live in a cold climate. I live in NJ and have seen plenty of problems with concrete.

Stamped Concrete
Stamped concrete is not one of my favorites, and here's why.
Let's assume you have selected a natural design that looks like stone. Concrete needs construction joints to help prevent cracking. These construction joints are long lines that run through the concrete.
I don't like the straight lines running through a natural stone look. (However, if you choose a geometric pattern, there is less chance of the design being compromised.)


Concrete Pavers

Concrete pavers are a man made product, produced from concrete. There are many colors and patterns available today for exciting ideas. Tumbled pavers are very popular and give a stone-like appearance.
Do I like concrete pavers?
Yes and no.
Pros

Reasonably priced.
Those that resemble stone can provide a nice look.
Colors and shapes available for almost any design.
Strong hardscape material.
Cons

Will not have the same look as natural materials (bluestone, brick, travertine) since it is manufactured.
Pieces of the same size will not vary (man-made look).
Can fade over time.



Travertine Pavers

What an absolutely gorgeous material to use for patio designs! Although I love bluestone, this material is a close runner up.They are a bit more formal looking and therefore not quite as versatile as bluestone. But if it fits in your landscape, wow, what a look!

Travertine is a natural stone material. These stone pavers are cut to specific sizes. They come in many different beautiful colors and patterns.
The wonderful thing about travertine pavers is that they are cool to the touch and therefore they are a great choice for pool paving. They are dry laid which makes for an easy installation. They resist freeze-thaw conditions too. This is such a wonderful paving material.



Bluestone
I am partial to bluestone patio designs! Bluestone is a natural material and will always have character.
There are various shapes that you can use along with different color ranges, such as full range (mixed shades of blues) or all blue (all the same blue color).
This bluestone patio design shows dry laid, full range bluestone.
Dry laying is less expensive than setting it in concrete and just as nice.


Landscaping Brick

I appreciate landscaping brick for the fact that it is a natural material like travertine and bluestone. It is made from clay and then fired in a kiln. (Tumbled pavers are made from concrete.)
Depending on the specific clay used, different colored brick will be produced. When looking at brick, you may also notice that there are different finishes also. Some brick pavers are very smooth, while others have a more textured appearance.
Brick manufacturers have numerous ways of producing these various effects. In addition, you can even buy old brick. Today there are bricks available that are extremely strong and will have great longevity.
One style I have used and like is Pine Hall Brick - Rumbled Free Range. It has an old look and pretty color ranges.
Landscaping brick for patio designs can be either dry laid or wet laid.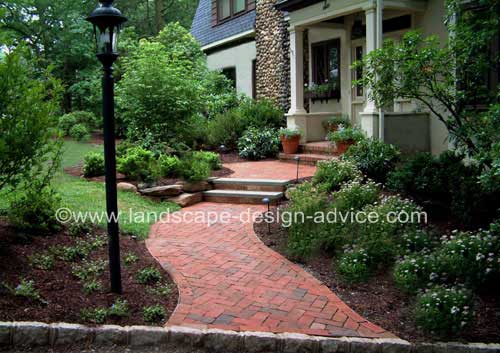 Brick Patio Design and Walkway

But what about laying brick or concrete pavers over existing concrete? If you have an existing concrete slab, and question whether brick can be laid over this, the answer is yes. However, you must make sure that this existing foundation is in good condition. Existing cracks and other defects should not be there. Personally, I would only consider laying brick over existing concrete if it was in excellent condition. Do NOT use sand as a joint filler in this situation. Water will percolate down to the existing concrete base and have no where to go!
Questions About Patio Design or Materials?
Do you have a question about your patio design or a situation that you would like some help with? Whether it be confusion on pavers, bluestone, concrete, other materials or if you just need general guidance, just ask me! I only ask that questions be design related...thanks!

I decided to create this section due to the many questions people have regarding patio designs and materials.

The idea is - Ask one, or Answer one!

You may ask a question yourself, comment on or answer questions of others, and rate comments too. All helpful comments will be greatly appreciated!
Other Visitor Questions and Comments!
Click below to see contributions from other visitors to this page...

If you enjoyed this page, please share it!

Landscape Design Advice

› Patio Designs