Patio Pictures, Designs and Ideas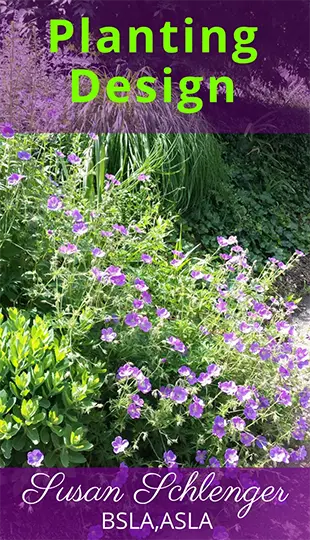 Get your free planting design guide!
Patio pictures are often helpful in letting you see what you really like in a design and how certain things can have a professional look. Those below offer a variety of options that you may consider.

Here is a design for a two level bluestone patio, which is a nice idea if the entrance out of your house is above ground level. You can create a gradual transition without have a "staircase".
Staircases with more than three steps (sometimes even just three) often need railings. Wouldn't you rather not have a railing in your design?
Fewer steps are more comfortable.
The more steps you have, the larger the height difference will be between the levels (more chance of someone falling off).
Although done in bluestone, it could easily be done in concrete or brick. Retaining walls are part of the design. In this design, planters are used for safety since the patio is raised. Another option is to use a railing although this is not as attractive or softening as plantings. Here is what this patio would cost in bluestone or pavers.


Bluestone Patio and Pergola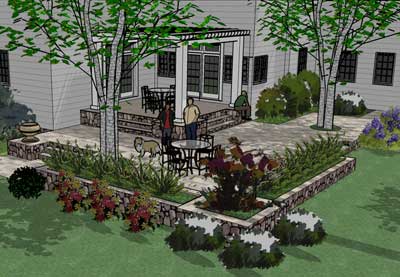 Patio Picture with Bluestone and Stone Walls

Here is another two level patio. In this patio design, I incorporated trees right into the patio. There is also a lovely seatwall which is both attractive and provides extra patio seating. The hardscape is bluestone and is set in concrete, but the walls are dry laid natural stone.
Click here to see my helpful ebook Patio Plans For Inspiration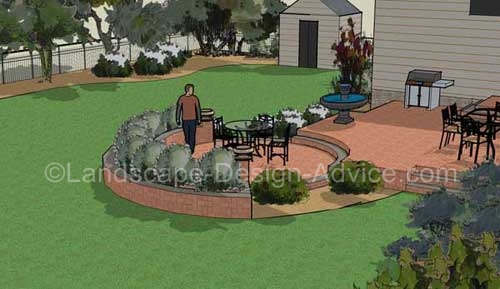 This is another 2 level patio, but you could easily use the interesting lower design for a single patio. This design is circular with a curved seat wall along the patio. A paved circle such as this should be a minimum of 15 feet in diameter (or a 7.5 foot radius) to accommodate a 60" round dining table.
The hardscape paving shown here is brick, but really any material could be used. For example, it could be pavers with a modular block seatwall. Bluestone could also be used for the patio while natural stone would look nice for the wall. For a more inexpensive alternative, it could even be done in concrete.



Paver Patio Design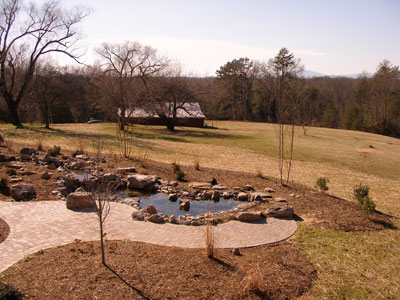 You'll have to use some imagination here as the plantings were really not done and it is winter time. However, you can see in the patio picture how the pond was built right up to the patio. What better way to enjoy a pond?!
Color of Stone is Full Range Bluestone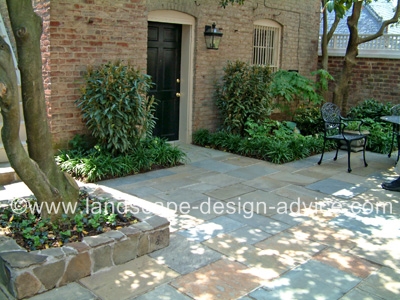 While living in Virginia, I went on a kitchen and garden tour in Richmond. This is one of the patios that I saw and thought it was lovely. The bluestone is dry laid.
For both a nice look and also shade, it's a great idea to plant landscape trees right into the patio, as also seen in one of the above images. Here, the planters are raised, but that is not necessary. Allow at least a 4 to 5' diameter opening for future growth of the tree.


Paver Patio and Seat Wall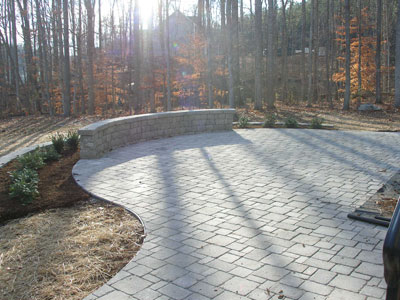 Belgard pavers were used to create this curved patio design with coordinating modular block seat wall. Again, plantings have yet to be done, but you can still appreciate the flowing design.
Click here for more information on my patio plans book.


Why Not Have a Patio in Your Front Yard?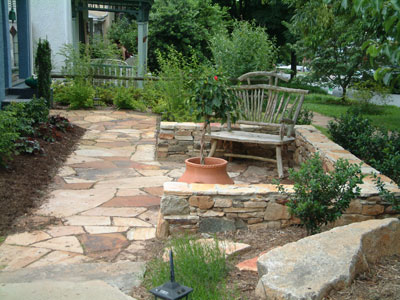 This is actually a front yard patio. Who says you can't use your front yard too? The hardscape is natural stone as is the seat wall.The stone was set in concrete, but it could have been dry laid too. As with many of the other patio pictures here, many materials can be used, not just the one that is shown in the photo.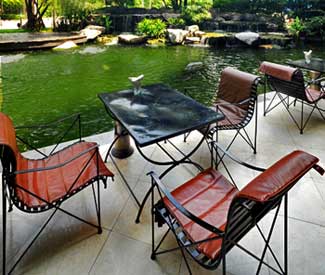 Here is another patio picture showing water right near the patio. It can have a waterfall or even a bubbler/small fountain in the center...and also fish if you like. This patio picture shows a very relaxing scene.


Rustic Stone - Perfect For a Cabin!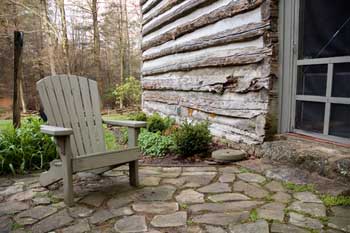 A stone patio can be simple but it still provides a great look since the paving materials are natural, as this photo shows...charming!
Some additional ideas would be to add some plants in between the stones (such as Thyme or some low Sedums). Hint: If you purchase bluestone from a stone yard, the pallets with smaller sized stones, as shown here, are less expensive than those that are larger and thicker.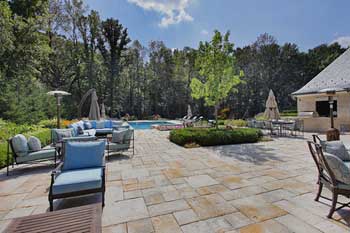 This patterned bluestone patio picture shows the different sizes used in a pool decking patio design. Notice how a planter is set into the design. You can even do this with a smaller sized patio and use, for example, one beautiful tree.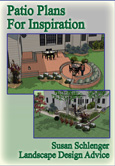 For more pictures and professional tips, click here to look at my ebook
Patio Plans For Inspiration
. You'll see designs in 3D along with many of my project photos and professional tips. This will definitely help you with ideas for your own patio...or just use one of mine in the book!
Related Pages
Paver Patios
Concrete Patios
- inexpensive and beautiful!
Brick Patio Pictures
Stone Patios
Bluestone Patios
Raised Patios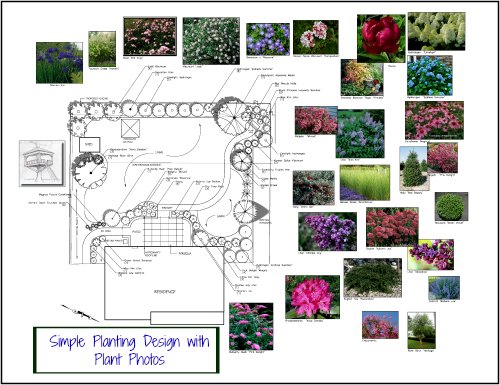 If you enjoyed this page, please share it!

Landscape Design Advice

›

Patio Designs

› Patio Pictures