Two Level Bluestone Patio Costs
How To Do It Less Expensively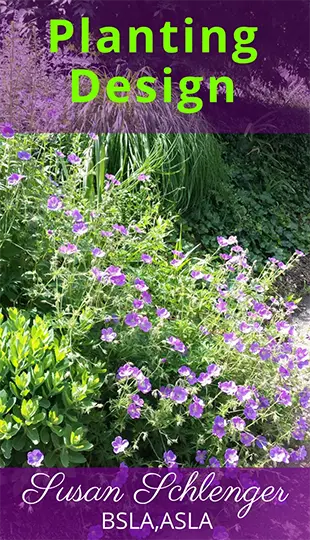 Get your free planting design guide!
Have you even thought about what a two level bluestone patio costs? This was a very high end project and there were many aspects that made it so. Read below to see what they were, but also how you can get this look and cut down on the price quite a bit.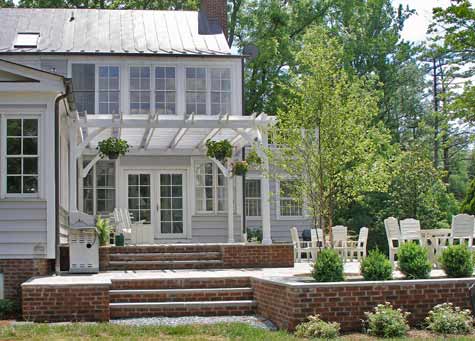 There are actually two patios here…the upper one and the lower area. Yet even the lower patio is raised off the ground due to the fact that the interior of the home was quite a bit above ground level here.

Landscaping Costs Ebook
Find out what your landscaping will cost. These are real prices based on my experience with project estimating.



Here are the patio features.
· The upper patio alone is almost 17' x 17'. The lower patio is over 800 sf. Both together come to over 1110 square feet. This is a large space.
· The material used for the patio was bluestone and it was set in concrete. The walls are brick and the steps have bluestone treads.
· The lower patio has large built in planters, which are trimmed along the top in bluestone.
· There are four groups of steps, two on each patio and they are quite wide.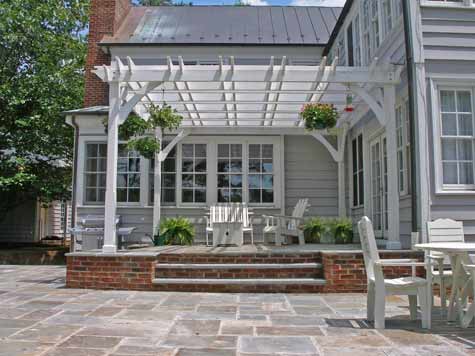 And, of course, there is the beautiful pergola.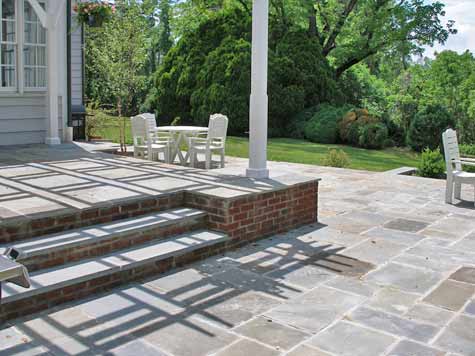 Three wide steps lead down to the lower patio.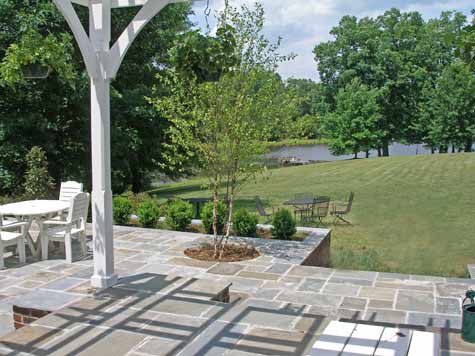 Nice view out to the lake!



I designed this patio and was there for part of the construction. However, I did not price it out at the time. I have done a lot of cost estimating and so to give you an idea of what this would cost I have figured it out.
And the cost is………..$94,600
This included the pergola which would be about $9000, custom built.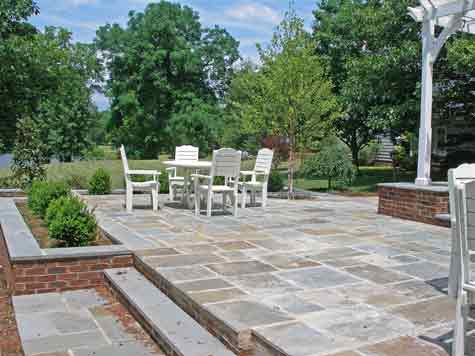 So let's say you have a situation where a raised patio similar to this would be perfect. But let's also say that you don't want to spend almost $100,000!



What can you do to save money?
· Use dry laid bluestone instead of having it set in concrete
· Project cost $61,100
· Use pavers instead of bluestone
· Project cost $55,340
Other ways to cut down even further!

· Reduce the sizes of the patios.
· Use dry laid stone walls and step risers.
· If you were to choose pavers, you can use mosaic block walls.
· Eliminate the planters.
· Do not have a pergola. If you really need shade, you might consider an electric awning.
| | |
| --- | --- |
| If you'd like help with your patio, take a look at my ebook on patio designs. Choose from many of my professional layouts or modify them! | And if you'd like to know real pricing for almost all areas of landscaping, you will find this book extremely informative...and eye opening! |
If you enjoyed this page, please share it!


Two Level Bluestone Patio Costs to Paving Costs
Landscape Design Advice Home