Discover the Secrets of Creating a Professional Level Patio on a DIY Budget
Hi, I'm Susan Schlenger. In my 18 years as a professional landscape designer, I've seen some great patios and some, well, not so great ones.
I've dealt with dozens of clients who were in the same position you now find yourself in.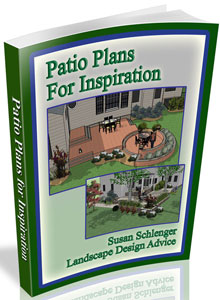 Clear Plans and Color Images
Patio Plans for Inspiration is more than just a 'how-to' book.
It's packed with colorful drawings to show you exactly what each patio design will look like once it's built.
On top of that, each design comes with bird's eye view plans and 3D images which you can use as-is or modify to suit your house.
These plans show you exactly where everything needs to be positioned. You'll know how to arrange multiple levels, creating a beautiful raised patio at the right height with the right number of steps.
You'll learn to calculate the quantities of materials you need and the total cost of your project before you spend a dime.
The drawings do not show dimensions. I have done that on purpose as every house is different. There is not one plan fits all! However, all you have to do is make some adjustments and it will be personalized for you house and property.
A Variety of Designs Gives You the Freedom and Flexibility to Create Your Vision
There are 9 patio plans contained within this ebook:
Patio with Curve and Seat Wall
Two Level Patio with Pergola
Patio with Porch and Seat Wall
English Garden Patio
Circular and Geometric Multilevel Patio
Two Level Patio and Shade Tree Insert
Patio with Pond and Outdoor Kitchen
Patio with Seat Wall and Curve
Curvilinear Patio with Pond and Seat Wall
Between these 9 designs, you're guaranteed to find the one that works well for  your house and existing landscaping, to create the vision you have in mind.
The variety of designs allows you to get creative and add your own flair, while still having a solid blueprint which you know will work.
See the Buzz About Patio Plans for Inspiration
Testimonials
I think the Patio Plans ebook is wonderful - the content would be exceptionally helpful not only for homeowners, but for other designers. The content itself is stellar, and would be of great value for anyone designing a patio .
I love the way you present your ideas in Sketchup (3D). They're very easy to envision and even homeowners would be able to understand your designs easily, which is hard to do sometimes from a written plan. I love the innovation that was used in varying the designs, too.
Gen Schmidt
www.NorthCoastGardening.com
www.GenevieveSchmidtDesign.com


---
Susan's expertise speaks through in this book – obviously, her experience in putting together plans and plants for other people is a journey that has taught the most important thing about landscaping – comfort. Homeowners need to feel that their landscape is their own, even if someone else has designed it for them.
Having access to an e-book that can illustrate this most important concept in its most fundamental will encourage and assist the novice and the more experienced landscaper. Seeing is believing; and learning how to recognize a good design and apply it is a talent well worth cultivating.
As a Certified Horticulturist and xeriscaping expert, I've found that I'm very attracted to hardscapes that can be used as a backdrop to some of my favorite Drought Smart Plants, and patios fit the bill perfectly.
Jacki Cammidge
Certified Horticulturist, Owner and Webmaster
www.drought-smart-plants.com

---
I was looking for a plan incorporating a pergola, or patio cover, into the design and found just what I was looking for. Downloading and reading the book was the easy part, now it's time to get out into the yard and get to work.
My yard will be a do-it-yourself project, between the detailed CAD drawing and the 3D illustration, following the design will be no problem.
Before getting into the shade business I spent some time as a landscaper. I feel I know exactly what Susan had in mind from the detailed drawing and will have no problem following the plan to perfection. These plans could be given to any landscaper and the results should be exactly as shown in the illustrations.
Building awnings and landscaping yards is not for everyone, but you need some good ideas in mind before you call out the contractors. In my sales days I hated it when a customer would have me come out and expect me to have all the ideas. On the other hand, I loved it when they called me out and showed me exactly what they wanted.
So whether you are a do-it-yourselfer, or you plan to hire out the work, the information in this book should be beneficial. Patio Plans For Inspiration is a top notch professional piece of work.
Dennis Gourley
www.shadebuilder.com




100% Money Back Guarantee
I'm so confident you'll be completely satisfied with the expert designs you'll find in this ebook, I'm offering a full satisfaction guarantee.
That means if at any time in the next 30 days you're not completely happy that you made the right decision by purchasing this ebook, you can claim a full refund - and keep the book!
No excuses, no questions asked. There's absolutely no risk to you - if you don't absolutely love the designs you find inside, just contact me for a refund and I'll process it right away.



Ready to Claim Your Copy Now and Take the Next Step Towards a Patio?
BUY NOW - ONLY $19.95
Instant Download!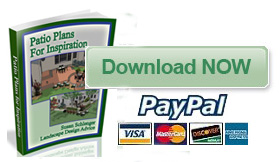 $19.95
Landscape Design Advice

›
Landscape Design Ebooks

›
Patio Plans