Landscape designs for pools can be costly but there are different types that make a difference. The two main types of swimming pools are either a vinyl liner pool or concrete swimming pools.
Vinyl liner pools are less expensive. Only specific shapes are offered, but there is a wide selection. In addition, some companies, will customize their existing shapes.


Stone paving is Apple Creek - cooler than bluestone.
Waterfall is built into pool's back wall - serves as a retaining wall.
Back wall is faced with stone to match pool paving.
Pool fencing is softened with plants.

Read more about this project here

Naturalistic pool design with "beach edge".
Outdoor kitchen and pergola.
Multi level deck with glass railing for an open view.
Two separate sitting areas - one with firepit


Designing Your Pool

Here are some design considerations.


When choosing a concrete swimming pool, you have your choice of any shape that can be designed.


Pool shapes can be either rectilinear in shape, curvilinear, a combination of both...and beyond. There are so many shapes and sizes to choose from. I like to stay with the simpler designs and create the excitement in the surrounding design elements.


The simplest style is a rectangle. This is simple, classic, and has the added advantageous of working well with an automatic pool cover. Another popular design is an L shape. Grecian pools are also classic. These pools have straight side edges, with a simple curve at both ends.


For more natural shaped pools, you can use a kidney shape or any creative free form that one might design. These pools tend to give a "lagoon" type feel to the design. And what about those captivating infinity edge pools? Pools can have an intriguing infinity edges, also known as disappearing, vanishing, negative edge pools.


If you are thinking of having a swimming pool, your two options are to have a design done by a designer or go directly to pool contractors. Of course I think a designer is the better option!
Swimming Pool Decking
When thinking about landscape designs for pools, an important decision to make is what type of pool paving material to use.

Paving around pools is a little different than other areas.

You don't want to select swimming pool decking that will be hot on the feet.

Bluestone, which I love, is known for this, so I rarely recommend it to be used.
Some materials to consider that work well around pools are other natural stones, such as Idaho Quartz or Tennessee Crab Orchard, travertine pavers, concrete pavers, stamped concrete, and concrete pool decking.
Also see natural stone patio choices.



One of my favorite pool paving materials is travertine pavers. Pricing is similar to bluestone, considering both are dry laid. Here is a pool project I designed where travertine was used and it turned out amazing!
Would you like to find out what the travertine pool paver costs are for this project?! Also discover how the pricing compares to pavers, concrete and bluesone for the same design.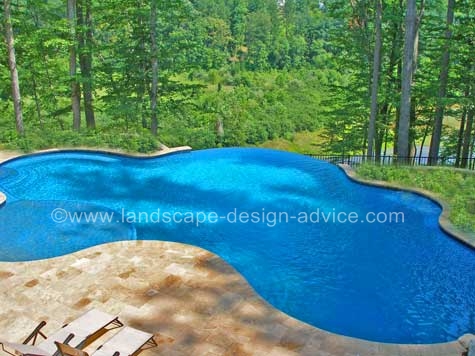 Note: When excavating for the pool and/or changing the grade of the land, be careful of any large trees on the property. Raising or lowering the grade outside the drip line (diameter of branching) of the tree will cause the decline of the tree.
You can read more about grading around trees here



Pool Waterfalls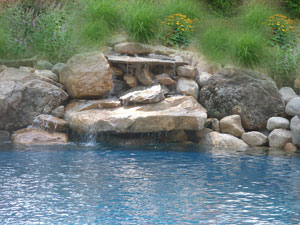 Natural Looking Waterfall Designs
Landscape designs for pools often incorporate a waterfall. People love the look and sound of moving water! To get the most natural look, it is important that the waterfall is located at an existing higher elevation than your pool.
Here are some interesting design tips for pool waterfalls



Spas
Spas can be designed as part of the pool itself, or set apart in the pool paving. For spas (hot tubs) integrated with the swimming pool, a variety of different designs can be used.

Spas can be designed either with or without a waterfall into the pool. They can be set at an elevation close to the pool paving height.
The spa can be elevated to create a more dramatic waterfall.
Spas may have steps leading up to it, so that the spa becomes part of a raised platform.
If you have the space, you might want to use this space as a sitting area!
Spas can also be a free standing unit purchased from a spa company. All the mechanisms are in the unit itself.
Pool Fencing for Safety

This part of landscape designs for pools and your project should be thought about at the very beginning. Fencing should be incorporated in the design, not be an after thought!
Considerations are fencing just around the pool or around your property in some way.


Creating Shade

Landscape designs for pools should incorporate some shade at the pool area. There are ways to do this which add to the beauty of the landscape. Here are some ways to create that shade.
Shade trees
I often provide shade trees in an area of the property where shade from the tree will be cast on the pool paving area. Some of the trees I love to use are 'October Glory' Red Maple and Japanese Zelkova.
Pergola
An outdoor pergola is a nice architectural element to have in a design and particularly as part of landscape designs for pools. It is classic and elegant. It can be sized to accommodate dining furniture and lounges. If placed in the design artistically, it can become a dramatic focal point.
Tent
You can also purchase a wonderful tent!


Lighting at the Pool for Night Time Ambiance

Path lights around the pool will create lighting for night use.
Up lights in nearby trees will add some lighting also.
Torch lights are a great way to create lighting for areas where typical lighting does not seem to work. And torch lights create a wonderful ambiance! You want your swimming pool lighting to be functional, but also subtle.


Furniture for Relaxation

When creating landscape designs for pools and the pool paving, I always make sure the spaces will be large enough for the desired seating. I usually allow a minimum of 15' for a table and chairs and 10' for lounges. I try to make the area used for dining easily accessible to the kitchen.
When designing and selecting places for lounges, I make sure to face them so that the best view is taken advantage of. For example, if there is a nice mountain view on the property, I would position the lounges for that viewing. Landscape designs for pools can make lounging and dining at this outdoor area all the more enjoyable by considering what people will be looking at.
There are many different styles of outdoor dining furniture and lounges that can be used in the pool area. Some of my favorites are mosaic table and chairs, aluminum and teak.


Natural Swimming Pools
If you are looking for an extremely natural looking swimming pool, here is a very special company Natural Design. Their phrase "swimming holes" fits perfectly. When building natural swimming pools, they use concrete which is then artistically sculpted to form rock formations. In addition, sandy bottoms can be incorporated. Some of their waterfall designs can be cliffs, bubbles, or even resemble canyons.
Natural swimming pools and gardens go well together too. Their sculptures can also be used in other parts of the landscape as part of design elements which are green, good for the environment, and quite economical. For example, large sculpted boulders can be set in either lawn areas or pebbled patios for both effect and as places to sit. This concept can take the place of a more structured seat wall.
Pool designs require thought to make the area special. I hope I have provided you with some things to consider when undertaking a swimming pool project.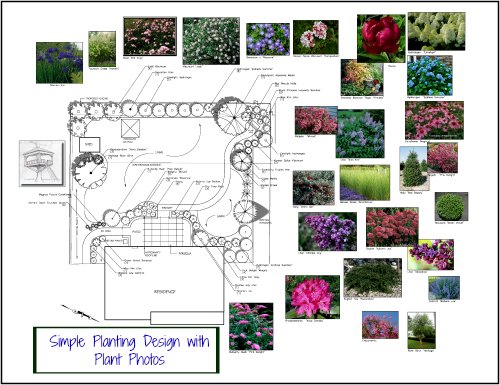 Questions About Pools and Pool Decking?
Do you have a question about swimming pools and/or pool paving that you need some help with? Here is the place to ask! The more information you can give, the better I can answer. And photos are a great help too!

I decided to create this section due to the many questions people have regarding grading and drainage issues.

You may ask a question yourself, comment on or answer questions of others. All helpful comments will be greatly appreciated! Also take a look at the other Q&A on this topic (below).
Questions and Answers of Other Visitors
Click below to see contributions from other visitors to this page...

If you enjoyed this page, please share it!

Return From Landscape Designs For Pools To Landscape Design Advice