Backyard Landscaping Ideas
For Beautiful Projects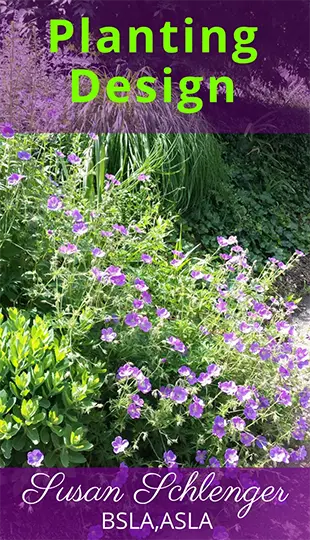 Get your free planting design guide!
Backyard landscaping is different than the front landscape in that it is typically less formal and often is designed for specific functions...like sitting outside and relaxing, for one! Entertaining is another thing it is geared towards, among other things.
It's wonderful to have a backyard garden design that has a special welcoming feel for you, your family and friends.

Many homeowners strive for this type of landscape, but don't know how to come up with backyard landscaping ideas that will create just that.
So what are the three most important parts of a backyard?
Patios (or decks)
Plantings
Specialty Gardens or Areas



Don't forget to add special features to your landscape. I particularly like are sundials.
Patio and Deck Designs
Patios are normally located right outside back of the house for ease of access to kitchen. Depending on how high up your kitchen floor (or any room accessing the patio) is, it might also be:
two level patio
two level deck (or more)

If you are very high off the ground, you are better off with a deck. Otherwise, you can use either one.
So...which is less expensive...a patio or deck?
If they are both rather low to the ground, a patio will be less expensive. If the structure is a fair amount off the ground, then a deck will be the less expensive way to go.
The reason for this is the a raised patio must have side walls, which add on to the cost.
Both patios and decks can be constructed of different materials. There are different types of wood for decks, but for patios there is an endless selection with various paving costs.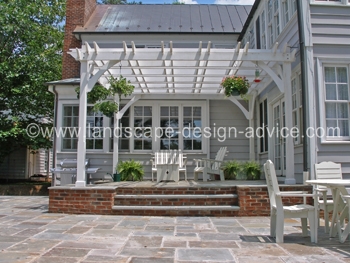 This is a 2 level patio I created for one of my clients.


The room where you step down onto the patio is quite a bit off the ground, but you don't notice it as the 2 patios were integrated with the grade.


The patio is wet laid bluestone with some brick too.






This outdoor pergola and patio that I designed was featured on the Nate Burkus show in 2011!



Great Backyard Features
Outdoor Kitchen Island - there are numerous outdoor kitchen designs from the simplicity of a nice grill to the complexity of adding a sink, counters, refrigerator, and even an outdoor tv!
Here is a kitchen island kit offered by Oxbox Outdoor Kitchens that is very basic and affordable, yet it can be custom tailored to your backyard landscaping. The one you see here is an unfinished kitchen island which had a stone veneer applied to match surrounding walls. They can also be ordered completely finished with Stucco or tile!
Read more about gas grills.

Outdoor Fireplace - what can be better than sitting outdoors in your backyard landscaping and enjoying a fire on those chilly evenings?!

Pizza Oven - these are a lot of fun! See an amusing and fun pizza oven video on my outdoor kitchens page!

Patio Fire Pits - fire pits can be built in to the paving or they can be stand alone units. Some units are quite nice, and have the advantage of not taking up space in the hot weather when it won't be used.There are also units out now which provide a combination of fire and a water feature!

Hot Tubs - A great addition to your outdoor living space! It's best to locate a hot tub near the house for ease of winter use. In addition it should be well integrated into your landscape design.

Outdoor Pergola - Garden pergolas can create what seems to be an outdoor room. They can either be set alone or attached to the house or another structure. They can also provide much needed shade. A garden pergola can be a beautiful focal point in the landscape.

Gazebo - a great landscape feature and focal point.

Outdoor Garden Rooms - Different areas can create "rooms".

Garden Bridge - Add a wooden bridge to your back yard!

Outdoor Garden Benches - these make a special focal point! Read about the different kinds.


Projects
If you'd like to see some more detailed photos of backyard landscaping projects I designed, please visit any of the following pages. Go here to see an overview of these backyard landscaping designs.


This was a huge landscape design project which was completed in 2009. It included extensive perennial flower gardens, a beautiful bluestone staircase, stone retaining walls, numerous walkways and more.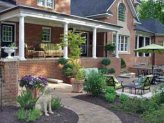 In these pictures you will see a paver walkway leading to a two level patio with outdoor kitchen, a lovely gazebo with stone columns, and landscaping.

Raised Patio, Kitchen and Walkway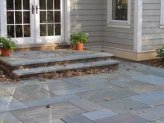 A dry laid, geometric bluestone patio and matching walkway were designed and installed. A landing porch with bluestone steps and stone risers allowed for a nice transition to the patio. There are also stone retaining walls.

Bluestone Patio and Seatwall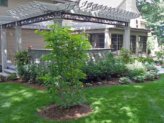 Looking for extensive backyard landscaping? This landscape includes a swimming pool, natural bluestone steps and walkways, a lovely pond with multiple waterfalls, and a pergola structure with arbor! And lots of perennials and other landscape plants.
Patio, Kitchen and Pergola



Fountains
Think about adding a backyard fountain to your landscape. There is nothing like a water feature to make it special!
Bird Bath Fountains
Limestone Fountains
Solar Bird Baths
How Do Solar Fountains Work?


Please also visit My Backyard Projects for more great backyard ideas and photos!


Furniture
You will probably want some outdoor furniture also. Consider and learn about any of the following:
Aluminum Furniture - looks like iron but tough.
Wicker Furniture - for a traditional look
Teak Wood - a beautiful choice


Plantings
Plantings can be simple or quite extensive in backyard landscaping. Even if you need open lawn space for children to play, the perimeter of your property can still be planted.
You might need privacy plants. Evergreen shrubs and evergreen trees are best for this, although you can mix in other types of plants too. You might want perennials for color.
Perhaps you need some shade and want some landscape trees.
To get started learning about different plants, visit my page plants for landscaping.
If you are looking for some stunning patio designs, please take a look at my ebook Patio Plans For Inspiration!



Specialty Gardens

Here are a few ideas for particular types of gardens. These may be individual areas by themselves or they might be incorporated into the rest of your backyard landscaping.
Perennial Garden - a perennial garden design for all season color.
Vegetable Garden - these may be at ground level or you might create raised gardens for ease of use.
Herb Garden - these are best placed near the kitchen for convenience
Shade Garden - if you have a shady area on your property, why not make it attractive with interesting shade plants?
Cutting Garden - a cutting garden can be a separate area or flowers can be incorporated into other planting beds.
Butterfly Garden- this is a wonderful type of garden for both adults and children to enjoy.
Rain Gardens - gardens which are designed to capture excess water runoff

Bird Feeders

What would a landscape be without at least one bird feeder? Here is some information on different types to choose.
Bird Feeders - general tips
Thistle Feeders - for especially attracting those very yellow goldfinch
Window Feeders - great for watching the birds close up!
Related Pages
Patio Pictures
Landscaping Your Patio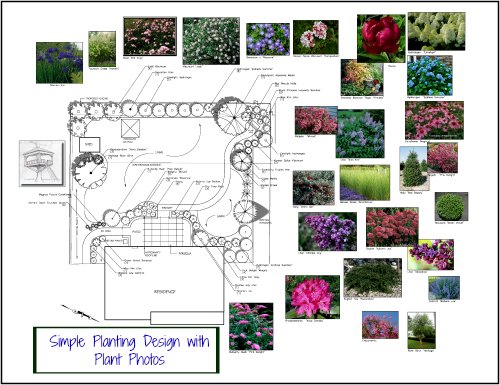 Have Questions About Your Backyard Landscaping?
Do you have questions about landscaping your backyard? Whether it be hardscape design and materials, plantings, or anything else, just ask!
What Other Visitors Have Submitted
Click below to see what other visitors have asked.
If you enjoyed this page, please share it!