Outdoor Kitchen Island For Your Patio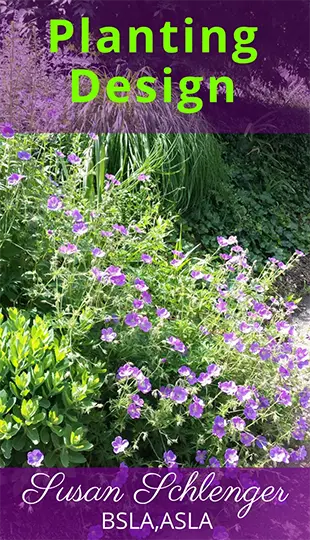 Get your free planting design guide!
An outdoor kitchen island is something that many homeowners are interested in having, particularly if they love to grill.
Sometimes they are designed to be part of outdoor living rooms. These are exciting landscape design ideas. Outdoor kitchens and living spaces extend the indoors of your home to the outdoor environment.
There are many things to consider regarding an outdoor kitchen island. There are many various appliances that can be part of the unit for outdoor cooking. The kitchen can be configured in many different shapes and sizes. In addition, their are numerous types of outdoor kitchens being offered.
Outdoor Kitchen Appliances
The outdoor kitchen grill is the first thing that comes to the mind of most homeowners when thinking about outdoor cooking.
There are charcoal, electric and gas grills. Charcoal provides that great flavor, although these types of grills take longer to get going. You also always need charcoal on hand.
For ease of use and great results, I like gas outdoor grills. Just turn it on and you are good to go!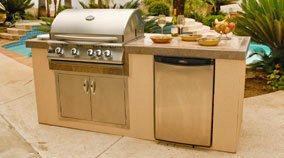 This great kitchen island kit is offered by Oxbox Outdoor Kitchens.

---
Outdoor kitchen gas grills can come with accessories such as rotisseries and side burners. Some grills also become convection ovens when the lid is closed.
Custom bbq grills can be designed as part of the kitchen or as stand alone units. They can be built in with stone, stucco or other materials.
Another great addition is a stainless steel sink. You can even have one with a soap dispenser, just like those available for indoor kitchens.
How about a refrigerator to store cold items like drinks, ice, etc.? Refrigerators can be designed to fit nicely beneath a counter area. Normally they do not have to be large.
There are many other outdoor kitchen accessories that you can include in your outdoor cooking kitchen. Consider any of the following:
Food Warmers

Cocktail Center - houses such things as bottle opener, towel rack, ice bin

Paper Towel Storage Area

Trash Bin

Pizza Oven

Beer Tap Refrigerator - stores beer for serving on tap

Outdoor Beverage Cooler

Ice Maker

Griddle Tray

Cutting Board

Smoke Tray - infuses meat with a smoke flavor

Sear Zone Burner - sear your meat, fish or poultry hot and fast

Outdoor Kitchen Bar
Modular Outdoor Kitchens
There are basically three types of outdoor kitchen islands.
Modular Outdoor Kitchens - I refer to these as semi-custom. You can choose which accessories you would like. You are often given a choice of a few different types of finishes, such as stucco, granite, etc. The kitchens are then ordered this way.
Unfinished Modular Kitchen Units - With these, you may also choose which accessories you like, but it is ordered unfinished. A mason will face the unit and supply the counter tops. You have more control over material choices this way. For example, you might like to match your patio or pool travertine pavers with the same travertine tile. 

Custom Kitchen Islands - These are completely custom. With all of the modular units available, this is often not necessary to create a wonderful kitchen. You might consider this if you want an outdoor kitchen design that has no resemblance to anything on the market. For example, perhaps you have a very detailed fireplace design that a landscape designer or architect has provided you with. In this case, custom might be the way to go.
Outdoor Kitchen Designs
The outdoor kitchen island can be a simple rectangular unit. It can also have numerous angles or can be L shaped. It all depends on the appliances and amenities that you want and how they will best fit. A particularly nice feature is to include an area for stools so that the cook and family or guests can have conversation.
This can be designed in a couple of different ways.
The kitchen unit can be one long rectangle. The back of the area is raised and provides space for guests or family to sit and face the cook.

The outdoor kitchen island can be L shaped. In this design, guest would be sitting to the side of the cook, but still facing him.

Either way is a nice set up and great for chatting with guests while cooking.
Outdoor Kitchen Ideas For Materials
Many different materials can be used to face the upright surface of the outdoor kitchen island. Natural stone can be used. Often this is a face stone which is thinner than regular stone.
Travertine is a nice choice too, especially if the patio or swimming pool decking istravertine pavers. Brick or stucco are other outdoor kitchen island material choices.
The counter tops can be stone slabs such as granite or travertine.
They can also be made of bluestone or porcelain tile. There are many options. 
More Outdoor Kitchen Ideas - Living Rooms!
An outdoor kitchen design can include just the kitchen island, but you can also make it part of a larger outdoor environment or living space in your backyard design. The area can be set up as an outdoor living room complete with sofa, chairs and even an outdoor rug.
And perhaps a pizza oven? This is an enjoyable video showing a wood fired pizza oven...just don't be hungry while you watch!
You might consider adding a fire pit to add to the atmosphere. Fire pits can be a freestanding unit using propane or natural gas.
For a more rustic design, you can have the fire pit built in to the patio so that it becomes wood burning.
A fireplace is another popular addition to outdoor living rooms. There are outdoor kitchen companies who will incorporate a fireplace into the kitchen island. You can also choose to buy a ready made free-standing unit or to have one custom built to fit in with the total landscape design.
A great outdoor kitchen design can be created by having an outdoor pergola over the kitchen area. This can be limited to the cooking area or can be designed to encompass the entire area. This creates a room and is very cozy. Once again, there are companies that are providing this now as an add on, or you can have one custom designed and built.
You also might consider an outdoor pergola not incorporated into the outdoor kitchen island, yet part of the outdoor living room....or even elsewhere on your property. Another lovely landscape structure is an outdoor gazebo, which provides another interesting place to relax in the area.
Also think about the landscaping in the area. Perennials, shrubs and a pretty ornamental tree can be wonderful additions, especially if you enjoy all season color.
Outdoor Entertainment!
While using your outdoor kitchen and relaxing on your patio, why not add outdoor entertainment to the area. Outdoor audio can not only be added, but work with the latest technology such as the iPad or a remote for complete control of audio and many other things.
Click the above link and find out about how easy this advanced technology can be.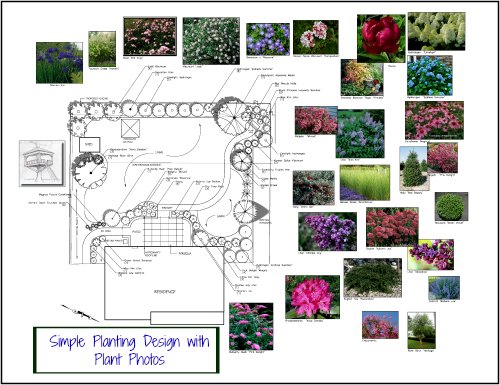 If you enjoyed this page, please share it!

Landscape Design Advice

>
Patio Designs
> Outdoor Kitchen Island