Outdoor Gazebo 
A Garden Strucutre For Shade and Beauty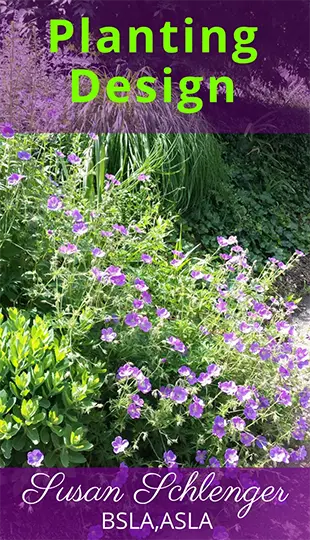 Get your free planting design guide!
An outdoor gazebo is a structure which typically stands alone as a focal point in the landscape. It can also, however, be incorporated into a very large patio near the house.
It has a roof and is open on the sides. It can be quite the striking focal point. A gazebo unit serves as a nice destination as a place to sit, while also providing shade.
Gazebos in beautiful settings can be seen in European landscape design. Gaze across the rolling hills, rest your eyes on a pond in the distance and then vision a gazebo similar on the far side of the water.
Typically, outdoor gazebos are made of wood. Cedar is an excellent choice. It is long lasting, beautiful and insect resistant. When cedar is allowed to weather naturally, it develops a very nice silvery patina. You also have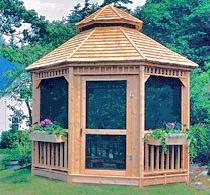 the choice of applying stain periodically, although this is not a necessity. There various types of wood that can are used.
A gazebo might have a single roof, a double roof, or a roof that is three-tiered. You do have a couple of floor choices.
You can purchase a garden gazebo with a wooden floor as part of the gazebo. Done!
There is also the option to buy one without a floor. In this case, you would install the floor yourself, choosing any paving material that you like. It might be brick, bluestone, concrete pavers, or travertine pavers.


A garden gazebo placed in a residential setting can be a wonderful landscape feature. Wherever you place it, it will be an interesting landscape feature and also provide shade. An outdoor pergola is another option.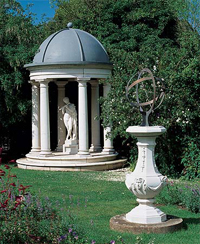 There are many gazebo companies which offer various styles, sizes and materials.
Some are more arte the more typical ones made of wood.
Lovely ones are made with domed tops and beautiful pillars, as seen in this picture.
There are beautiful wrought iron gazebos.
If you like, there are optional screening packages designed to integrate nicely with the gazebo and keep you free from insects.
This lovely gazebo temple is from Haddonstone Company. It's magnificent, but quite pricey!
Iron will normally need some upkeep, as it can rust over time. However, some people think painting it occasionally is a small price to pay for its beauty.

An outdoor gazebo can be used in different places in the landscape. You might consider placing one in a distant corner of your property. You can have a path leading to it, but this is optional. There is nothing wrong with meandering through the lawn to get to it. If you have outdoor garden rooms in your landscape, you might place one there for an inviting sitting place.
Perhaps you have a swimming pool and want to include a shady structure to relax in on the swimming pool decking. An outdoor gazebo can also be included on a large patio design or as part of outdoor living rooms. A garden gazebo can also be placed on a deck.
---
In one design, I incorporated a gazebo into a cantilevered deck corner. It was supported by additional posts beneath it.
Picture this landscape design:
Create a stream at the rear of your property.
There is a wooden bridge or a large, bluestone slab on which you cross the stream....ending up at the gazebo, surrounded by plants and trees. 


You can get as creative as you like with outdoor gazebos.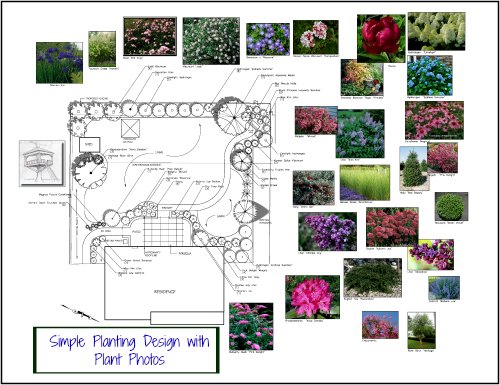 If you enjoyed this page, please share it!

Landscape Design Advice

>
Backyard Landscaping
> Outdoor Gazebo