Outdoor Dining Furniture
Types and How To Choose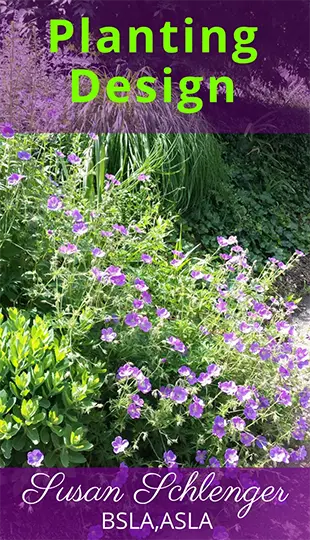 Get your free planting design guide!
It's time to choose your outdoor dining furniture! So many furniture types, so many looks and also...it is so expensive. Finding the right set or groupings can be quite a challenge.
I know...I went through it this year. I am not one of those people who returns things, but yet that is exactly what I did...twice! So Let me help you so this does not happen to you.Here are the key points when deciding on furniture for your new (or old) patio.
Must fit within your budget
The furniture material should go well with you surroundings.
It must last a long time (for the prices, it better!)
The seating should be comfortable.
Any seat cushions should be easily replaceable.
It has to fit well within your spaces.
Different types of outdoor dining furniture all have their pros and cons. Here you'll find the different kinds and learn about each one.


Wicker Outdoor Furniture
Wicker furniture will provide a more old fashioned look. Although it's typically offered in white, it's available in various other colors too. There are also different kinds of wicker, from natural to synthetic.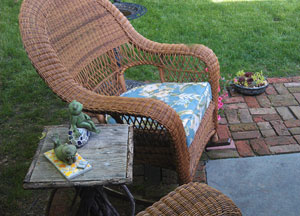 I have two synthetic wicker rockers and unless you are a purist, it is a dream! It's about four years old now and it looks like new.
I did have it on a covered porch for two years, but this last year it just sat on an uncovered patio.
You can see the condition of it in the picture taken this past summer.


Teak Wood Patio and Deck Furniture
I first saw teak furniture when I helped out in the furniture department of a garden center. It is definitely high end (with pricing to match)! Teak wood is long lasting and beautiful. It can be stained to retain its' original color or it can be left to weather to a natural silvery gray patina.
Take looks good with many paving materials. I don't love it with brick or travertine, but it looks good with pavers and bluestone.

Mosaic Table - Mosaic Patio Furniture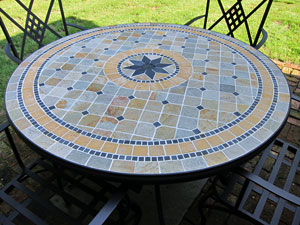 This is a beautiful mosaic table and chairs...and it the outdoor dining furniture I finally decided upon. I like it because it is different! The mosaic tiles are on the table top and the rest of the table is lightweight iron.
The tiles are actually made up of different types of stone. There is travertine, slate and limestone. It is unbelievably beautiful.
I decided to put a sealer on it and it held up great all summer...very low maintenance too as it does not show the dirt!

Outdoor Aluminum Furniture
Aluminum furniture is often created to look like iron. Yet, unlike iron, it requires little or no maintenance and is also light in weight.
This is probably one of the most popular types of outdoor dining furniture due to its' great look and practicality. It looks great on almost all types of patios...I particularly like it with brick or a reddish colored pavers...but it really is very versatile.
Note: As a guide, a 60" round dining table and chairs will fit on a patio 15 feet wide. Lounges chairs need 10 feet of space.
Wrought Iron Outdoor Furniture
Outdoor iron furniture is for the purists. Wrought iron outdoor furniture was used many years ago. The Victorian era is know for using it. It has a great look, but there is usually upkeep and it is heavy.
That being said, there are some manufacturers who make outdoor iron furniture with a coating that works to prevent peeling and rusting.

PVC Furniture
PVC furniture is made from a synthetic material. It is lightweight and inexpensive. Unfortunately, it does not last that long. It discolors and tends to scratch. I had this type of furniture many years ago, and believe me, it is not worth it. You will be replacing it before you know it!


Rustic Outdoor Furniture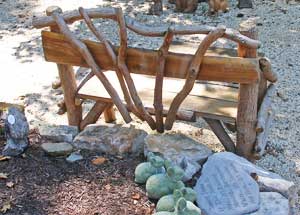 Rustic furniture is made from trees and logs. If kept somewhat protected, as on a covered porch, it will last a long time.
It is quite unique. You will recognize this type of outdoor furniture when you see chairs, for example, made of twisted pieces of natural looking wood. Often the chairs have woven seats.



Choosing Patio and Deck Furniture
Consider the following when making your choices:

Cost
Aluminum outdoor dining furniture comes in many different price ranges. Teak tends to be expensive, as does iron outdoor furniture. The cost of rustic tables and chairs will be determined by the quality. Good quality wicker along with antiques wicker tends to be more expensive, although you can get cheap wicker furniture too.


The Look
Think about the style of your house and patio or deck design.
Is it more traditional or contemporary?
What is the color of your patio or siding on your house.
Does it look well with the other materials and look of your landscape?

Furniture Longevity
Will the furniture be kept out all year, or can you store it? Will it be out in the open or have a covering over it?
For example, your patio or deck might have a trellis to help protect from the weather. Perhaps the furniture will be used on a covered porch. Some types of furniture are tougher than others. Natural wicker is sensitive to the weather, but teak is very durable.
Take all these things into consideration when choosing outdoor dining furniture, lounges, benches, etc.
Related Pages: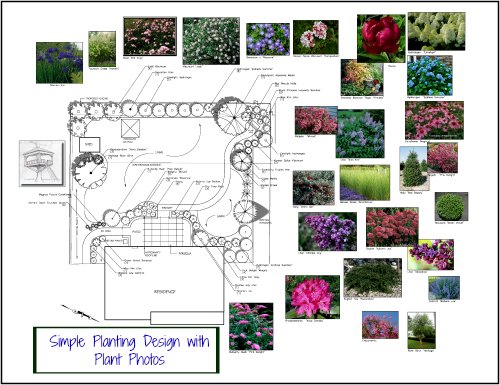 If you enjoyed this page, please share it!

Landscape Design Advice

>
Backyard Landscaping
> Outdoor Dining Furniture