Outdoor Garden Benches - Choosing a Style
Outdoor garden benches are available in many different styles and materials.
You might like to have an aluminum garden bench in your landscape...relatively maintenance free.
How about one that looks like a traditional garden park bench? And of course, wooden garden benches are wonderful.
There are also those made of iron or concrete.
You can choose any style you like from Victorian benches to even stone garden benches.


Wood Benches
Just as in many other types of outdoor furniture, wooden garden benches can be made from different kinds of woods.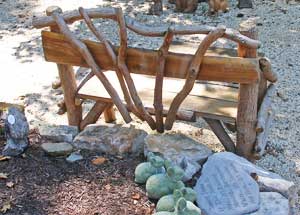 Some examples are pine, cedar, redwood and teak. Teak is an extremely long lasting material and a teak garden bench is high end. Teak is a high quality wood with its own inherent beauty. Pine is a softer wood and will have the shortest longevity.
Cedar and Redwood benches are additional choices, falling in the middle.
All of these woods will turn a gray color over time. You can let them go their natural course or stain them. They can also be painted, although I would not recommend this for teak. The original color of teak is beautiful. It weathers over time, and the silver color it turns is still very nice. To learn more about teak, please visit my page on Teak Wood Outdoor Furniture.
Cast Aluminum Garden Bench
A cast aluminum garden bench is another material choice. The higher end aluminum outdoor garden benches are made with non-corrosive aluminum and use paint that will not peel or chip. This material is also relatively lightweight compared to iron. The most traditional color is black, although there are other colors available, such as dark green, white, etc.
Wrought Iron Bench
Outdoor garden benches made of wrought iron are very traditional, as many benches were made of this material long ago. They can be quite beautiful, particularly if you are lucky enough to find an old, antique one. However, they are very heavy and upkeep will be needed....they will peel and also rust if left alone.
You also might consider using a natural stone for your bench. The stone should be a comfortable height with a rather flat surface for comfort. Selecting a unique stone or boulder for this purpose can be creative and a lot of fun. If going this route, try to locate it in a very natural setting.
Concrete benches are also available. However, they are very heavy and often have no backs. There is always the possibility of a concrete bench cracking in the winter too.
Garden Bench Styles
The design of benches can be either classic or traditional. Many benches are actually reproductions of styles found in particular eras. For example, there are benches which are copied from the Victorian era. A Victorian style bench can be either wood, iron or aluminum. Many traditional benches are take-offs of old iron benches found in park settings.
Landscape Design and Benches
Benches can be used in the landscape in many different areas. Place them on a patio, in a lawn area, near a pond or even in your front yard in a courtyard setting. When
locating a bench in the landscape, consider the view. Try to face it towards something that's enjoyable to look at. It might be a distant borrowed view, a lawn scene, or a pretty garden. Placing it near a pond is another idea so that you can sit and enjoy the water.If the bench is placed well, it will look well.
Although benches can be set out in the open, it is also nice to have taller plants behind the bench serving as a beautiful background. In addition, you can place beautiful urns on either side. Plantings near the bench help to create a special sitting area, hugged in by greenery and color.
If you have woods on your property, you can create natural walkways and set the bench along a path where you can sit and enjoy the quiet.
Sitting and contemplating nature can be very soothing...outdoor garden benches are perfect for this. 
Consider a Professional
Online Landscape Design
Unique Services Throughout the US and Canada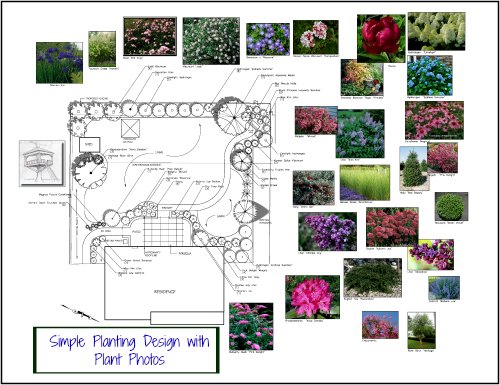 "Susan, what a pleasure it was to work with you. You made me feel like I was your only client - responding late at night and always so quickly! Your design is amazing and we only hope we can do justice to it when we plant . You have such fantastic ideas and you are so open to suggestions and changes. Loved working with you - now if you could only come to Canada and plant it !!! "
Helen, Ontario-Canada 


If you enjoyed this page, please share it!

Landscape Design Advice

>
Backyard Landscaping
> Outdoor Garden Benches