Patio Fire Pits

Choosing Wood Burning or Gas
Built In or Moveable?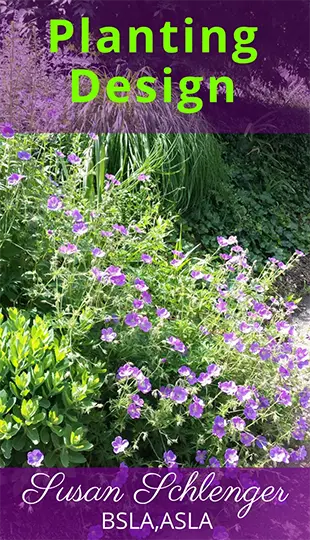 Get your free planting design guide!
Patio fire pits are a landscape addition that is becoming more and more popular.
The idea of sitting outside and enjoying an open flame is hard to resist. They can be used for social gatherings, grilling or just to enjoy alone. In addition, they do provide beautiful evening light.
There are various kinds of fire pits that you can choose from. They should be located in an area of your property where you can enjoy them easily.

Fire pits can be either built in or portable. Outdoor gas fire pits can run on propane gas or natural gas. They can also be the traditional wood burning types.


Moveable Patio Fire Pits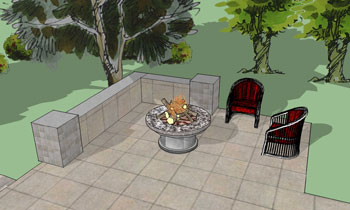 This 3D design I did for a client shows a portable fire pit along with a seat wall and some casual chairs.


---
| | |
| --- | --- |
| If you'd like help with your patio, take a look at my ebook on patio designs. Choose from many of my professional layouts or modify them! | And if you'd like to know real pricing for almost all areas of landscaping, you will find this book extremely informative...and eye opening! |
---

The portable fire pit is one where you can use wood or gas. Either propane gas or natural gas can be used.
It only becomes portable if it is either wood burning or used with a portable propane gas tank. Of course it is easier to move a wood burning one without having to carry a gas tank. If it is wood burning, the portability is that much easier. Once you have a propane gas tank connection, it becomes a bit more cumbersome to move it.
A portable fire pit has many advantages.
It can be moved to various areas of your property. For example, you may choose to keep it on your patio, yet you can also move it to a pool area or even an open lawn space.
It can be removed in the heat of the summer when it will rarely be used.
It can also be taken on vacation or used at someone else's home.
Portable fire pits also cost less than to have one built.
With the propane tank, you do have the issue of having to camouflage the tank. However, there are companies that make attractive housings for gas tanks so that propane fire pits can can be attractive.

If you decide to connect your fire pit to the gas line, a permanent line must be installed.
In summary, the first decision to be made is if you would like your patio fire pit to be permanent or portable.
If you want it to be portable, opt for either wood burning or gas. If you want a stationary one, you can have it built into your patio and you will most likely use wood.
My preference is to have a portable fire pit. The reason is that a fire pit takes up usable space on your patio. That would be fine if it could be used all year long. However, in the heat of the summer, people generally do not want to light a fire. By removing the fire pit to a storage area, the space can be captured for other uses.
I also like all the beautiful ones that are available. For example, a copper one will add another interesting material to your landscape design and can become a lovely focal point on your patio or elsewhere.



Built in Patio Fire pits and Design Elements
Built in stone fire pits have walls around them that can be built out of various types of stone. Stone (and brick) hold in the heat and are natural materials so these materials blend into the landscape nicely. Stone fire pits can vary in size, anywhere from 2 to 6 feet in diameter. Walls can be 18 to 24 inches high to serve as seat walls.
When deciding on the wall material for a fire pit, coordinate with the material on your patio, nearby hardscape features and the siding on your house.
To see one of my 3D designs of a pool patio which has a seatwall with a patio fire pit, visit Backyard Pool Design.
Portable fire pits come in many different styles and materials. Two common materials are copper and steel. A copper firepit will develop its own individual patina which can be lovely. Some fire pits come with a mesh covering to control any sparks of burning wood. The advantage of gas is its ease of use. The logs are typically ceramic or concrete and it's a matter of just turning on the valve! However you don't have the feeling of a wood burning fireplace.



Placing the Fire Pit in Patio Designs
Place your fire pit in its own area.

You don't want it in the middle of an access way.

You can have seating around it.

You can also build a seat wall into your patio for extra seating to enjoy the patio fire pit.

If the patio has a curvilinear area, consider setting the fire pit within this curvilinear area and then create a curved seat wall at the patio perimeter.

For safety, the fire pit should be located in an area that is not near other structures.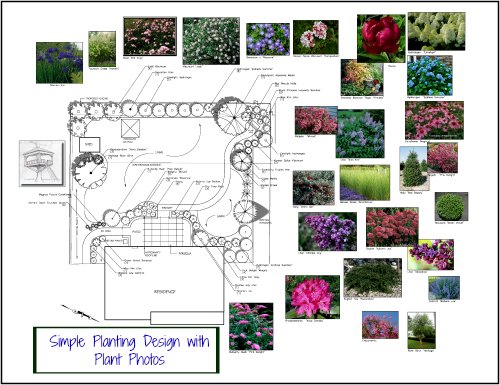 If you enjoyed this page, please share it!

Landscape Design Advice

›
Patio Designs

›
Patio Fire Pits