Backyard Fountain Ideas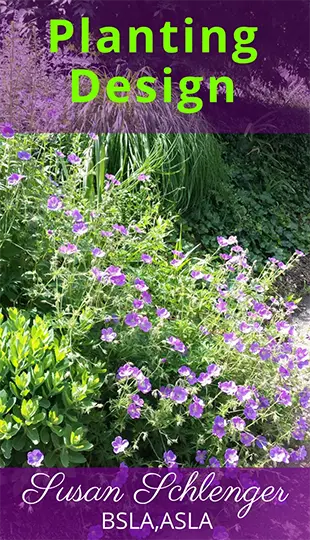 Get your free planting design guide!
Have you ever thought about having a backyard fountain in your landscape? I don't think there is anything like water in a garden. Some are very affordable so don't let costs stand in your way.


To have the sound of water in a garden is amazing. It is so peaceful and relaxing to listen to. To see moving water is just as captivating. It draws you in and it certainly draws attention.

Outdoor Fountains

The first thing you should do is decide if you want to have a solar fountain one that gets connected by electricity
If you don't have an electrical outlet that is relatively near where you want to place the backyard fountain, you will have to either install one, or opt for a solar powered water fountain.
There is one more option. That would be to purchase just a pretty bird bath that is not a fountain...and turn it into one with a battery operated device that creates a little fountain right in the sculpture.
I used one of these devices in my bird bath a few years ago shown in this photo. We just set it in the bowl where the water goes and plugged it in. It really created moving water!
Also see Bird Bath Fountains



Solar Powered Fountains

There are many solar fountains available and the best part is that you can place them anywhere without being involved with electrical connections.
They look great in many areas of the landscape:
patios
planting beds
out in the open lawn
anywhere as a focal point
Distance is not a problem with solar powered water fountains! The way they work is very easy.

Read more about solar garden fountains

There are also more that are suited for birds. See Solar Bird Baths



Yard Fountains - Not Solar
It will be practical to place these types of backyard fountains closer to your house and where the electrical outlet is. You then need to run the electricity to the fountain. Running it under lawn is much easier than digging up your patio! But all in all, it really isn't that difficult. If you place it in a bed, this is usually pretty easy. If you decide on a patio fountain, think ahead as far as wire placement goes.
There are many types of outdoor garden water fountains. They are available in many different materials. Concrete fountains are quite common as are those that look like concrete but are a blend of synthetic materials. Copper and iron are other popular fountain materials. And of course there are the beautiful limestone fountains.
There are many other types of fountains.



Garden Wall Fountains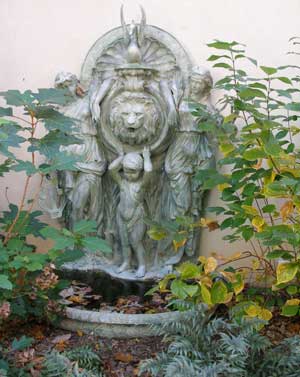 If you have a wall that you want to dress up, consider a garden wall fountain. This is a fountain that is mounted onto a back. The back is actually part of the fountain and is decorative...so the entire piece becomes important and a nice focal point.
Garden wall fountains are often made of concrete but they can be of other materials too, such as iron.
This one happens to be quite elaborate. It belonged to clients of mine who brought it back from Europe. However, there are many that are much more simple. It is a great way to add interest to a wall and at the same time it becomes quite a focal point.





Fountains With Pools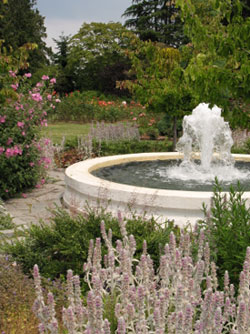 These are larger fountains where the water cascades into a pool.
They can also be simple pools with spraying water in the center as shown in this photo.
There are many ready made backyard fountains where the pool comes with it when you purchase. However, the pool can also be custom made, although this is typically a huge project.












Tiered Fountains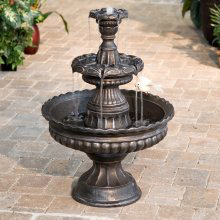 Tiered fountains can either run on electricity or be solar.

They can be simple with only two tiers or they can be quite imposing with three tiers or more.

A tiered backyard fountain is typically on the larger size so would look well in a position of importance.







Lion's Head Fountain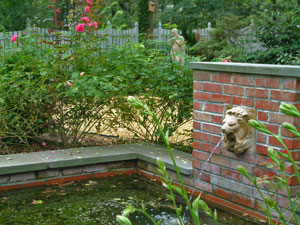 This fountain type is usually attached to a wall. However, the wall can be built as part of a water feature as shown in this photo.
The size of the lion head should work well with the size of the wall. You don't want the head to be so small that it does not look right. At the same time it should not be too large for the wall.
Note: This backyard I designed won an award.


For any fountain selection keep scale in mind. Use a small fountain for a small area and a large one for a larger area. If you are unsure of what size would be right for your spot, try to place something there of similar size to get a good feel of how it will look.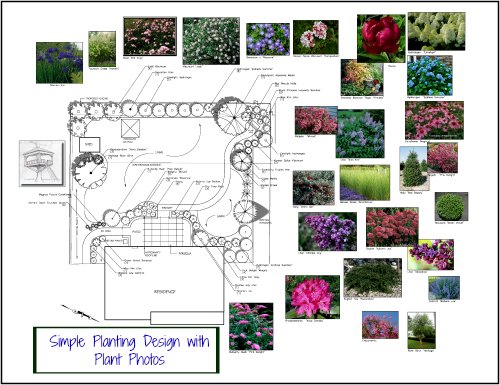 If you enjoyed this page, please share it!



Return From Backyard Fountain to Backyard Landscaping
Landscape Design Advice Home