Travertine Pool Paver Costs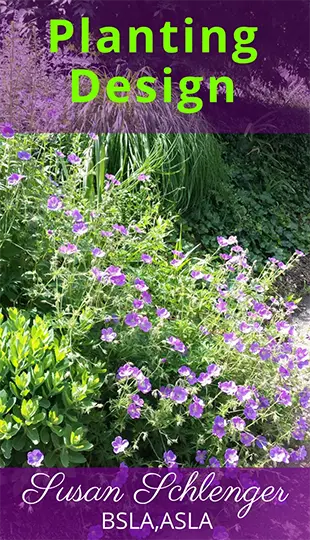 Get your free planting design guide!

Travertine pool paver costs are not as expensive as you might think. The price is in line with bluestone, although more than pavers. But look what you get! Beautiful stone with a kaleidoscope of colors running through each piece creating a unique look.
Here is a swimming pool design I created for a client. Read more to find out about the following.
Price of the travertine installed.
Amount of square footage.


How you can save on costs with travertine pavers.


What would the project have cost in other materials.

Before I get to the actual travertine paver price, let me tell you that the square footage for the pool paving was 900 square feet. I am going to add on 10% for waste which brings it to 1000 square feet.

Travertine Pool Paving Costs Reduced by Less Paving Amounts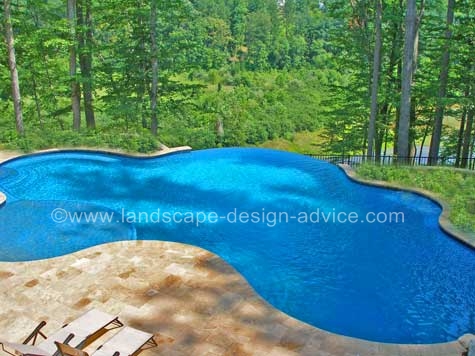 The amount of paving was increased because there is a large area leading from beneath a deck out to the pool. Part of it is shown above where the lounges are. However, the amount of travertine paving square footage was actually greatly reduced due to the following.
Plantings come right up to the edge in many areas.
The vanishing edge had no paving behind it.
An expansive waterfall took up additional space where paving would have been. (Link takes you to the page showing the waterfall for this pool design.)



The pool also had a tanning shelf. You can see it in the pool picture below. Bring your chairs right into the water, and then step down into the pool! You can get a better look at the travertine here. If you can afford it, it's worth the price!

Beautiful Travertine Pool Pavers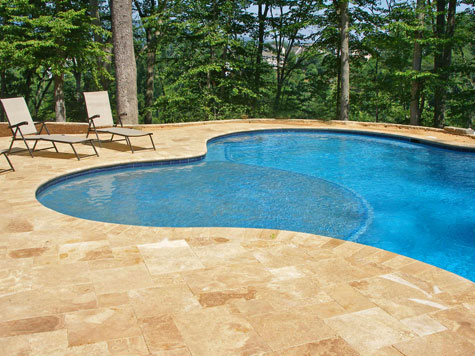 What can compare to a natural stone? I love all the different color shades. Travertine is cool to walk on which is a huge plus for pool paving. Since they are dry laid, they can easily be replaced…just in case!

French Pattern Travertine Pavers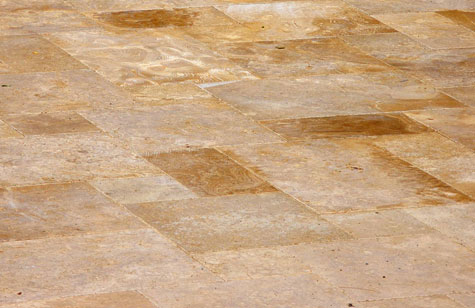 Matching Bullnose for Pool Coping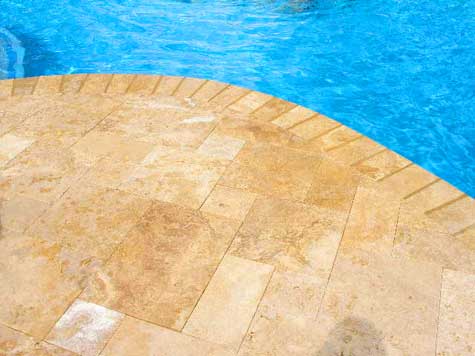 So What Are The Costs?
The travertine pavers cost $20 per square foot.
Cost of travertine pool paving (without bullnose) is $20,000.
Pool paving does make up a considerable part of a total pool project. If you can afford this paving material, I would highly recommend it.
However, if you do get estimates for your pool project and need to cut down on costs and save some money, consider the following paving costs in different materials.
Pavers $15,000
Concrete $7000
You can also color the concrete and score it to make a nice pattern which makes for an interesting look.
Bluestone would be about $22,000. Travertine pavers are a better choice as bluestone gets very hot.

More Help With My Ebooks

| | |
| --- | --- |
| If you'd like help with your patio, take a look at my ebook on patio designs. Choose from many of my professional layouts or modify them! | And if you'd like to know real pricing for almost all areas of landscaping, you will find this book extremely informative...and eye opening! |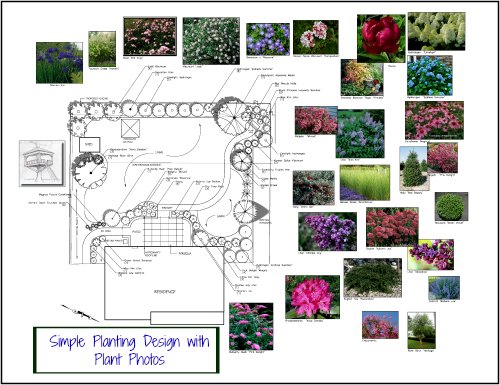 If you enjoyed this page, please share it!

Return from Travertine Pool Paver Costs to Paving Costs