Swimming Pool Coping Choices

Swimming pool coping is the paving at the water's edge of your pool. It's really important that you choose one that goes well with the rest of your pool decking.
The coping can either match your swimming pool paving or it can be another material to create a contrast. Often the edge on the water side is rounded for easy gripping while in the pool, but that is not a necessity.



Here are some paving materials and some copings you might select.


Paver Copings

There are both narrow pavers and wider ones that can be used for pool coping, depending on the particular paver and the company. The narrow ones are often 12" long and the same width as the pavers. In my opinion, the wider ones are nicer looking and more up to date.

Paver Pool Coping With Contrasting Color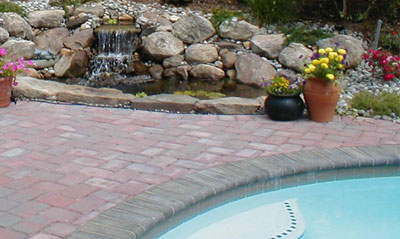 Same Color Coping as Pool Paving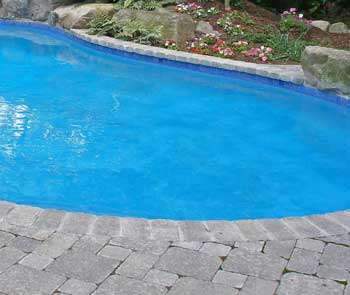 Travertine

Depending on where you purchase the travertine from, there are different coping sizes available. They are ordered as bullnose travertine; they are rounded along the water's edge.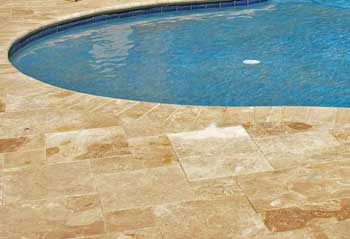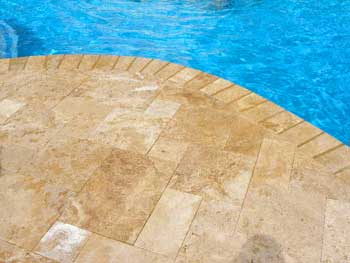 Concrete Copings

Concrete pool coping can be part of the entire pour and come up to the water's edge or it can be a separate coping. Masons have differing opinions on this. I feel it can be done either way, depending on the look you want.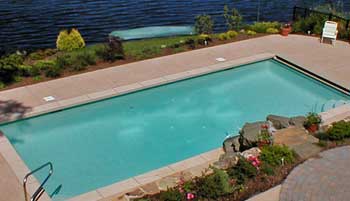 This shows concrete swimming pool coping on a vinyl liner pool. It was a separate poor. The coping is a different color than the rest of the swimming pool decking. You may like this or may prefer the look of one continuous mass of paving without the break.


Natural Stone Coping

If you are doing a natural stone pool decking, you will want to do the same for the coping. Here is a photo of one that is seamless. It's beautiful, but note how the edge is not rounded. This is something that may or may not be important to you.

Note: Stone copings can be hot (except travertine) so be aware of this if you are considering stone.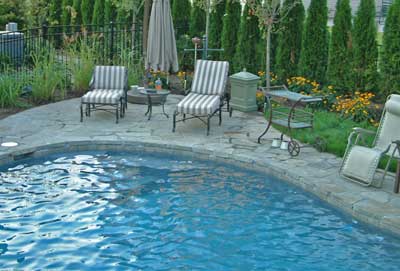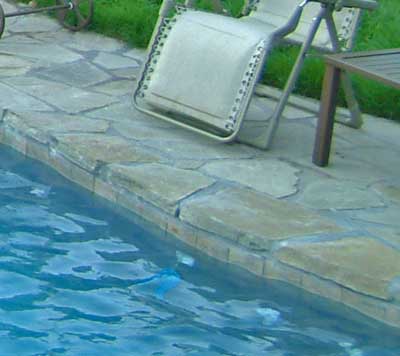 Related Pages
swimming pool decking
pool landscape designs
pictures of swimming pools


Consider a Professional
Online Landscape Design
Unique Services Throughout the US and Canada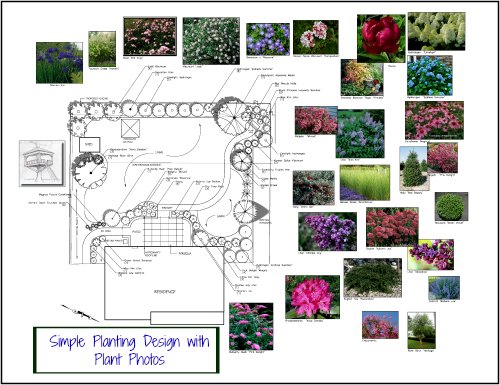 "Susan, what a pleasure it was to work with you. You made me feel like I was your only client - responding late at night and always so quickly! Your design is amazing and we only hope we can do justice to it when we plant . You have such fantastic ideas and you are so open to suggestions and changes. Loved working with you - now if you could only come to Canada and plant it !!! "
Helen, Ontario-Canada 


If you enjoyed this page, please share it!

Return From Swimming Pool Coping to Landscape Designs For Pools
Landscape Design Advice Home