Paver Color for Red Brick House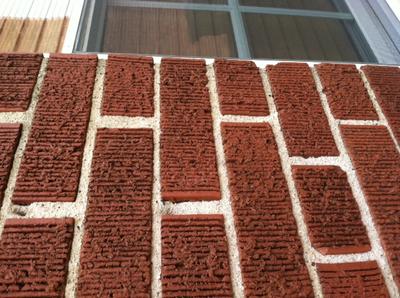 choosing pavers with brick house
We have a red brick house with white trim and tan/sand colored grout. I am confused about what color & design to choose for our upcoming backyard paver patio project.


I'd like to choose something lighter and contrasting, such as shades of gray/blue or tan. Others prefer the common red brick hollandstone. However, I think that would look like too much red next to a red brick house.
Any suggestions or references you may have with examples/pictures of this would be greatly appreciated!
Answer
If you want to use pavers, you might consider those in the tan color. I don't like the red as it will definitely fight with the brick on your house. You will find it very difficult to get the exact brick and color and anything else will look "off".
If you use a tan color, it will blend with the grout and be a nice contrast to the house brick. I would also choose a much larger paver and a different paver shape than brick. (Holland stone is too similar to the existing brick on your home.) This also will provide contrast to the brick sizes. You could go with 6" x 6" or 12" x 12" pavers, all one size.
You could also choose a combination of sizes as long as they are large.
Another option is to use bluestone. Bluestone looks great with brick...it's really my favorite combination. You can figure approximately $5 per square foot more for bluestone compared to pavers.
See my ebook
Landscaping Costs
. You also might be interested in my other ebook
Patio Plans for Inspiration
Lastly, some paver companies now make pavers that look like bluestone. You might check this out. I believe Tech-Bloc makes a nice one. I mentioned this to another online client recently. I saw this at a client's home and it look great. It was the first one of this kind that I have seen and liked a lot. Many look tacky, but not his one. So...you could get the bluestone look and it would cost you less.
By the way, I do provide online designs and also assistance with paving material selections if interested.
Susan