Building a Patio




Methods for Pavers, Concrete and Stone




Dry Laid and Wet Laid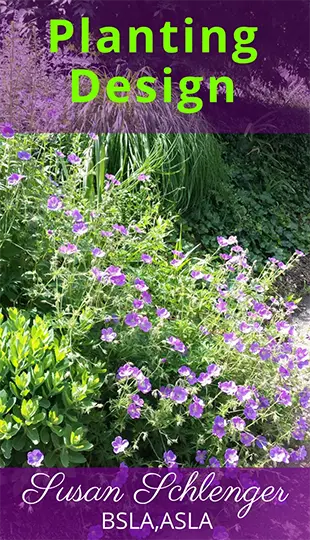 Get your free planting design guide!
When building a patio, various patio construction methods should be used for different paving materials. Pavers should be dry laid. Natural stone such as bluestone can be dry laid or wet laid. Concrete has its own installation method.
Please see the technical images and information below that you can follow. Which one depends on which type of hardscape you are using.
Brick, bluestone and other natural stone can either be installed dry-laid or wet-laid (set in concrete). A concrete patio is installed in a similar way to a stone patio set in concrete.
Another helpful resource is my ebook Patio Plans For Inspiration
See actual patio plans that I did for some of my clients, including 3D designs, seat walls, pergolas and raised patios.
Dry Laid Patios
Advantages
Less Expensive
Joints are not concrete so will not crack.
Can be easily lifted and re-laid if ever needed.
Materials that can be dry laid are concrete pavers, brick, bluestone, travertine pavers and other natural stone.
Dry Laid Paver or Stone Patio Construction

For more detailed information on laying concrete pavers or travertine pavers when building a patio, see Building a Patio with Pavers
Also, here is some interesting information on using polymeric sand as a filler in the joints. The page is mostly about using it with travertine pavers, but much of it applies to concrete pavers too.
Patio Stones Set in Concrete
Advantages
Provides a more permanent structure.
Weeds will not grow in the joints.
Materials that can be set in concrete are brick, bluestone, travertine tile, other natural stone patio materials.
The above image shows the various layers of materials and their depths that should be used when building a patio with paving stones and other materials (such as brick) set in concrete.
Begin with soil that has not been disturbed, or virgin soil. If the soil has been disturbed, such as it being fill, the soil should be compacted in 12" lifts. You can also replace the soil with compacted stone.

The next layer would be compacted aggregate stone. An acceptable depth is 6 inches.

Next, concrete is poured. This should be 4 to 6 inches deep. It can be reinforced with welded wire mesh if desired. This would depend on how large the patio is and how much use it will get.

Once this has cured, a 1 to 2 inch thick mortar setting bed is laid.

The paving stone is laid as the top layer. Grout in between the joints.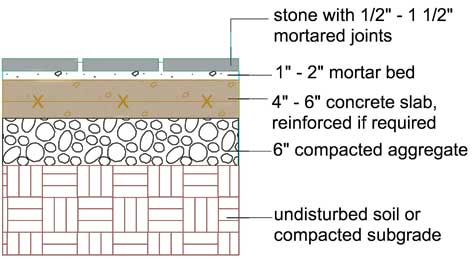 Paver or Stone Patio Set in Concrete



Concrete Patio Installation
Advantages
One of the least expensive paving materials
No weeds will grow in joints
Concrete paving is usually a more simple pattern and therefore will go well with other landscape elements (such as house colors, stone walls, etc.)
Note: Concrete can be colored to make your concrete patio design more interesting. You can also create geometric patterns. This is different than stamped concrete.

Disadvantages
The biggest disadvantage of concrete, other than the fact that people think it is boring, is that it can crack. This is particularly true and even more important if you live in a cold weather climate.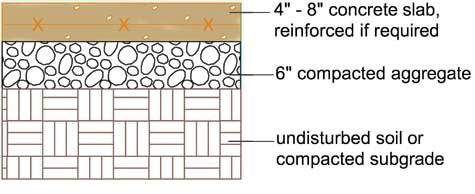 Concrete Patio Layers and Construction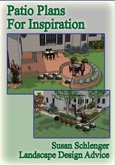 Patio Plans For Inspiration
See actual patio plans that I did for some of my clients. Both 3D and plan view designs are shown so that you can use them or get ideas for your own project. There are also project photos!
See how special features such as ponds, walls, outdoor kitchens, seatwalls, and steps are designed with a patio.
Explanations are also provided.




Related Pages
Patio Designs
Concrete Patios
Patio Pictures
Walkway Designs
*Drawings and information are meant as a guide only.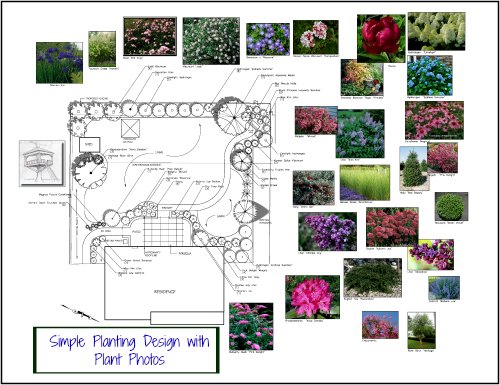 If you enjoyed this page, please share it!

Landscape Design Advice

›
Patio Designs

›
Building a Patio