Concrete Patio Design
Creative Ideas For a Great Look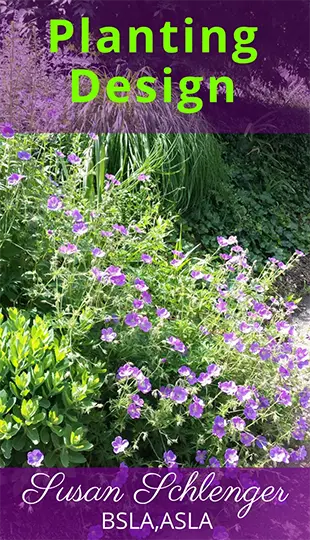 Get your free planting design guide!

A concrete patio design can have a good look to it if you use some creativity. Coloring the concrete and using nice scoring patterns is sometimes all that is needed for an outstanding design.
Here are some tips regarding coloring concrete.

I prefer to have the pigment mixed into the concrete rather than using a stain.


In this way, the color is applied throughout all of the concrete rather than being just on the top surface.

When applied to the top of concrete, it can wear off.

On this page are more concrete patio ideas for creating a nice design and still staying within a reasonable budget.



Creating geometric squares help to make the concrete patio design interesting. What size to make the squares will depend on the size of the paving itself. Consider 24 inch squares and adjust for your individual patio size and shape… 18", 30", 36" and even larger might work best.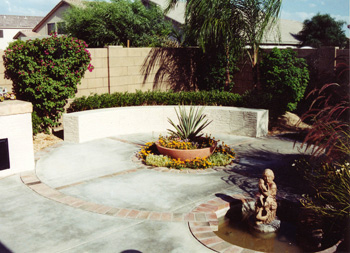 Here is an example of how you can get creative with concrete patios by adding other materials.
Not only do the landscape brick add a nice contrast, but they also provide an interesting paving pattern.
Additional design elements, such as the cut out areas for plants and a sculpture or water feature, add additional interest and are nice concrete patio ideas.
Photo from Inspired Landscape Creations.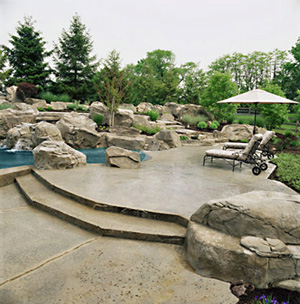 Here is a design from the Scofield website. Scofield offers many products for colorizing concrete.
In this project LITHOCHROME® Chemstain™ was used. I still prefer the CHROMIX Admixtures they offer where the color is added throughout the concrete.
However, you can see what a beautiful look can be created for a concrete patio design. LITHOCHROME® Antiquing Release was also used in areas that were stamped. Notice I say areas.
I would say the advantage of stamping in just areas is that construction joints (my pet peeve with stamped concrete) can be controlled. Read more about stamped concrete.


Note: Concrete CAN crack over time. If you live in a cold weather climate and get a lot of freeze-thaw conditions, you might consider a different paving material, such as pavers.

A paver patio will be more costly than one made of concrete, but it may save you some headaches down the road. Pavers are dry laid so there are not any joints...thus no cracking. See my page on paving costs.

Or take a look at some other paving materials for patios.

Also see my page where I do a comparison of concrete and pavers.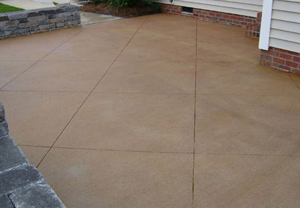 Here is a very simple concrete paving design that anyone can have.
Just add a nice concrete color and score the concrete into squares.
Notice that this hardscape design is set on the diagonal. Photo from Anne Knorr Blog.
More on Concrete Patio Design


As you can see, concrete can be a great paving material choice. The options are limitless. Change the color, alter the pattern, stamp part of it, add an antiqued look, etc. By doing so, an outstanding patio can be part of your landscape...different from the rest.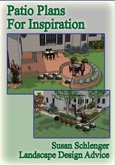 Patio Plans For Inspiration
I encourage you to take a look at my ebook on patio designs. There are lots of ideas that you can use for your own project along with 2D and 3D designs and pictures!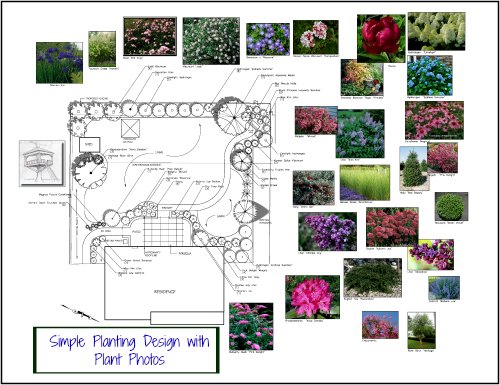 If you enjoyed this page, please share it!

Landscape Design Advice

›
Patio Designs

›
Concrete Patio Design