Patio Decorating Ideas
Creative Tips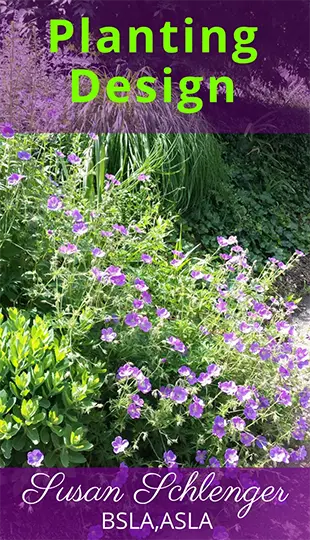 Get your free planting design guide!
You're probably looking for patio decorating ideas because you have a patio that needs some pizzazz!
Given that you have your furniture (if you don't, see below) there are lots of things you can add to make it charming, exciting and creative.

Arbors
You can actually position an arbor at the perimeter of the patio at the main entrance. Select an arbor that has a style which goes well with you patio.
Those that resemble iron look great with many patio types, but wooden ones might work for you too.
Anchor the arbor to make it looks like it belongs by adding plantings on either side. You can also select some flowering vines to grow up the structure to give it extra charm.
Pots of Plants on Your Patio
Potted plants can be used in various ways on a patio. You might place one of importance at a corner. You can also put two pretty pots on either side of the door going into your house. Group smaller ones together.
One large urn makes quite a statement. I have an antique urn. This past summer I bought a tall Hibiscus plant for it. A tall plant on right on the patio added a lot to it, not to mention the flowers. I knew it would only last the season...but I didn't care as it look fantastic!
If your patio is against your house with no planting bed, you might consider placing some planters under a window. This will soften the area and add color. Add some annuals or some perennial flowers.


Bird Bath and Other Fountains
Like an important plant, a bird bath can stand towards a corner. It can be enhanced by adding plants behind it so it has a nice background. Birds will flock to this ornament in the summer when they are thirsty so the added benefit is being able to "bird watch".
It can be as simple as a bird bath with a pump to circulate the water or a more dramatic fountain. Choose from traditional to contemporary designs...it all depends on the feel of your garden and what you enjoy. You will need an outdoor outlet unless you choose a solar operated one.
See:
Bird Bath Fountains
Solar Bird Baths
Outdoor Lighting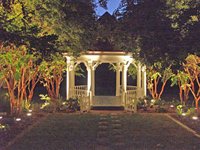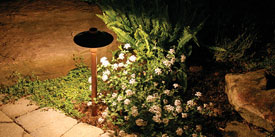 Use landscape lighting to uplight a nearby tree, have path lights surrounding the patio, or even have a torch light to create a nice ambiance in the evenings.

Low voltage lighting is simple and does not require an electrician.
Hummingbird and Other Bird Feeders
A patio is not only pretty to look at. It is to be enjoyed by things that nature has to offer. Watching a hummingbird flutter near a feeder can be one of those enjoyments. This can be attached to your house or they even have those that are on a rod and will stick into a potted plant or your garden.
Try one or a few of these patio decorating ideas to add interest to your outdoor living space!
Related Pages
Outdoor Garden Benches
Outdoor Living Rooms
Patio Lights
Patio Pictures and Patio Decorating Ideas
Outdoor Dining Furniture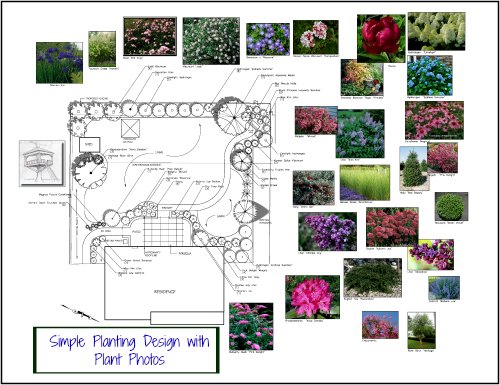 If you enjoyed this page, please share it!

Landscape Design Advice

›
Patio Designs

›
Patio Decorating Ideas