Landscape Lighting
Types of Fixtures and Systems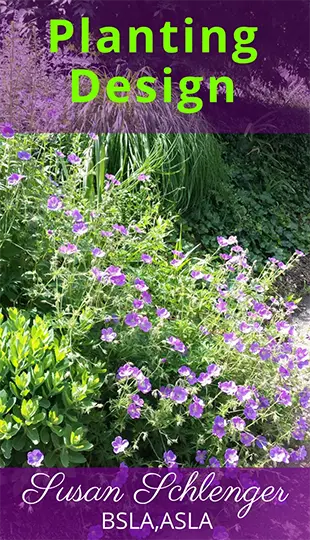 Get your free planting design guide!
Landscape lighting adds another dimension to your landscape design and extends the enjoyment of it into the evening...how nice!
Ideally, your design should be not too bright, but should create a subtle beauty throughout your property. Therefore, you don't want to have too many lights...just the right amount to create a beautiful nightscape and the lighting be functional at the same time.
If you are considering installing some outdoor lighting, there are both lighting systems to consider along with the fixtures themselves.
Landscape Lighting Systems
You can choose different types of lighting. I don't mean the types of fixtures, but I mean the type of systems. They go from the easiest to the most intricate.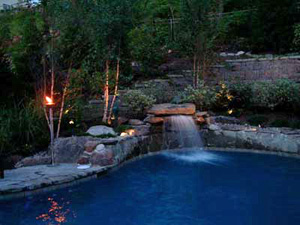 Solar Landscaping Lights - this is the easiest type to install. No electricity is used. Power is supplied by the sun. This is an easy solution. However...no sun that day, no lighting!
Low Voltage Lighting - An easy system to install. Wiring is located just slightly under the ground. A transformer is needed typically on the house for power. This can be installed by anyone with knowledge, even a landscaper. This would be my choice, generally speaking.
120-Volt Lighting - this uses typical electrical wiring which must be installed to code. This tends to be the most expensive type as you need a licensed electrician. Also, the wiring must go down much deeper that low voltage lighting.
Landscape Lighting Fixtures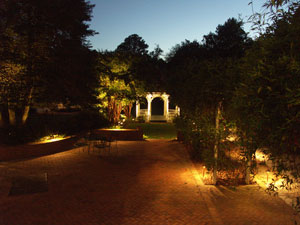 There are various types of lighting fixtures and all serve different purposes (generally).
Various lighting can be created especially for particular parts of the landscape to produce a great lighting design. For example, you could use accent lights to show off a lovely waterfall. Path lights would be used along a walkway for function. Uplights are used for trees, as are downlights, bringing out their beauty and making them better seen at night. At the least, you should have lighting for function. Path lights along walkways are the most typical lights for safety. Beyond that, it's mostly ambiance!
To read more about various topics, please visit any or all of the following pages on this site:
Patio Lighting - use path lights, uplights in nearby trees, or house lights.
Landscape Lighting Ideas - Get some creative ideas.
Swimming Pool Lighting - If you plan on using your pool at night, this is a must. You can even use torch lights at your pool!
Driveway Lighting - Even though headlights mark the way, you may want some additional lighting to mark your entry and/or along the driveway.
Pictures of Outdoor Lighting - Here are some great photos.
Outdoor Lighting Contractors - Learn about contractors and also maintenance.
Solar Landscaping Lights - So...how do these actually work?!
Outdoor Gas Light - Get creative with the ambiance of yesteryear...learn about these beautiful fixtures!
*Gazebo photo courtesy of Outdoor Lighting Perspectives - Richmond, Va.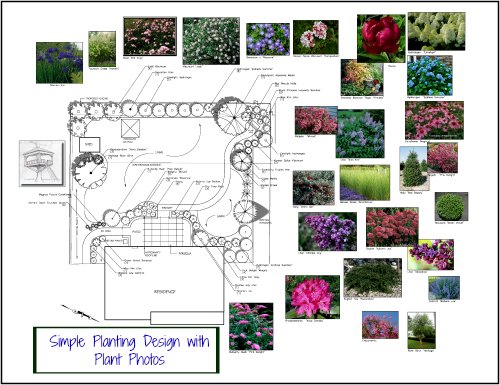 If you enjoyed this page, please share it!

Landscape Design Advice

>
Landscaping Ideas
> Landscape Lighting