Arbors in the Garden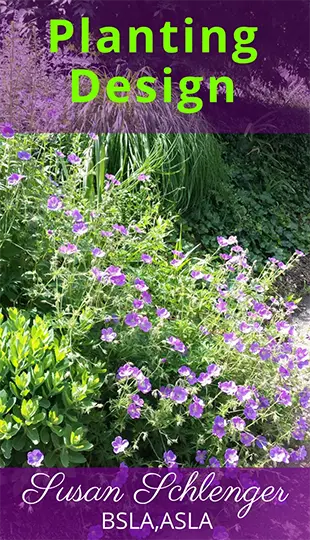 Get your free planting design guide!
Garden arbors create a very old-fashioned impression and can be very romantic.
Being that it is a structure that you can walk through, it marks the entry to the garden. Perhaps it creates a mystery as to what is beyond.
A design might be a simple arch set in the garden with vines and/or shrubs on either side. It can have some depth, often two to four feet.
You can also create a group of arches, creating a passageway to walk under and through. Covering each arch with flowering vine plants adds even more interest by providing greenery, texture and color.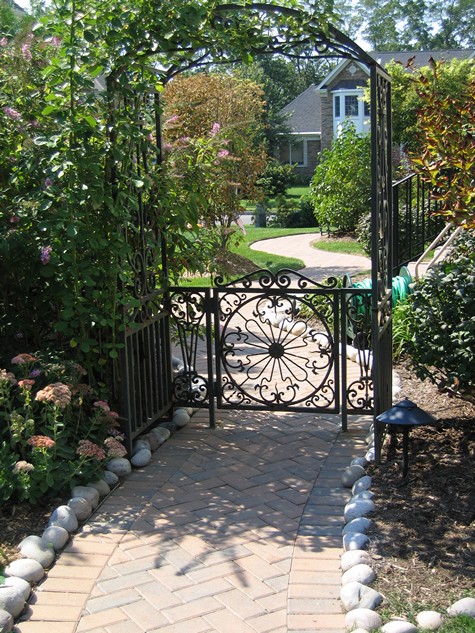 Here is one with a gate, although not using one is fine too.



Materials
This type of structure can be made of quite a few different materials. They can be made of aluminum, iron, wood or pvc.
There are metal arbors. Aluminum structures are often made to resemble iron, but are maintenance free. They need no painting and last without rusting.
One made of wrought iron can be quite beautiful, especially if you stumble upon a nice antique one. However, these do require upkeep, since they will rust.
Wooden ones can also be very nice. The tops can be square or arched, and range from the simple to the intricate.
For example, an arched top may have an interesting, detailed design. Or it might have a spindle top. Perhaps the top is a little different with a curvilinear shape. As you can see, there are many different options.
A wooden structure can also have a top with a heavier wood design, similar to the top of a pergola. Columns can be square or rounded, but usually they are square. Sides can have various lattice designs.
Pvc is another material that can be used. This requires no upkeep at all. It comes in white and resembles wood. If white fits into your design, you might consider this material, as white wood does need to be painted. However, you will be more limited in design choices. Personally, I don't care for this material. I would rather have actual wood or one of the other material choices.


Interesting Gates
Gates are another option for these landscape
structures. Depending on the arbor width, the gates may be single or double. The top of the gate can be straight or can have a convex or concave shape (arched upward or downward).
One feature I personally love is the moon gate as part of the structure. The top of the gate is curved downwards. This shape, together with the arch at the top, creates a large round opening, hence "moon" gate.
I once saw a moon gate in Martha's Vineyard. It was white with pink roses tumbling over it. Not only was it lovely, but it had an intriguing look to it, as you couldn't quite see what was on the other side. I still wonder!
This landscape structure can create an enchanting entranceway to your garden. It can be used alone, connected to fencing, or just have shrubs on either side.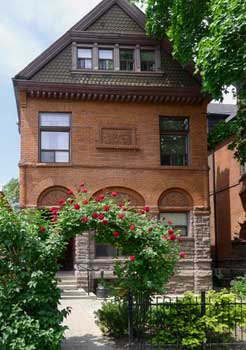 This one is used with low iron fencing. It is just a simple arch, which probably would have been pretty alone...but the roses on it are very eye-catching.
As you can see, there is no gate. So arbors can work well either way.
It appears that if you were standing directly in front of the arbor, the front door would be the focal point. When positioning it, think about the direct view you will have when approaching it.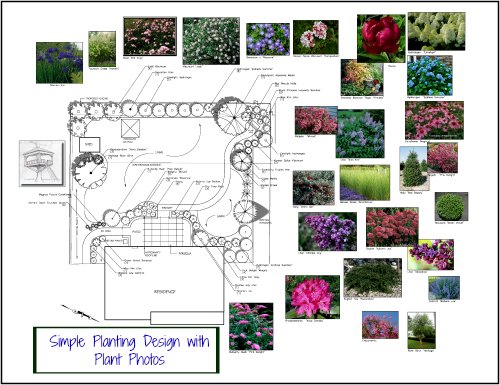 If you enjoyed this page, please share it!


Return From Arbors to Front Yard Landscaping Ideas
Landscape Design Advice Home