Landscape Design Ideas
CAD Drawings
Are you looking for landscape design ideas? I offer a lot of ideas on this site but I decided to actually show you what I am talking about. Landscape pictures are great, but what about the actual designs that those pictures began with?
Landscape design drawings are usually either 2D or 3D. 2D designs are presented as if you were up in the sky looking down on your project. 3D designs show a perspective which shows a fairly true representation of what it will look like.
I have a page on 3D landscape design (with drawings!), but here I am discussing 2D drawings. 
So here you will find out:
What landscape architecture design drawings can look like.
How you can apply them to your own property.
Specific design ideas for various landscape elements, such as patios, walkways, swimming pools, pergolas and so on.
Notes on the drawings pointing out important design details that you might consider for your own landscape design.
Here is an example.
A client recently contacted me and wanted to enlarge her patio. However, she did not want to rip out the existing patio, since it was made of concrete and in good condition. (By the way, ripping out concrete, depending on the size, will run roughly $800.) We talked about adding on to her concrete patio, the size that would work for her, her purpose, etc. And here is the design I came up with and some landscape design ideas.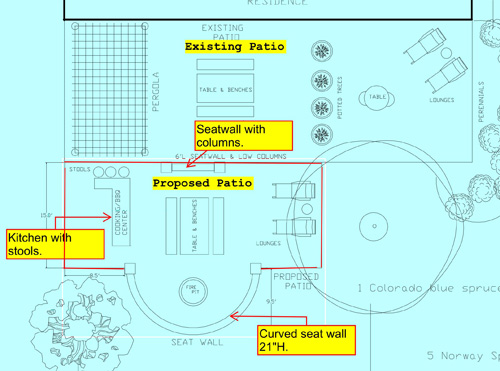 Ideally you would want to marry some of the hardscape of the existing patio with the new one. However, in this case I simply did not do that. The new patio design is simply an extension but there are many exciting features incorporated to grab the eye.
For more landscape design ideas, drawings and advice, visit:
Patio Ponds
Patio Pergola
Landscape Design Ideas For The Extended Patio
The new 

patio design

 has a curved segment to it. There is something nice about curves and this one is accentuated by having a seat wall along the arc. Not only that, but it ends with pronounced columns as if to say, "Hey, I am REALLY important!"
The clients have a lovely view looking out towards their rear property line, so I added an additional seatwall at the place where the two patios join each other. This one also had columns at the ends. Columns add additional interest. They are typically a little higher than the seatwall and also have a cap on top. This might be a piece of thick bluestone. Caps should extend out further than the column they are sitting on. Here is a different project that shows the seat wall and column sizes.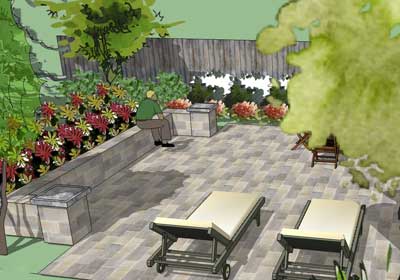 An 

outdoor kitchen

 is included in the new area. I designed it to be L-shaped so that seating could be accommodated. The stools face the back yard view and also the cook! This makes for cozy conversation.

In the arc of the new patio is a 

firepit

. Family and guests can either pull chairs up to it or sit around the firepit on the seat wall.
This patio fire pit is a removable one. Space is captured in the hot weather by putting the firepit elsewhere. I really like to use moveable firepits for this reason.

Landscape Design Ideas For the Existing Patio

I included an 

outdoor pergola

 to help create some shade and also be another cozy area for seating. This outdoor pergola is about 10 feet deep by 18 feet long. It's just about the right size to fit a small table and chair and/or some other outdoor furniture such as lounges. Pergolas can be natural wood such as cedar, painted wood, or made of a synthetic material for low maintenance.

The existing patio extended along the house and there were sliding glass doors at the end. This was an entry into the master bedroom. This was fine with the clients but they wanted to have this area a bit more private.

Rather than breaking up the concrete to put in plantings or a trellis, I added large pots to be filled with small trees. This would offer a bit of screening without blocking off the patio area completely. Placing the trees in pots will contain their sizes.

The area is extremely sunny. Although a pergola was part of the design, to add additional shade a few large trees were added at the patio. Actually, three trees were added in total. I decided to add 

landscape trees

 that provided an assortment of features.
Japanese Maple 'Bloodgood' was added at the rear property corner. Its red foliage will give color through the spring, summer and fall.
Dogwood Tree was positioned at the patio area. Spring flowers, fall color and berries, and a pretty winter form will all be enjoyed.
Red Maple 'October Glory' (can sub for 'Red Sunset') was also placed at the patio for the much needed shade. This tree has dazzling fall color.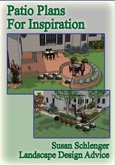 Patio Plans For Inspiration 
See actual patio plans that I did for some of my clients. Both 3D and plan view designs are shown so that you can use them or get ideas for your own project. Explanations are also provided.
Consider a Professional
Online Landscape Design
Unique Services Throughout the US and Canada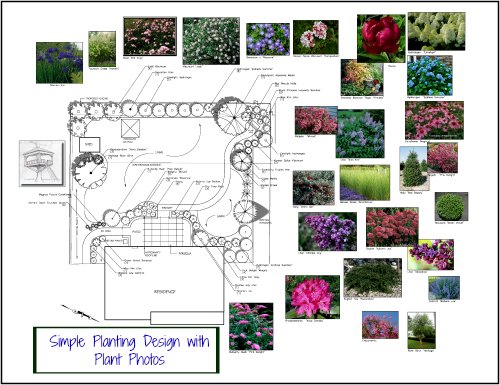 "Susan, what a pleasure it was to work with you. You made me feel like I was your only client - responding late at night and always so quickly! Your design is amazing and we only hope we can do justice to it when we plant . You have such fantastic ideas and you are so open to suggestions and changes. Loved working with you - now if you could only come to Canada and plant it !!! "
Helen, Ontario-Canada 


If you enjoyed this page, please share it!

Landscape Design Advice

>
Landscaping Ideas
> Landscape Design Ideas