Dogwood Trees in The Landscape
There are various kinds of Dogwood trees but basically three main types. These are the Flowering Dogwood, Kousa, and hybrids. The first is a native tree and the one you most likely think of when picturing this plant. It is also one of my favorites and one I use quite often in my landscape designs for clients.


Flowering Dogwood

Since about the 1970's, this ornamental tree, Cornus florida, has been susceptible to the fungus Anthracnose.
Spots and blotches can appear on the leaves and flowers and the tree can deteriorate.This is so unfortunate, as this is a native tree and has so many lovely attributes.
It has lovely flowers in the Spring. Typically they are either white or pink. The petals are single, the size is showy and the petal shapes are very pretty.
It is low-branched and full. Rather than having one, tall main trunk, there are many branches giving it a beautiful form.
In the Fall, it gets colorful red berries and its leaf color turns a beautiful red.
Even in the winter, the branching structure is attractive, thus making it a wonderful all season tree. It is one of our native trees and attracts many birds. You can often see Dogwood trees growing in or on the edges of woods. Although they might blend into the other trees in the landscape during the summer, there is no missing them in the Spring when they flower!



Kousa Dogwood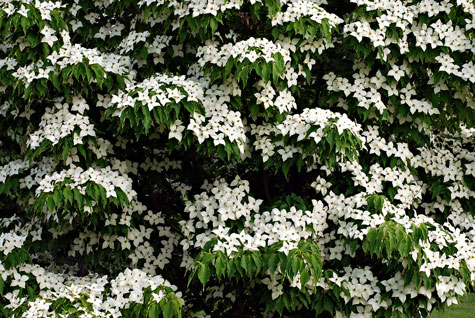 The Kousa Dogwood, or Japanese Kousa (Cornus kousa), is a white flowering, often multi-stemmed tree. It produces raspberry-like berries in the fall.....they are striking!They are quite large and add beautiful color to the tree.
I sometimes use a Kousa Dogwood at the corner of a house where I want to provide some strength. It also looks nice in front of a mass of evergreen trees. It has shown good resistance to Anthracnose. It blooms later than the native Dogwood and it also gets quite a bit taller.



Hybrids
Hybrids, or crosses between the Flowering Dogwood and the Kousa Dogwood, have been developed by Dr. Orton at Rutgers University. The purpose of this was to create trees that resembled the Flowering Dogwood tree, but with disease resistance. This has been quite successful.
Some of these cultivars are 'Aurora', 'Celestial', 'Constellation', Ruth Ellen', 'Stardust', and 'Stellar Pink'. There are also newer ones. What is interesting, is that they often bloom in between the times of the Flowering Dogwood trees and the Kousa Dogwoods.

Each of the cultivars is a little different. It might be the color of the flower, whether pink or white. Some bloom a bit earlier or later and sizes may vary slightly. Berry production may be different also. I happen to like 'Stellar Pink' for its pink flowers and particularly good disease resistance.



The Dogwood in Residential Landscape Design
The Flowering Dogwood tree is an ornamental tree that does not get too large, and it can be used many places in the landscape. Place one near the front door and enjoy it throughout all the seasons. Likewise, they are nice near a patio. They are pretty used as an allee along the driveway , as an alternative to shade trees. Although it is not considered a shade tree, it does cast shade.
A group of three placed together is eye-catching! (Plant the same varieties together so that when they bloom the flowers will be all the same.) They stand out nicely when placed in front of evergreen trees, whether it be the showy flower, the colorful berries or the beautiful shape.
While the Kousa Dogwood's flowers are usually white, the other Dogwoods can be white or shades of pink.
Any of these landscape trees are a wonderful attribute to a garden due to their many features. An added bonus, as mentioned above, is the birds that are attracted to the berries of all of the varieties.
I often use the Kousa as it is multi-stemmed. This means that instead of having one main trunk, it has many coming from the ground. The Kousa, therefore, provides extra mass and can be used as privacy plants. It does, however, lose its leaves in the winter as it is deciduous. Although it does provide separation, even in the winter, it will not provide the same screening that evergreen trees will. However, that may or may not be important in the winter.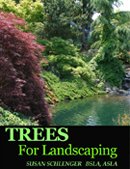 My newest ebook is Trees For Landscaping.
Find out which evergreen trees are the fastest growing, which ornamental trees are the most striking, and which shade trees are the best for your property.
See beautiful pictures of each of the tree! Also find specific tree information such as tree heights and widths, plantings zones, sun conditions, and growth rates.
In the book are trees that I use for clients. Some of these designs are award winners!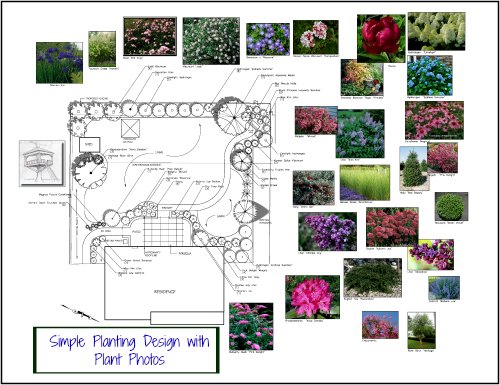 "Susan, what a pleasure it was to work with you. You made me feel like I was your only client - responding late at night and always so quickly! Your design is amazing and we only hope we can do justice to it when we plant . You have such fantastic ideas and you are so open to suggestions and changes. Loved working with you - now if you could only come to Canada and plant it !!! "
Helen, Ontario-Canada 


If you enjoyed this page, please share it!



Return From Dogwood Trees to Landscape Trees
Landscape Design Advice Home