River Birch Tree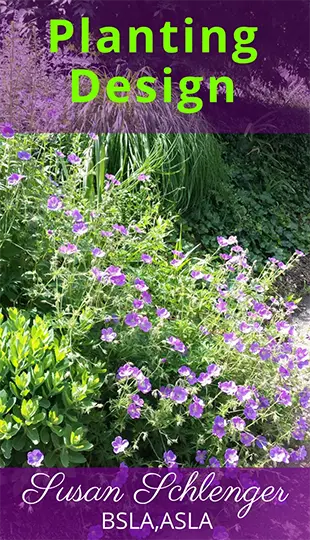 Get your free planting design guide!
Although the River Birch tree does not flower, it is definitely one of the most charming ornamental trees. There are types with single stems and multi-stems. Multi-stemmed River Birch are my favorite. There are multiple stems coming up from the bottom, rather than just one trunk.
River Birch has many great features, but one of the best is its beautiful peeling bark.

This is basically a tan color but the parts that peel are dark brown to rust.

As it ages, the bark turns to a darker salmon color.

This can be seen not only in the winter when there are no leaves on the tree, but even in the summer.

The tree is often limbed up so that more of the bark can be seen.

Likes water and looks great near a pond.
River Birch Tree When Young


Leaves of this tree are also attractive. They are small in size and the foliage is not very dense, which gives it a wispy look. The leaves flutter in the wind, which is lovely to see and provides dappled shade.
Fall color is a pretty yellow/gold color. If you have other trees in your yard that turn red, such as the Red Maple or Japanese Red Maple, this will create a great mix of fall colors.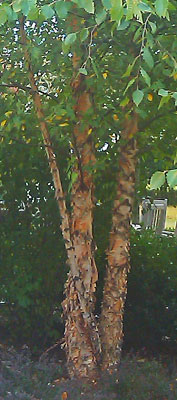 The straight species of the River Birch tree is fine. In fact I have that in my yard myself.
However, an improved variety is the Heritage Birch tree, which I would highly recommend.
It has great vigor, glossier leaves, and just a better tree all around.
Information
Height 40 - 70'
Width 40 - 60'
Plant Zones 4 - 9
Growth Rate Medium to Fast
Note: Although the Birch tree can grow this large, a more realistic expectation is for it to grow about 30' over 20 years and to get about 25 feet wide. In addition, since it can be limbed up, the foliage starts up much higher so you can easily walk by it...you will be near the lower tree branches which are much more narrow.


Birches and Landscape Design

River Birch can be used at house corners very nicely. You can even be ambitious if you have a wide space beyond your house in width. Plant three of them staggered. Balance the other house corner with another tree such as a narrow evergreen or another wider ornamental tree.

Use one River Birch near your front door on the far side of your walkway.

Plant one of these trees at your driveway entry...or place one on each side.

Birch trees look great near water. If you have a pond, this would be a great choice.
---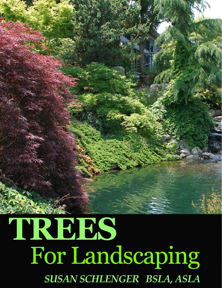 For an all inclusive ebook on my favorite trees, take a look at my ebook Trees For Landscaping.
The book is about all different types of trees, the best ones to use and why. There are lots of great pictures too. Ornamental, evergreen and shade trees are all covered.
Find out tree heights and widths, plantings zones, sun conditions, and growth rates.
Learn about the trees I use for clients...some of the designs have been award winners!
---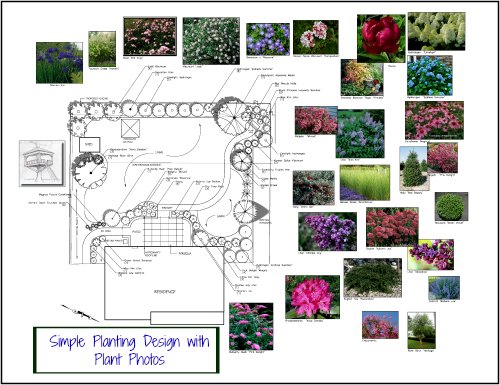 If you enjoyed this page, please share it!

Landscape Design Advice

>
Landscape Trees
> River Birch Tree