Thermal Bluestone All Full Mixed Colors
by Shelly
(California)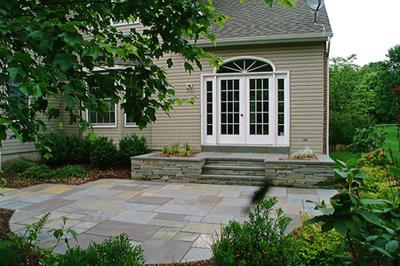 Dry Laid Bluestone Patio
I'm wondering if you've had any experience using thermal full color bluestone on a patio? We live in California and love the look of bluestone and are contemplating using thermal bluestone pavers due to the uniformity in thickness. Can you tell me if there are any cons to using it?


Thank you!
ANSWER
Hi Shelly,
Well, there is thermal bluestone and then there are
natural bluestone
. Bluestone pavers are man-made and not a natural stone. Maybe you are just calling natural bluestone the name pavers and you really mean natural bluestone? The terminology out there can be confusing!
The thermal bluestone is smoother than regular bluestone. You could
really use either. There are no particular pros and cons that I know of other than the look. One is a more uniform smoother look while the other is a bit rougher. The color, whether it be all blue or full range (mixed colors) is personal preference too. Often what will look good depends on the surroundings.
I hope this helped...let me know.
Shelley Says
Thanks, Susan. I'm probably confusing the terms myself! From our research, we've come to the conclusion that we need to go with Thermal Bluestone because it's much more uniform in thickness.
My husband is doing the work himself (he's a licensed contractor and seasoned DIYer) and is planning on sand-setting the stone (I hope I said that right). We love the full range color. Anyway, I was just curious if you knew of any cons to using the product. Thanks for your prompt response!
-Shelly
ANSWER
No cons except this, which is true of most
natural bluestone
. Some of it is not cut "square", which means that some pieces may not be a perfect square or rectangle. So they must be saw cut to get the square. Otherwise your joints will look skewed.
But that is the only thing. There is nothing about thermal bluestone that is a disadvantage.
Susan
Related Pages:
Pavers or Bluestone?
More About Bluestone and Photos
Bluestone Costs Compared to Other Materials