Driveway Ideas
Concrete Pavers & Edgings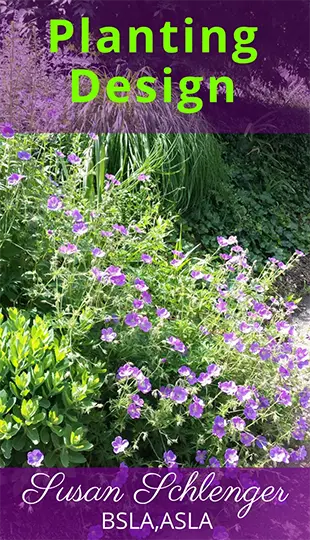 Get your free planting design guide!
In this design, there were various driveway ideas that were considered. An architect approached me for assistance with the landscape design for this new home. He actually contacted me prior to anything being done on site.
Eventually, we decided to use driveway pavers as the driveway paving. These concrete pavers are tumbled to create a stone-like appearance.
Belgian block was used as a driveway edging, giving a structured look and also working to retain the soil away from the main drive. Belgian Block is actually granite stone.
I located the position where the house was to be built on the property along with setting the elevation. This was quite a challenge due to the severe front slope.
I came up with a complete master plan, along with driveway ideas, which led to the final driveway layout and grading.
Different driveway ideas to reduce the slope were tried. In the final result, the driveway was brought in at an angle to increase the length. Doing so decreased the driveway slope because creating a longer driveway length over a distance produces this. However, even designing in this way created a slope that was the maximum allowed by the town, which was 13%.
See Driveway Drainage
The design was created for maximum front yard appeal and impact. A huge amount of plants were used....400 perennials were used for the property!
In my opinion, the most impressive areas of the landscaping is the driveway entry and the area along the road.
As you approach the driveway entry, there are entry piers, flanked by beautiful ornamental grasses.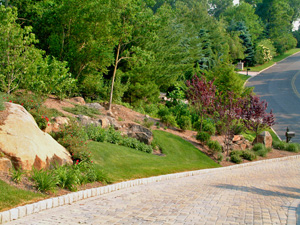 The piers were made of brick to match the brick material on the residence. Purple Leaf Plum trees also mark the entrance, providing very pretty color during all seasons except winter.
A mixture of many types of plants continue along the sides of the driveway. There is a huge boulder on the right, which is original to the site. We decided to leave it there and feature it as part of the design with tumbling roses nearby.
The area along the road is a kaleidoscope of colorful perennials! The focus was on late summer and fall, as the clients travel early to mid summer. Black-eyed Susan, Butterfly Bush, Fountain Grass and Maiden Grass are just some of the perennials that were used.....all are in there prime during the latter part of the summer.
As you reach the top of the driveway, you arrive at the home's front door. There is a parking courtyard there. The driveway continues from the parking area to the side of the house where the garages are located.
Related Pages
Driveway Apron
Driveway Pavers
Driveway Lighting
Driveway Edgings
Driveway Paver Ideas in 3D
Driveway Drainage

Also visit my page on driveway dimensions -
or just take a look at this chart!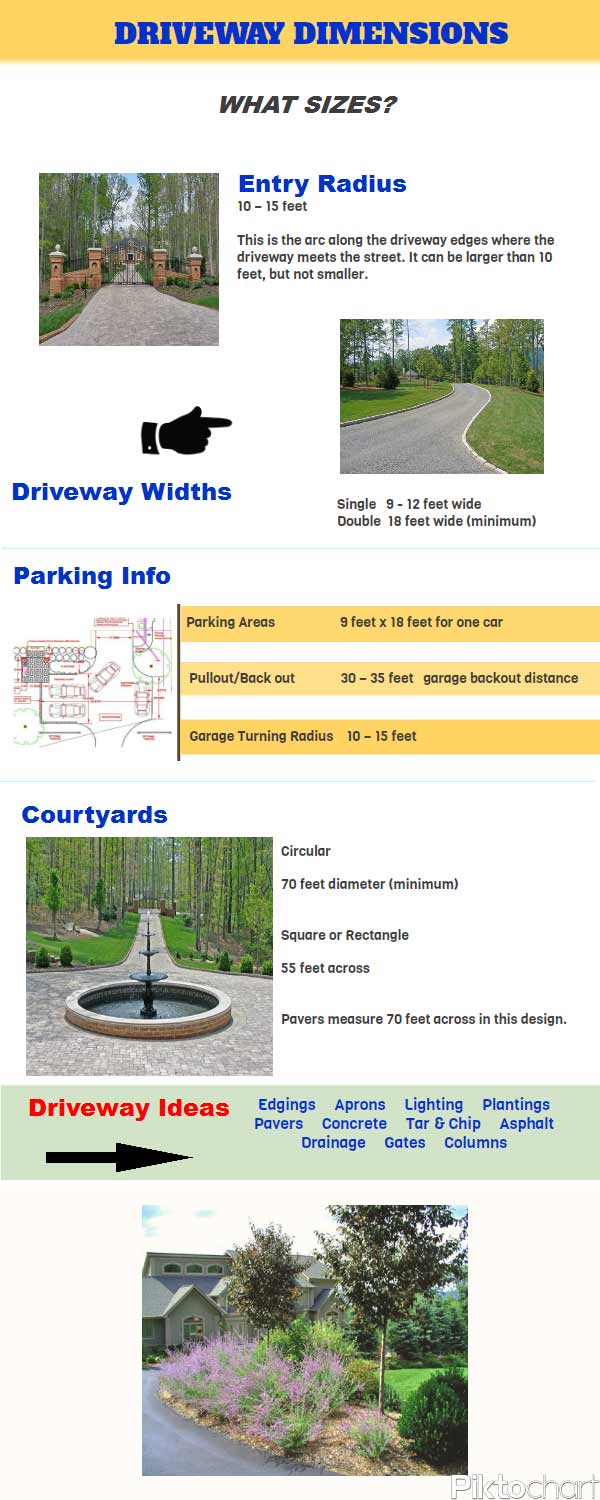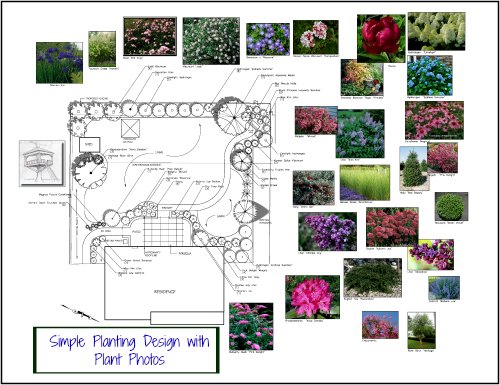 If you enjoyed this page, please share it!


Return From Driveway Ideas to Driveway Designs
Landscape Design Advice