Ornamental Grass




Using Decorative Grasses in the Landscape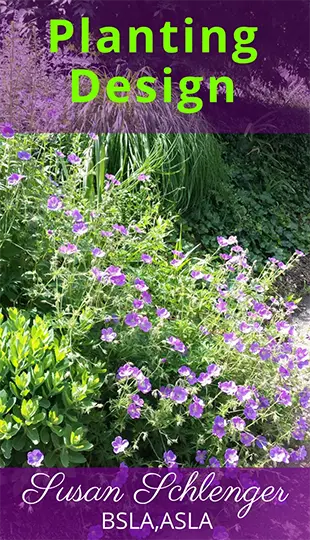 Get your free planting design guide!
An ornamental grass can add interest to your garden, particularly when it is mixed with other perennial plants.
Decorative grasses in the landscape have many great features which are often ignored.
One of the nicest things about decorative grasses are their textures and forms... a nice change of texture next to other perennials.
The foliage is typically long, similar to that of a Daylily.


Grasses offer great late summer interest with there beautiful plumes.


And if you are lazy at the end of summer, don't cut them down until the spring...they look pretty in the winter too.
Gardening with grasses also adds something different than flowers, and that is their feathery plumes. They might be the height of the foliage or they might extend way beyond. In either case, they provide a different type of interest.
Plumes usually occur in late summer and continue into the fall. This is another advantage if you want some plants with interesting features later in the season.
While many perennials can look pretty sad in the winter, here is where grasses show off. Their tan colored blades provide great winter interest, and seeing the taller ones billowing in the wind is a pleasant site!
There are many decorative grasses to choose from. I am going to list my favorites. These are the ones that I often use in my perennial garden designs.


Maiden Grass

Botanically know as Miscanthus, this is one of the taller ornamental grasses. Some that are easy to find at garden centers are: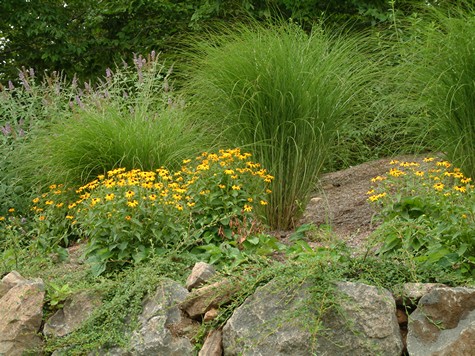 1. Straight species with solid green foliage - beautiful!
2. Morning Light which is a soft combination of lighter and darker green colors.
3. Zebra Grass with its intermittent horizontal gold bands, making it very interesting!
Maiden Grass will get to be about five feet tall. It provides a nice focal point, a background for other perennials, or even a screen. As other grasses, it will develop lovely plumes.


Fountain Grass

This grass is very similar to Maiden Grass, but it is smaller.
It actually comes in different sizes, the smallest being 'Little Bunny' and the largest being 'Hamlin' or just the regular Fountain Grass. I use 'Hamlin' or just the regular species mostly due to its larger size.
Its plumes are delicate and put on a great show in the late summer and early fall. One of my favorite grasses.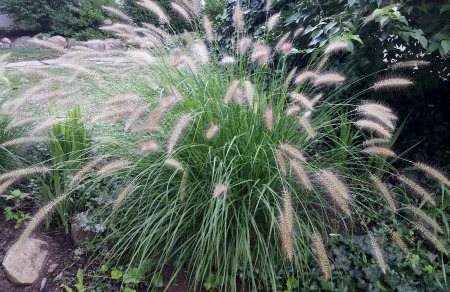 Fountain Grass - Pennisetum (species)  - 3 to 4' tall
This Grass looks great most of the year but I particularly love it in late summer when it plumes!


Purple Fountain Grass

Purple Fountain Grass in the foreground.
This is really an annual in most areas. Yet it is very attractive due to the fact that it has maroon colored foliage.
Use it in the garden or even in planters. It will get to be about fifteen inches tall, but looks taller when it plumes mid to late summer and into the fall.
Speaking of planters, this grass looks great in a tall urn placed on a patio or either side of a front porch.


Mexican Feather Grass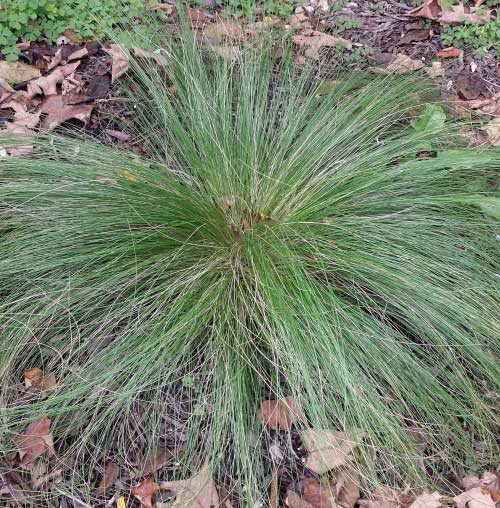 Mexican Feather Grass in the fall.
I stumbled on this grass via another landscape designer, Thomas Rainer. He planted it in his fort yard along with Salvia 'Cardona' which produces striking purple flowers. The contrast of form and colors were amazing!

I decided to give it a try, although it was chancy  since it's planting zone is a little warner than mine. The picture above shows it in the fall. It is now spring and I am waiting to see if survived...I hope so!
Japanese Blood Grass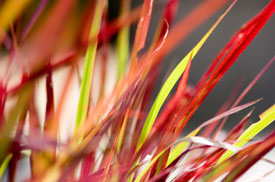 What's attractive about this grass is its color! It is red with some green mixed in during the season...however, in late summer it turns a vivid fire-red color.
When the sunlight hits this plant, it is amazing.
Japanese Blood Grass is a small decorative grass, so you may want to use a few together.
It hardly reaches a foot high.


More About Grasses

Grass care is easy. Just water as needed and remove any yellow foliage if it should appear. This is one perennial ornamental grass that I like to cut back in the spring so that I can enjoy its winter form, color and movement.
Be sure that you do cut it back though. Otherwise, new growth will mix will the old growth and it will look very untidy. Of course this is true of all perennials.
Dividing perennial grasses is easy. If they get too large, just dig them out, cut them in half with a spade and re-plant them. They are not too fussy.
Ornamental grass gardens can be created with or without other perennials. Russian Sage and grasses look well together due to the difference in textures and common blooming times. Black Eyed Susan is another perennial you can use with grasses.
Oehme Van Sweden, landscape architects in Washington DC, coined the phrase the "New American Garden", using many ornamental grass types along with other perennials to pretty much eliminate lawn in a landscape design.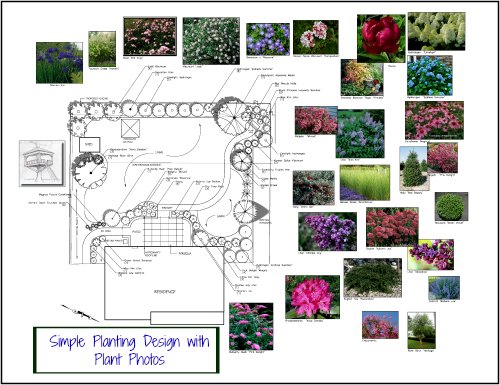 If you enjoyed this page, please share it!


Return From Ornamental Grass to Perennial Flowers
Return to Landscape Design Advice Home