Cobblestone Driveway




Types and Choices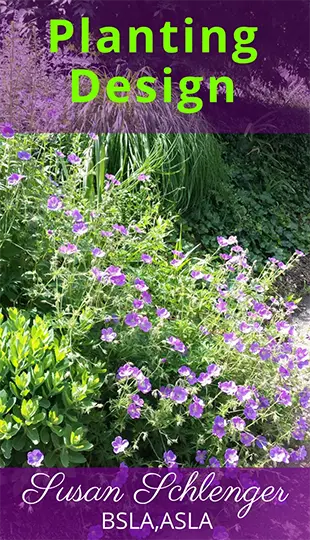 Get your free planting design guide!


Would you like a cobblestone driveway? They are quite elegant and beautiful...but costly too! To set things straight, real cobblestones are made of granite, while some pavers are referred to as cobblestone.

Granite is one of the hardest rocks available. It is very different from bluestone, which is a much softer stone. Some granite is estimated to be almost 4 billion years old.
Using granite cobblestone pavers (Belgian block pavers) on a driveway can be expensive. It is a costly material. However, a cobblestone driveway will last longer than almost any other paving choice.
You can also find reclaimed granite cobblestone pavers. These may be cobblestones from old city streets in the U.S. or imported directly from Europe.If you were to look at the reclaimed granite cobblestones and compare them to those that are now made, you would definitely see a difference. The old ones are often (but not always) longer and narrower. They also come in a wide variety of striking, natural colors. The new granite cobblestone colors are more limited...typically a shade of gray or brown. The old ones are also more expensive!
Granite is a very dense material. It's stain resistance is about 95 per cent. If it happens to get a stain, it can be removed. Also...
It is a very hard paving material.

It is resistant to freeze-thaw conditions and therefore resists cracking or splitting, (except the joints if you set them in concrete).

It does not scratch easily.

It is low maintenance and blends well with many types of landscapes.

Did I mention how beautiful it is?!
Many driveways from years ago were constructed of granite. You can still see this in various cities, such as New York. They definitely give that special, old world look.
They can be used either dry laid, or set in mortar. By the way, granite cobblestone can be used for other hardscape areas also, such as walkways and patios.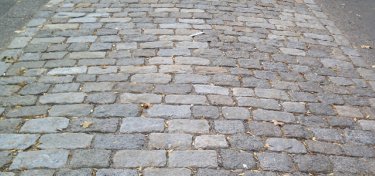 Picture courtesy of Stone Farm
A Granite Cobblestone Driveway Apron
With all of its attributes, let's face it. To create a driveway out of granite pavers is for those with extremely high budgets.
There is an alternative, however.
That is to use the granite just for the driveway apron. This way, you can still achieve the beautiful look.
Whether using them for the entire cobblestone driveway or just the driveway apron, there are various patterns to choose from. In addition, you can add a circle design in the center, which also looks nice. The cobblestones radiate out and the circle can be almost any size you choose. These stones also look nice with a flat border as part of the design.
Belgian block can also be used as driveway edgings if you are doing the entire driveway. They are laid on end and set in concrete.



Concrete Pavers For A Cobblestone Look
True cobblestones are made of granite. Don't get confused by concrete pavers which might be called cobblestones. They mimic the look, but are made from concrete.
That being said, concrete pavers are an option as they are much less expensive. They will dress up a driveway look, particularly at the entry. There are many nice colors, patterns and textures available. Just be aware of the difference. Concrete pavers can crack and fade. But, again, they can still provide an attractive appearance.
Please visit my page on different kinds of driveway paving choices.



| | |
| --- | --- |
| I wrote this ebook to provide even more help specifically with front yard designs. Take a look to find out how it can help you. | And if you'd like to know real pricing for almost all areas of landscaping, you will find this book extremely informative! |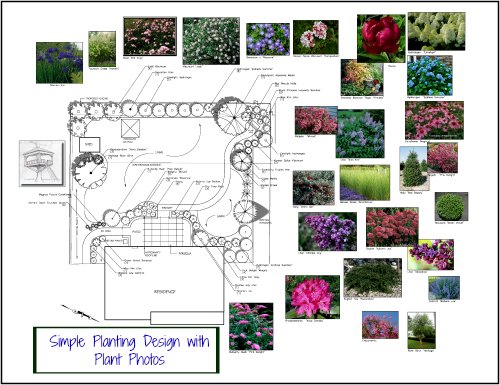 If you enjoyed this page, please share it!

Landscape Design Advice

›

Driveway Designs

› Cobblestone Driveway