Excellent Paver Suppliers, Patterns, Colors and Finishes
In recent years, many paver suppliers have gone to the tumbled look, where the pavers resemble natural stone. These landscape pavers can be a good choice for walkway designs, patio materials and driveway paving.
There is an enormous selection of paver patterns and colors. In addition, landscape pavers are reasonably priced.
There are many paver suppliers producing pavers. Here are some manufacturers from which I have used their products. I have suggested some paver patterns and colors in each line for you to consider if you are using pavers on your project. If you would like to read more about this paving material, visit my page on concrete pavers.

Cambridge Pavers
Cambridge manufactures about five different paver styles, but I happen to like the Renaissance Collection.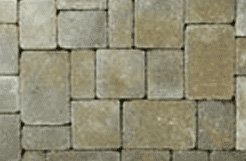 They have a naturally old and distressed appearance. Many of the color choices are subtle blends of two colors, which adds to the stone-like look. My favorite colors are:
Toffee/Onyx - a mixture of tans and grays
Golden/Onyx - similar but more golden
Onyx/Natural - various shades of grays (fits in well with many landscapes
The pavers in the above photo are the golden/onyx color. Notice the four sizes which give it a cobblestone look! 
Image from Cambridge Pavers.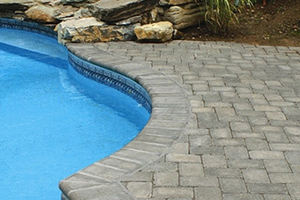 Renaissance Collection comes in various sizes to choose from. You might use 6x6 together with 6x9. You can lay 6x9 alone in a herringbone paver pattern.
They also have a random design which is made up of four different sizes(shown in above photo). This pattern is exceptionally nice. Cambridge Pavers is one of the paver suppliers that has been around for quite awhile and makes a good product for use on walkway designs, patios, or driveways.
This pool paving photo shows the pavers in Onyx/Natural and uses 6x6 and 6x9 sizes...just two.
Photo from Cambridge Pavers.
Consider how the color of the pavers you choose look with the rest of your landscaping, such as your house, any nearby stone walls, and other paving hardscape.
Eagle Bay Pavers
Eagle Bay is a newer company and produces some very nice pavers. I am using theGrand Cay Cobbled pavers on a project. The cobbled pavers are antiqued with edges that are worn looking and are rustic.
The color, Blue Ridge, is a mix of grays and tans. Again, this coloring looks good with many other colors and textures. Grand Cay comes in a five-piece modular pattern, creating a random, natural look. Other colors are available also in tans, rusts and grays.
There is a finish produced called Antiqued, which is a very nice tumbled paver also. It is similar to Cobbled, but the top is flat rather than textured.
Anchor Highland Stone in the Blue Ridge color makes for a nice coordinating wall. This is offered by Eagle Bay.
Belgard Pavers
The Dublin Cobble Collection is another antiqued paver which is quite nice. Many patterns are offered. There is a group called Dublin Modular Pavers which comes palletized in three sizes for that random patterned design. TheDublin Cobble is lightly distressed on the surface and has a rough look to it. Once again, many color choices are available. Ardennes Gray is a gray paver with some subtle tans mixed in...slightly, different from the Cambridge Onyx/Natural which is all shades of grays (no tans at all).
If you are installing a wall nearby, and you need one that goes well with the Dublin Cobble in Ardennes Gray, consider the Celtik Wall in Oxford Charcoal. Celtik Wall comes in either 6 inch or 3 inch combinations. By ordering both and using them together, you can create a look that is very mosaic like.
These are just a few paver suggestions from some well know paver suppliers, and the all offer a cobblestone look. One of the most important elements in selecting landscape pavers is to make sure they go well with the surrounding parts of your landscape such as walls, walkways and the siding on your house.
Consider a Professional
Online Landscape Design
Unique Services Throughout the US and Canada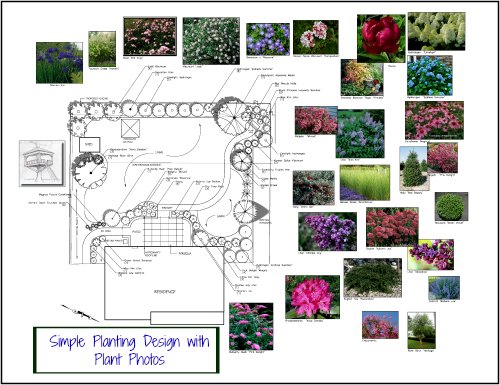 "Susan, what a pleasure it was to work with you. You made me feel like I was your only client - responding late at night and always so quickly! Your design is amazing and we only hope we can do justice to it when we plant . You have such fantastic ideas and you are so open to suggestions and changes. Loved working with you - now if you could only come to Canada and plant it !!! "
Helen, Ontario-Canada 


If you enjoyed this page, please share it!

Landscape Design Advice

>
Concrete Pavers
> Paver Suppliers