Paver Walkway Pictures and Ideas
A paver walkway is one of the more popular walkway choices. Why? The main reason is because paver prices are middle of the road. They are more than a concrete walkway, but less than natural stone or brick paving. Therefore they are a good choice for many homeowners.


There are many paver suppliers offering a variety of tumbled pavers. This type of paver gives a more stone-like appearance.
Choose from gray, tan or brick colors...or blends. For patterns, I prefer a mix of different sizes for interest.
So when selecting a paver walkway, you must choose the following:
paver style
paver color
paver pattern
paver details
Here are some paver walkway pictures to give you some ideas.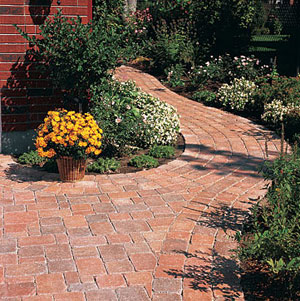 Here is a a paver walkway from Belgard Hardscapes. Looks interesting, but why?
The patio has a triple soldier course which is the walkway edging. Notice how the the starting area is one pattern and the actual walkway pattern is another...the edging continues into a running bond pattern walkway. This is the pattern that is the same as the edging, pavers being laid right next to each other. I think this is a clever design and creative.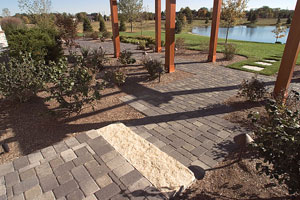 All gray pavers were used but the colors are various shades of gray. Also, different sizes were used. This is a nice pattern. You can choose three or four sizes of these Belgard pavers. Either will work nicely. A soldier course of one size laid perpendicular to the walk was used.
When deciding on a paver pattern, one thing to consider is any other nearby hardscape materials. The siding on your house, nearby walls, patios, or other walkways are all things to consider. How will they look together.
I recently did a design for a client who had a brick house. I decided to go with a larger paver so that the pattern did not fight the size and horizontal layout of the house brick. Here is an example of what larger pavers look like. I really like them.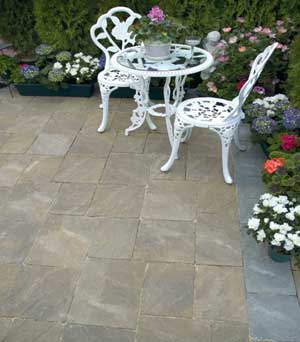 ---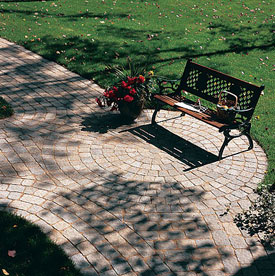 This walkway makes use of many different patterns in the design, but the circle kit is a real focal point. Circular patterns can typically be created in many sizes and are a great place for outdoor garden benches or other seating groups. Gray and tan pavers were used. The soldier course continues along to create the walkway pattern. From Belgard Hardscapes.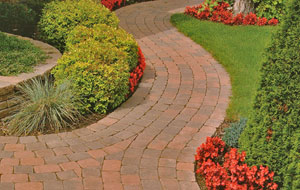 The concrete pavers here are similar to those in the first photo, but these are made by Techo-Bloc. Color tones may differ. Meandering, curved walkways are always interesting as they create movement.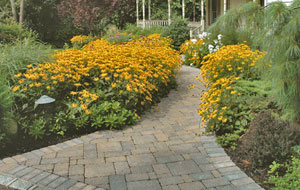 This walk has a few interesting aspects to it. Various sized pavers were used to create a cobblestone effect. Also, notice how they were set on the diagonal and a soldier course (edging) was used. You can use this pattern and direction on either a curved walkway or a straight walk. The Black-Eyed Susan perennial flowers add great color. Plants bordering the paving add softness.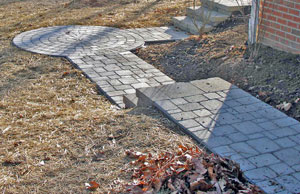 If you are leading a walkway around the house, why not make the junction at which it turns interesting. In this walkway design, I created a paver circle design where the two walkway sections meet.
For larger spaces an even larger circle could be used with a focal point (such as an urn or sculpture) in the center.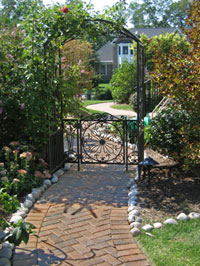 When leading from one area to another, an arbor over the paver walkway is a nice feature, with or without a gate. Here, a lovely gate was used. These pavers are set diagonally and they are not tumbled. You can see they have a more even texture to them than the tumbled pavers.
Related Pages
paver walkway costs
walkway designs
walkway pictures
concrete walkways
stone walkways
brick walkways
bluestone walkways

Select pavers that blend well with your house. Use a soldier course that matches or contrasts with the main walkway. Patterns can be created with one to four sizes. Often the paver companies will have patterns you can follow.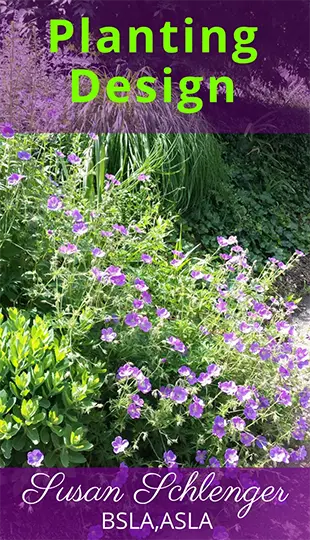 Get your free planting design guide!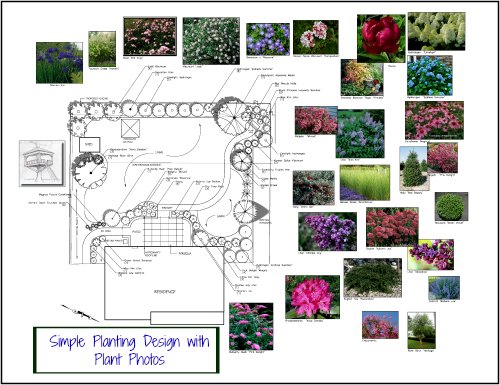 If you enjoyed this page, please share it!

Landscape Design Advice

›
Walkway Designs

›
Paver Walkway