Brick Walkways
Pictures, Designs and Ideas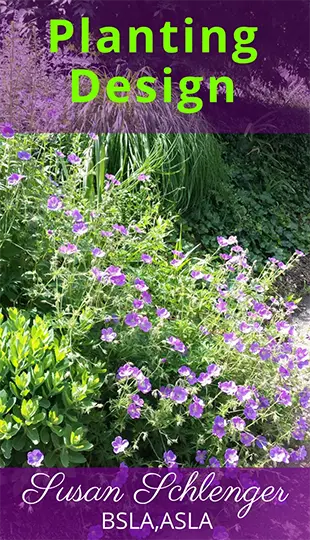 Get your free planting design guide!
Brick walkways are often a consideration when designing a new front walk or one for the back yard. I love brick since it is a natural material. And there are so many choices!
Note: Actual brick is made from clay, while pavers are made from concrete.
Whether you should choose brick pavers (real brick) or not depends on what materials are on your house and what else is in its surroundings.
---
---

Brick comes in various colorings, but most are in the red-orange range due to the clay substance...some more subtle and others stronger. If your house itself is brick, matching brick pavers to house bricks can be challenging. Those homes with neutral or complimentary colored siding look better with brick.
Here are some brick walkways that have been designed nicely. You can see some of the different brick patterns and how they actually look in a completed project.
Also, go here to take a look at my ebook on designing front yards to find out some great tips on front landscaping, brick walkways (and other types), walkway plantings and much more.

---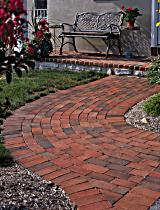 This lovely curved brick paver walkway is an example of the running bond pattern, although it has a different soldier course. A soldier course is the border which serves as a decorative edging for such things as walkways, patios and driveways.
The pattern follows the curves. It could have been designed so that the pattern and all joints stayed in the same direction.
However, by following the curvature of the walk, a moving rather than static pattern was achieved.
What can I do about slippery brick?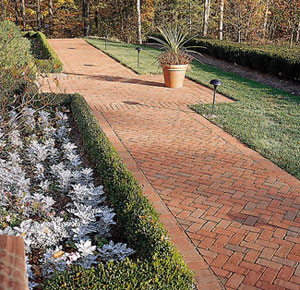 You can see in this picture that a straight walkway does not have to be boring. The herringbone pattern was used, which is one of my favorites. In addition, it was laid on the diagonal, which I also like.
Another option would have been to lay it so that the bricks and joints were perpendicular and parallel to the walkway edges. A soldier course was used here also. Notice how the brick edgings are laid so that the long ends run into the walk, not the other way around.
Landscaping brick pavers in above photos by Glen-Gery.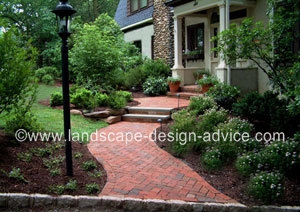 I used the herringbone pattern for this design, but on a curvilinear walkway.
See how the same pattern of landscaping bricks can look so different on a curved brick path when compared to a straight one.
The solider course is laid length-wise.
Landscape bricks can be set in concrete or dry laid...the choice is yours. You'll find that you can save money by opting for the dry laid method, which has no disadvantages. Any future dislodged paves can be easily put back into place. You can't do this if your walkway has mortared joints.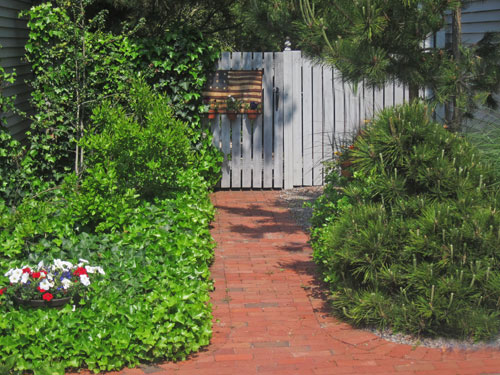 An inviting walkway leading to a backyard gate...complete with American flag!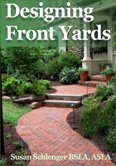 Designing Front Yards
Learn some great tips on how to create a front yard design that will really be unique and special! Read about tips on walkway designs and plantings, front foundation plants, and plant placement. For example, how do you actually place plants along your walk? You will find out about all that and more...take a look.

Related Pages:
Brick Walkways and Patterns
Curved Walkways
Bluestone Walkways
Paver Walkways
Walkway Pictures
Compare Brick and Bluestone
Compare Brick to Pavers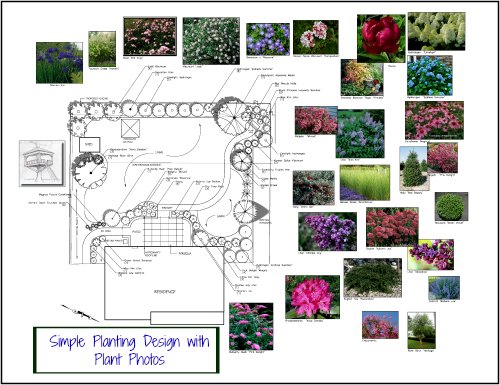 If you enjoyed this page, please share it!

Landscape Design Advice

›
Walkway Designs

›
Brick Walkways