Ornamental Trees...
And All the Beautiful Features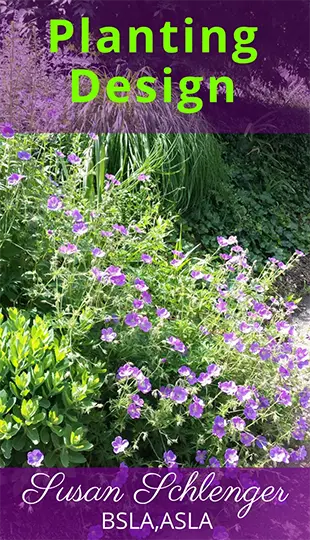 Get your free planting design guide!

Ornamental trees have a special place in the landscape. They are typically smaller trees (although not always!), and therefore can be located in a place that shades trees normally cannot. Ornamental trees also usually flower in the Spring or Summer and can add showy displays of color.
Some of these trees, do not flower. However, they can have other wonderful features, such as beautiful bark or striking leaves. Trees such as the Japanese Red Maple 'Bloodgood' is one example, with its bright red leaves. Here are some small ornamental trees that I use often in my designs. These trees do not get nearly as large as shade trees.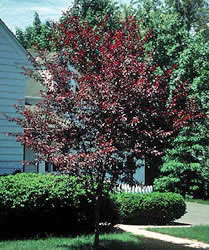 Flowering Plum trees can be used in many places on your property.
Leaves are purple throughout the season, a nice change from all the greenery.
Pink flowers in the spring which are quite interesting against the purple foliage.
15 - 25' high and wide
Zone 4B to 7A
15 - 25' high and wide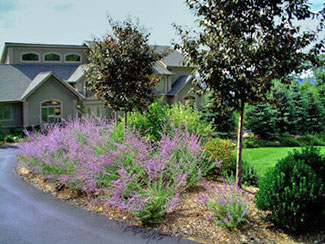 If pulled out far enough, it can be used at a house corner.
Use it to line the driveway as shown in this award winning design I provided for a client (or even at the driveway entry).
They would also be nice at the corner of a patio where you can enjoy their color all season.
There are a few Plum tree varieties. One of the nicer ones is Newport Plum.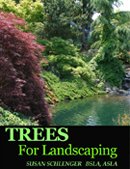 To further help you with information on trees, get my FREE ebook
Trees For Landscaping
where you will find the following:
My very favorite trees
The top ornamental flowering trees for front and back yards
Shade trees - my choices
Information on great evergreen trees
Tree information, such as heights and widths, growth rates, etc.
Professional tips on use and placement
These are trees that I use in designs for my clients. I also provide many beautiful tree pictures. Take a look! You will also receive great landscape ideas from me!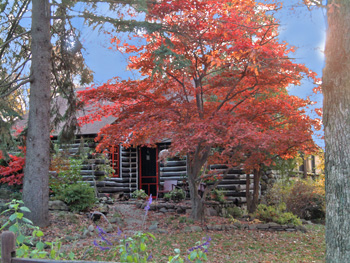 Japanese ornamental tree with fall color. That's the log cabin I used to live in!

I love this tree, although it does not flower. It has so many great features for an ornamental tree.
There are so many varieties of Japanese Red Maples. I am talking about the ones that get large, not the little weepers which I don't like. I once worked at a large garden center and my boss had a book on all the varieties (there are probably even more now).
I could not believe all the different types. Big leaves, small leaves, very serrated leaves. Some of the nicest are those that stay red all season, as the variety 'Bloodgood'.
I also love its form. It gets rather round in shape, but a little "Japanese" looking too...slightly weeping (very slightly).



The The Flowering Dogwood tree is one of our native trees.

It is a great all season plant. In the spring it produces pink or white flowers, depending on the variety.

In the summer it has lovely green leaves and a very pretty shape.




In fall, it presents beautiful red berries which attract birds, and in the winter its pretty branches can be appreciated.
It does not get too big, so is easily incorporated into the residential landscape. I often use one at a house corner.

However, there are many ways and many places to use the Flowering Dogwood tree.

Use three of them out in the lawn, line your driveway, or use two at the driveway entry.

One placed near your front door is nice too.

Zone 5A to 9A
20' to 25' High
20' to 30' Wide
Part shade to full sun
Weeping form.
Pink flowers in the Spring.
Nice choice when you need a strong focal point.
Nice n

ear a pond

or waterfall.
This is a striking tree both in its weeping shape and also its beautiful flowers!



White Birch Tree

It's beautiful white bark definitely stands out in the landscape!
It can be either single stemmed or multi-stemmed.
Leaves are small and open....tree is less dense than others.

White Birch does not do well in the warmer zones. May be susceptible to borers. Choose disease resistant types, such as Whitespire.

These ornamental trees can be limbed up to create more useable space under it and nearby. Limbing it up also shows off the beautiful bark.



Another beautiful Birch tree with peeling reddish brown bark.
Available single or multi-stemmed.
Resistant to birch borers.

Known for its beautiful peeling brown and tan bark, this tree is a winner! It was the first tree I bought for my yard when I moved. Along with the bark, it has a very pretty yellow foliage in the fall.

I prefer the multi-stem trees which have multiple trunks. These also can be limbed up (lower branches removed) to show off the bark.
Small flowering tree.
'Centennial' and 'Royal Star' are nice varieties.
Flowers very early in the Spring.

Zone 4A to 8B
10' to 20' High
10' to 15' Wide
Part shade to full sun

Most Star Magnolias have white flowers. However, if you want a pink flowering one, consider Magnolia 'Jane'!

This is a great, small flowering tree that can be used in almost any small spot. It will even do well with shade.
But wait! While most Star Magnolias have white flowers, not this one...they're pink and gorgeous. This is one of the prettiest small flowering trees.

It has a lovely shape. It is even smaller than some of the others, as it only gets 5 to 10 feet wide. It will take partial shade to full sun. Click here to buy the lovely


Enkianthus

If you are looking for an unusual tree...this is it.
With its uncommon beauty, lovely bell shaped flowers and great fall color, this small tree is a great choice, if you can find it!
It's very pretty near a patio.

Zone 5A to 7B
12' to 18' High
10' to 15' Wide
Part shade to full sun

Related Pages
Pink Flowering Ornamental Trees
Shade Trees
Evergreen Trees
Front Yard Landscaping Ideas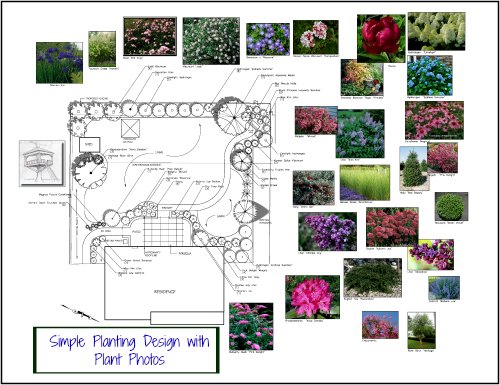 If you enjoyed this page, please share it!

Landscape Design Advice

›
Landscape Trees

›
Ornamental Trees