Landscape Structures in The Garden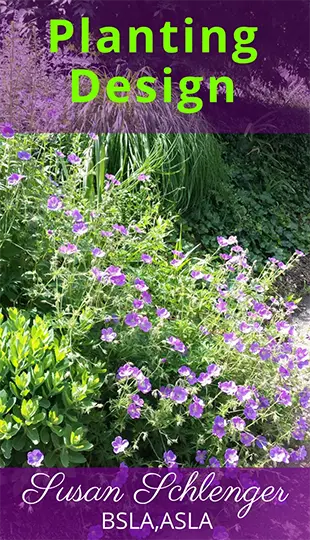 Get your free planting design guide!
I love to include landscape structures in my designs. These can be arbors, outdoor pergolas, garden trellises or outdoor gazebos. Although they can be costly, they really can be a great addition. Some of my most striking projects include these features.
These types of landscape features can be a beautiful focal point and also serve a purpose. One of their main functions is to provide shade.
Outdoor pergolas are often used as they can be integrated into patios nicely. Arbors are eye catching because they typically mark the entry to a a specific garden area.
Arbors
A garden arbor is a structure that gives an old fashioned feel to the garden. It is a structure that you can walk through, and can be geometric or arched. Please visit my other page to learn more about arbors.


Outdoor Pergolas
An outdoor pergola is a garden structures that can serve a few different functions. First of all, a garden pergola is a lovely landscape focal point and architectural element. In addition, it creates shade and therefore provides for a space that is comfortable in the heat of the day. It also provides a space unto its own which becomes an outdoor room.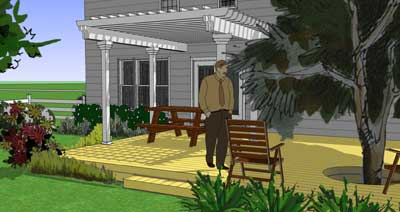 Here's a lovely landscape structure, a pergola, set on a deck. 

A pergola can also have vines growing up the columns. They are planted near the column bases, grow up the columns and often cover the top of the pergola. Seeing a beautiful flowering vine against this type of landscape structure can be a breathtaking sight!
Pergolas can be made out of various woods or even maintenance free materials. If your lifestyle is such that you do not want any upkeep, pvc type materials may be something to consider. Pergolas made of wood are typically painted or stained to look their best.
If you are thinking about landscape structures for shade, you could also use an outdoor awning. These can be retractable, providing a solution for when you might want sun on the area also. There are awnings that operate manually and also those that work electrically...with just a push of a button.
Related Pages
Pergolas - See my design that was featured on the Nate Berkus show!
Outdoor Kitchens 
Outdoor Grills
Hot Tubs
Seat Walls
Decorative Garden Bridge


Garden Trellis Design
A trellis can be an overhead structure, it can be placed on a wall, or it can be part of an archway.
A trellis can be made of many different types of materials.Wood is typically used, but as with pergolas, there are maintenance free choices too. Please go to my page ongarden trellis design to learn more about the different options and uses in the garden.
More Related Pages
Deck Ideas 
Garden Benches 
Fire Pits 
Green Roofs 
Types of Wood
Bird Feeders
Wild Bird Feeder 
Window Bird Feeders 
Thistle Feeders 



Outdoor Gazebo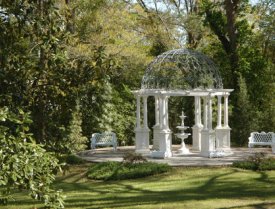 An outdoor gazebo is basically a semi enclosed structure. It is typically round or hexagon/octagon shaped with a roof.
An outdoor gazebo is typically made of wood and can be natural, stained or painted.
Gazebos usually have a railing around them. The floor can be part of the Gazebo and made of wood or it can be purchased without the wood flooring. In this case, other hardscape materials can be used for the floor, such as stone, pavers, or brick.
Gazebos can be used in a pool area. They also look beautiful set away from the house in their own separate area. This area might have a beautiful view or overlook a pond and waterfall.


Outdoor Furniture
Of course at some point you will need outdoor dining furniture. Consider any of these types.
Wicker Furniture
Aluminum Furniture
TeakFurniture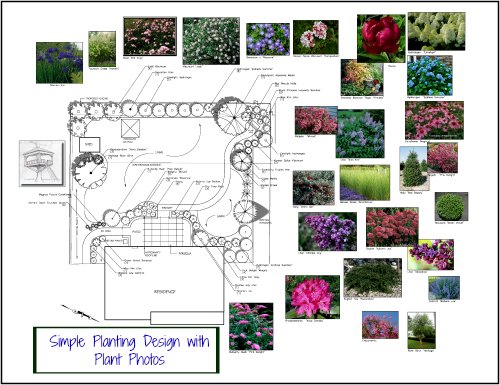 If you enjoyed this page, please share it!

Landscape Design Advice

>
Landscaping Ideas
> Landscape Structures