Fast Growing Trees
My Favorite Trees For Privacy or Shade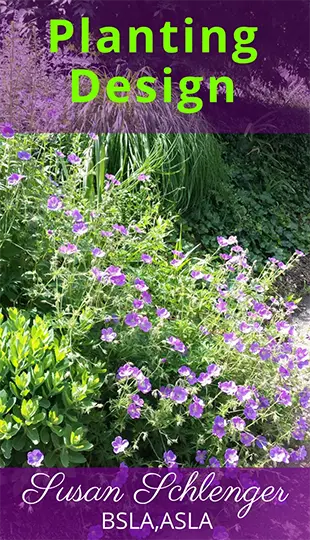 Get your free planting design guide!
We all want fast growing trees...we want that shade and/or privacy now!


However, some trees just grow faster than others, and this might be important for a variety of reasons:
You want privacy and you really don't want to wait that long to have it.
Shade is a priority for a very hot and sunny location.
You just want a more mature landscape.


*Note - sometimes fast growing trees are weaker plants and shorter lived, so be careful which ones you select. An example of this would be the Silver Maple.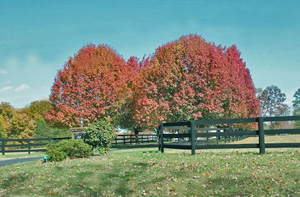 Pear Trees Lining a Driveway


Here are some fast growing trees that I would recommend because they are also beautiful and hardy. Be sure to check each tree's plant zone to make sure it grows in your zone.



Quick Growing Evergreen Trees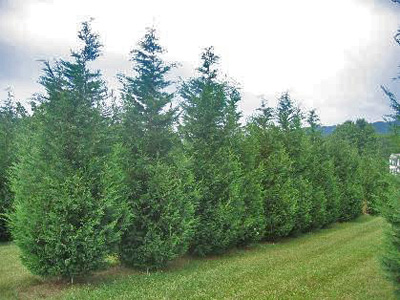 Leyland Cypress Trees
Leyland Cypress (learn more) - a very fast growing evergreen tree. For really fast screening, Leyland Cypress is a good one. It will grow a few feet each year!
Green Giant Arborvitae (learn more) - this is another fast growing evergreen tree. It's probably one of the best choices for privacy. Evergreen, speedy growth, and wind and ice resistant.
Need some additional great information on landscaping trees for your property? My new ebook Trees For Landscaping tells you everything you need to know. Take a look! (Great pictures too!)



Shade Trees

Here are some very nice shade trees that will mature more quickly than many others.

Pear 'Chanticleer' - gets to be about 15' - 20' wide with beautiful fall color. Early spring flowers. Pear trees look great lining a driveway or out in the open. 'Chanticleer' is one of the narrower trees and should be considered if you are tight on space in a particular area of your landscape.
It does have a pyramidal shape.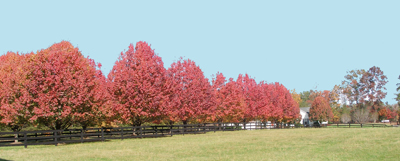 Pear Trees


Honey Locust - golden fall color with delicate foliage.
Red Maple ' October Glory' - one of my favorites! Fall color is outstanding, as can be seen in this photo. It's the middle tree.
This is one of the trees you see in the fall that are breathtaking. Its canopy is oval in youth and gets to be wide and graceful as it ages. The leaves are medium size and very pretty and the tree is nice throughout all the seasons.
It will get to be about 45 feet tall and about 30 feet wide.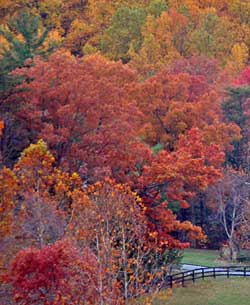 Beautiful Red Maple Trees

Weeping Willow - for large spaces...looks great near water.



Willow Oak


---
To further help you with information on trees, get my FREE ebook Trees For Landscaping where you will find the following:



My very favorite trees
The top ornamental flowering trees for front and back yards
Shade trees - my choices
Information on great evergreen trees
Tree information, such as heights and widths, growth rates, etc.
Professional tips on use and placement
These are trees that I use in designs for my clients. I also provide many beautiful tree pictures. Take a look! You will also receive great landscape ideas from me!
---

Related Pages:
Evergreen Trees
Shade Trees
If you enjoyed this page, please share it!


Return From Fast Growing Trees to Landscape Trees
Landscape Design Advice Home