Landscaping For a Ranch House With Small Front Porch
by Shaunna Lasher
(Dalton, MASS USA)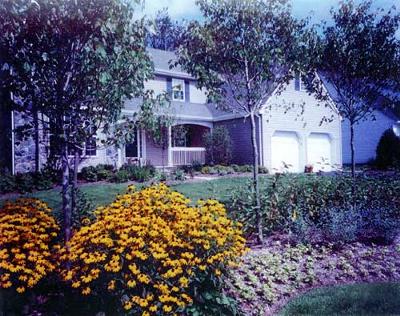 front yard landscaping
I need some front landscaping for my ranch house which has a small front porch.


Ranch house on a rectangle lot. Just put 4X6 landing type porch out front. Want to know how to design around the foundation. Would love a cone shaped, yellow, cypress in front corner. Raised bed costs to much money, I think. With rectangle house on a rectangle lot do I make the beds rounded to add interest? That is what I would like to do. Live in North East, and am starting to save and plan. I want something different, but very colorful, varying heights and just a wow factor. House is a dull light grey, very boring. Have planted two Crabapples and a Japanese maple out front already. Yes, my yard is huge and traffic comes at the front of our house at a slow speed. Foundation planting would be facing south. I am, as usual, looking for a landscape that is easy and inexpensive.
ANSWER
I don't know where you placed the trees, but that is a good start. You can see the beauty of landscaping trees in the above photo. Too many homeowners don't realize how important
landscape trees
are for scale and height to make a landscape design look right. House corners are good locations, as long as the mature widths are taken into consideration.
The general concept to follow would be for you to place
evergreen shrubs
along the foundation. You can match them on either side of the front door, planted in groups of 3, 5, 7 etc. You can add another variety or two in also. It all depends on the length of your house, the layout, etc. Some evergreen shrubs to consider for a sunny area are:


Blue Holly 'China Girl'


Red Barberry 'Crimson Pygmy'


Boxwood, 'Green Velvet'


Most people are constricted by the plant depth if they have an existing walkway. If you do have the depth, consider adding another layer or two in front of the evergreen shrubs. These can be lower shrubs and/or
perennial flowers
.
So far you would have a pretty monotonous design as far as plant heights go. So I like to add in one or more tall shrubs. These might be placed near the front door, towards the front of the bed if it is deep enough and does not block a window, or even on the other side of the walkway in a planting bed.
Try to alter plant textures. Don't place a Japanese Holly next to an Azalea, for example. They both have small, oval leaves. You want different leaf sizes and/or shapes so the adjacent plants stand out.
I hope this was helpful. I also provide
online designs
!
"Susan, what a pleasure it was to work with you. You made me feel like I was your only client - responding late at night and always so quickly! Your design is amazing and we only hope we can do justice to it when we plant . You have such fantastic ideas and you are so open to suggestions and changes. Loved working with you - now if you could only come to Canada and plant it !!! "
Helen, Ontario-Canada