How To Landscape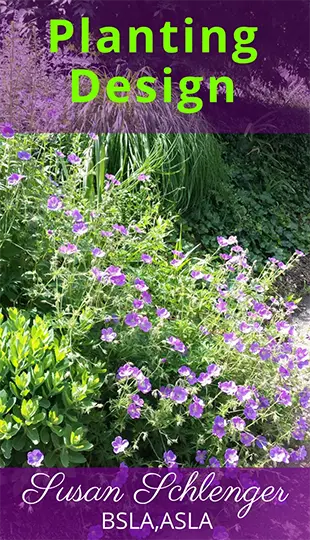 Get your free planting design guide!
How to landscape...sounds complicated, doesn't it? I'm not saying that it's easy.
It's great if you have either training and/or experience along with a good eye. Having all three is the best. Training can be a formal education or it can be self taught via books, classes, etc. For me, I needed schooling and experience.
However, there are certain things you can pay attention to that will help you create a very nice landscape design.
I am going to divide them into two areas. They are the practical part and the theoretical part. Why? Because the practical part will let you design your property while the theory will be part of your thought process in the background.
How To Landscape Your Front Yard?
Stand back from your property and take a good look. What do you like about it? This might be the land itself, old trees, your beautiful house, a welcoming feeling, nice existing plant material, the setting, the views, flower gardens, and so on.
What do you dislike about it?
Are there overgrown plants?

Has the front walk seen better days?

Do the plants just not look right.

Is it a mess or just plain boring?!
Yet we also have to look at the front landscape as a whole. Starting with the larger concept, I look at a residence and create a mental picture in my mind of what it needs.
What Do You Want - The Following!
Trees or large shrubs at the house corners to frame the house.
Plants that are massed in groups along the front foundation. Read more aboutfoundation plantings.
Layered plantings with a change in textures and sizes if there is room.
Taller plants to break the monotony of all low plants.
A very inviting walkway. Either an interesting geometric design or a beautiful curvilinear one can provide this.
A practical and attractive driveway.
Driveway plants to welcome, particularly at the driveway entry.
Lighting for ambiance and safety.
Proper drainage to avoid water issues.
So now I have an idea of what's wrong, what's right and what I would like to see...and how to landscape the property. The design must be both creative and functional. It also has some theoretic basis to it.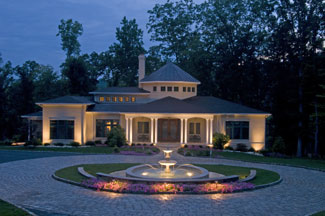 More Ideas on How To Landscape

Front Yard Landscaping Ideas

Landscaping Pictures

Driveway Designs
Back Yard Design
A backyard design is similar to the front, but since it is typically a more useable space, other landscape elements come into play...one of the most important being the patio or deck.
Patio Layout and Design
Here are some things to think about regarding your patio:
How large should your patio be? - this should be determined by the size and amount of pieces in your outdoor furniture and other patio features.
What material would you like (or can you afford) - see Paving Costs
Would you like any special features?
seat walls - these add onto the cost but provide something special and a very nice focal point.
a pergola - creates shade and patio architecture
outdoor kitchen - from a simple grill to the works!
fire pit - built in or moveable...I prefer the moveable ones.
a pretty bench - find a special one to add interest to your design
Most people would like some nice features. What you decide on is mostly about what is within your budget!
Read more about other backyard ideas such as how to landscape with plantings, specialty gardens and more at Backyard Landscaping
Some Easy Theory To Think About To Make Your Landscape Special
There are certain acceptable principles that work.
As an example, I may place a pretty bird bath in a garden, just knowing that it will be interesting. I may not be thinking about focal points or scale, although the bird bath relates to both and might be an important part of the landscape design.
Scale
What is scale? In simple terms, it means that sizes of any landscape elements, including the residence, should relate to each other in appropriate ways.
Would you place a tiny fountain in front of a huge house? No. It would not mean anything. Drawings and 3D design in particular are a great help in this area. You can't just assume that something will look right.
Focal points
Garden focal points (visit page to learn more) create interest in the garden. A focal point is something that has been placed so that your eye is drawn to it. It can be something of great beauty, interest, fun, awe, etc.
Repetition
When things repeat in a garden, continuity is created. They bring the landscape together for a cohesive look.
Other areas of design include the study of color, front foundation plantings, plant heights, plant textures, privacy, site analysis, surveys, massing plants, structure and so on. Want more ideas on how to landscape? Visit Landscaping Ideas

Take a look at some Ebooks I have written for more detailed information.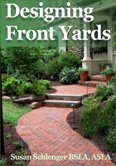 Designing Front Yards
Learn some great tips on how to create a front yard design that will really be unique and special! Confused about front foundation plants? Are you not sure where to place your plants? Do you want some low maintenance colorful perennials? You will find out about all that and more...take a look.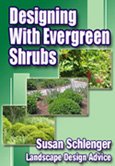 Designing With Evergreen Shrubs 
Take a look at this ebook which has professional ideas, plant recommendations and pictures. You will find out how to use plants together to create an outstanding design and find out which are the right plants to use for your property.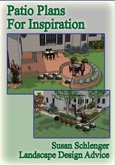 Patio Plans For Inspiration 
See actual patio plans that I did for some of my clients. Both 3D and plan view designs are shown so that you can use them or get ideas for your own project. Explanations are also provided.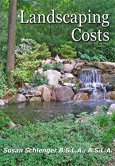 Landscaping Costs
Find out what actual parts of a landscape cost. Plants, different paving materials, steps, pools, ponds, lighting, and more are all listed along with many photos to show examples!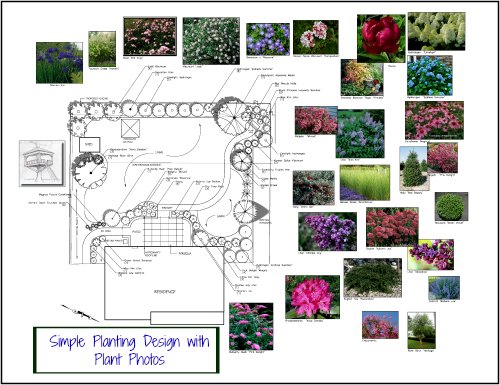 If you enjoyed this page, please share it!

Landscape Design Advice

>
Landscaping Ideas
> How To Landscape