Landscaping For Large Country Acres

(IN)
You can see where the yard divides. The bushes are all gone in front of the house.
I need a front yard design or ideas.I live in the country on 6 acres of land. The problem is that there is no landscaping on our property. The land used to be farm ground, and there is not anything to build landscaping around.
I live in Zone 5 with hard, clay soil. The plants for the landscaping would need to be full sun. I have two questions:
1. I have one acre of front yard in front of the house that we do not use. We have planted trees, and let it grow up in native grass in the summer. What type of landscaping would you use to divide the one acre yard from the yard in front of the house that we do use?
2. Also, I have a flowerbed that goes across the front of the house, between the sidewalk and the front of the house that is only 2 ft wide. What can I plant there that will have height, that will draw attention as you drive by on the road, but won't outgrow the space? (the bushes that are in the photo have been removed) Any idea's that will not be too costly will be appreciated.
Thank you!
ANSWER
Hi,
To be honest, I would probably just leave a natural divide. What I WOULD do however, is create a curvilinear, sweeping division to mark the different area. Large sweeping curves iswhat I see. I think this would look the most natural. If you planted a few, nice shade trees in the cut lawn area, it should look nice.
You can also add some meadow flower seeds to the natural area!
The area at your house that is 2 feet wide is a challenge, especially if you want some height.
Why not make it all perennials? This would be a lot of fun and add a lot of color. The winter scene would not be too exciting, but maybe that is less important.
Some you might consider is Lavender (tall variety), Daylilys, and Delphinium for height.
You might also consider putting up a few trellises with climbing, flowering vines.
Also I would strongly suggest adding trees at your house corners and also near your front door entry. Your home is long and this will help to frame it.
Susan
Join in and write your own page! It's easy to do. How? Simply click here to return to Landscape Design Questions & Answers.
Landscaping Help
We have a french style home and have not been happy with landscaping jobs at all. We spent a lot of money only to have most of the plants die. We put stone around the flower beds and this is the only thing I have been happy with yet.

Now what will look good and give a lot of color? We had English Boxwoods but they have all died. What will take the west sun and look good in front of a wall, which is the wall against the garage?

Help please, Im tired of spending money only to be disappointed!

ANSWER

I am not surprised that the Boxwood died. A west sun condition against a wall is a VERY hot exposure.

You didn't mention how high or long the wall is, but here are some suggestions that will do well. Just make sure they are watered correctly and check your plant zone ant that of the plants.

1. Japanese Holly 'Morris Dwarf' (wide, but not too tall). It can grow up to 4'H by about 7'W. This is an evergreen shrub, so for color you might consider adding perennials in front of the shrubs. Lavender 'Hidcote' or Nepata 'Walker's Low' are good ones.

2. Red Barberry 'Crimson Pygmy' - about 3'H. Red leaves. Depending on where you live (don't know), it might be semi-deciduous (lose some or most of its leaves in the winter).

3. Wintergreen Barberry - 4' to 6'H. Nice fall color.

4. For a deciduous plant, consider Weigela 'Minuet'. This shrub gets to be about 2' to 3'H and produces beautiful flowers in the spring.

5. For a really floral look, consider roses. Carefree Delight, Carefree Wonder, and Knockout roses are low maintenance.

If you have deer, and unless you want to spray for them, do not use roses or Japanese Holly.

I hope this was helpful.

Susan

Join in and write your own page! It's easy to do. How? Simply click here to return to Landscape Design Questions & Answers.
Front Yard Tree Planting Locations, Planting Beds and Landscape Drainage
by Neal Eo
(Houston, TX)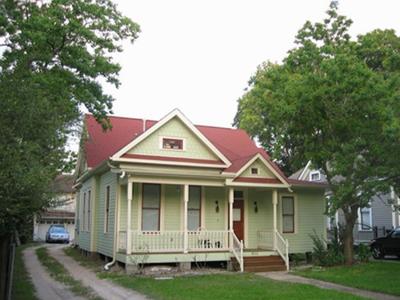 Front Plantings - Trees, Plants, and Landscape Drainage
I live in Houston, TX and I have a very rough basic front yard with mostly grass. I have 2 Nutall Oak trees on order to be planted in a week.

Challenge #1: Where to plant these 2 trees? I have a tentative plan to plant them at opposing ends of the front yard up near the street, just on the house side of the drainage ditch.

I also plan to make some large plant beds in the front yard; a raised one on either side of the walk, near the house, then a lower one in front of each of those...might eliminate all the grass...any comments on that?

I will also be putting in two drainage swales tying the downspouts on either side of the house out to the ditch out by the street. They will run up the edge of the driveway and the edge of the lot on the other side.

Any advice would be much appreciated.

Thanks,
Neal
--------------------------
ANSWER
I like your front yard tree planting ideas. At first it may seem like a lot of trees for the size of your yard, but the trees will grow tall and the canopies will be high. The appearance of street trees will be attractive.

I think it will be a challenge to create the raised planting beds as you mentioned, due to both a space issue and drainage issues. It does not appear that you have the room...once you raise the beds, the water must flow properly. I think it will get complicated.

Your ideas of removing the lawn is definitely an option however. It's a matter of your personal preference, but I do think it could work well and look nice. Perhaps you could have bluestone stepping stones meandering through. A good planting design is a must for this concept. James Von Sweden wrote a book (and designs this way) called the new American Garden.

He uses mostly perennial flowers such as ornamental grasses, Russian Sage, Black Eyed Susan's, etc. These are all easy to grow flowers and grasses. Some are long blooming perennials. Adding some evergreen shrubs could work too.

For more detailed, professional help with designing your front foundation planting, take a look at my ebook Designing With Evergeen Shrubs. There's even a sample page! It also shows you how to mix evergreen shrubs with perennials.

Regarding the drainage swales...typically downspouts are tied into pipes rather than leading to lawn swales when doing any type of landscape drainage. If there is a large flow of water, the swale may not be able to carry it. Also, you need a swale pitch of 1/4" per foot.

You would be better off installing a pipe and lead it to the ditch if you can. If not, you might need to explore other options, such as a drainage pit.

I hope this was helpful.
Regards,
Susan


Join in and write your own page! It's easy to do. How? Simply click here to return to Landscape Design Questions & Answers.
Landscape Help With House That Sits Close to Road
by Polly
(PA)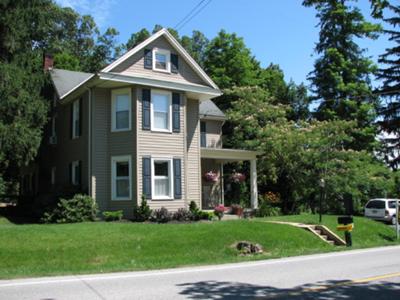 Landscape Help to Separate House & Road
Our home sits close to the road. I need some help to create a landscape design to separate our house from the road. I believe originally it had a cobblestone wall which is typical for this area. When we purchased it, there was a hedge, however it was filled w/poison ivy.

Any suggestions now that the hedge is gone?

ANSWER

Plants At Road
by: Susan

You could re-create planting beds on either side of your walkway towards the top of the slope. They may be straight or even curvilinear. I would make them fairly long and have them tie into the walk/steps.

Consider some evergreen shrubs as a background for perennials to provide color throughout the season. You might use Boxwood, Japanese Holly, or Blue Holly. There are lots of perennials you could choose from. Just make sure they take a lot of sun. I would plant them in groups of 3 to 7 and alternate the flower colors, times of bloom, heights and textures.

You can get lots of information on perennials here:
Perennial Flowers

I have also written an ebook on Evergreen Shrubs that you would find helpful:
Designing With Evergreen Shrubs

If you have any further questions, just post them here under Comments. I hope this was helpful.

Susan
Join in and write your own page! It's easy to do. How? Simply click here to return to Landscape Design Questions & Answers.
Need Help with Landscape Ideas
by Lynn
(USA)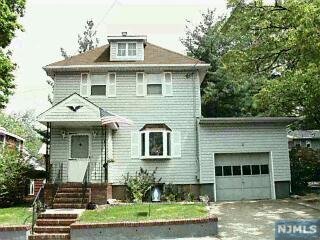 My ugly house
I have a house with a retaining wall in the front yard and I have no clue how to add curb appeal to the home. Right now the grass in the front is pretty much dead and doesn't do well.

Are there any websites or ideas that I can get some ideas on how to landscape ... maybe with pavers and flowers or something to get rid of the grass yet add some much needed curb appeal.

I've attached a picture, but the picture cuts off the left side of the house. The retaining wall actually extends over on both sides of the house so I need ideas to fill both sides.

Please help.
Lynn

ANSWER

Perennial Garden Ideas
by: Susan

Hi Lynn,
If you don't mind a little work, your property is perfect for the "New American Garden". It's not really new anymore, but it's a term coined by James van Sweden and Wolfgang Oehme, Landscape Architects.

Basically, it is a low maintenance perennial garden. Many native perennials are used. Some examples would be Fountain Grass, Maiden Grass, Russian Sage, and Black-Eyed Susans. It is filled with texture and color and most important...a lot of fun.

The key is to group masses of one kind together, so that the outstanding feature of that particular plant makes a statement. Use a minimum of three, but even better, use five to seven of one type of perennial. Change the textures of those that are near each other.

In addition, you could have some paths meandering through the garden. The material can be as simple as loose stone, mulch or bluestone stepping stones.

Add a bench somewhere. Have some plants that hang over the retaining wall to soften it.

You would need to cut down the perennials once a year, and possibly do some dead-heading of spent flowers.

Susan
Join in and write your own page! It's easy to do. How? Simply click here to return to Landscape Design Questions & Answers.
How To Landscape Front Yard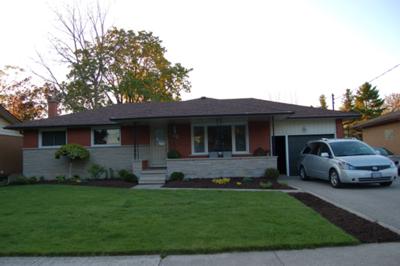 front yard plantings
Here's a question on how to landscape a front yard. She has a lot going on here!

Hi there,
Thanks for reading if you are:)
I love gardening but am really a novice when it comes to design - I tend to like straight angle things and therefore I have a hard time with plant placement etc., We just bought the house - well - 2 years at the end of this summer. Much of my time has been spend pulling out reshaping and getting good soil/mulch into the beds.

This year I added the strip up the walkway.....
the garden in front of the porch on your right - inside corner by the steps is framed out either by annual petunias - spring tulips - to frame the walkway and steps. The bushes on either side of the steps - the globe cedars - will fill out more and I want small things there because I like to see the entrance way to my house and don;t want it crowded by huge trees I need to prune every year.

The back middle of the front bed has a hibiscus bush which should grow to about the height of the porch ledge and fill out in width (its there but I clipped the branches off with the christmas lights so he's just wee right now) on either side of the hibiscus bush I will plant Dahlia's - Dinnerplate ones - because I LOVE them - only problem is that area then stays bare until they regrow each year.

I don't want anything higher than the porch blocking our view because we like to sit out there when deciding how to landscape a front yard. I have some low growing perennials in the front right corner and around the front to mid middle of the bed - echin - sedum stonecrop - blue fescure - yellow euonymus bush and a few others - I also always add petunias into both side of the beds to add color and fill some of the empty spaces.

Everything I have planted thus far is still small and needs time to fill out. I would like a LARGE stone for the middle area of the front bed but can;t afford one right now. The left hand bed has a hydrangea shrub in the corner near the door which will fill in that spot - the burning bush in front and beside will also fill in more.

I have the hostas under the tree and some astilbe in there as well as some coral bells and blue fescue......all of which are really small and hard to see right now - you may see some lilly's in the back kindoff hiding there - forgot they were there last year and didn't move them - going to let them bloom and then replace them in the bed where they can be seen.

Once again I will add petunias and usually coleus plants to the front beds for more color. Any ideas on what else I can add or how to make these beds more appealing regarding how to landscape a front yard?? I know its hard to tell right now as everything is small and hard for you to see. I really need ideas for the strip running up the driveway........its full sun almost all day.

Both beds get allot of sun - almost all day except for the naturally more shaded area in the corner and right up against the house due to the eve's. We are also doing some painting - garage door and man door have been done and the trim siding front door will be repainted - front door a nice green - trim around door and garage as well as siding the same beige as front door is now - then shutters the same color as garage door.

Oh!!! I also have a pot for beside my front door with begonias etc., and there will be a square planter on the ground on the far side of garage door - with a hanging bag of white impatiens on the brick up above the adirondack chair.
Now - if you've read all of that - your FAB :)

Any ideas on how to landscape a front yard for this homeowner...add your ideas!


Join in and write your own page! It's easy to do. How? Simply click here to return to Landscape Design Questions & Answers.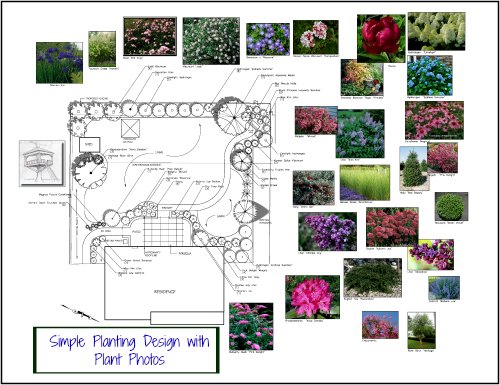 If you enjoyed this page, please share it!