Regulation Fence Setback Law creates small side yard
by Meg
(Aurora CO)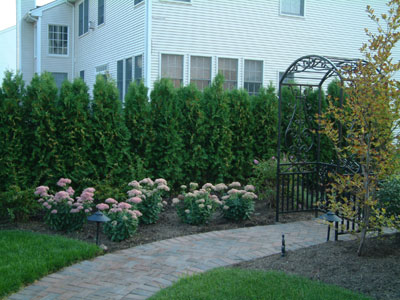 Plants for privacy instead of fence
Question about fence setback law and what to do to still have privacy, but with a nice planting design.


We're about to put a privacy fence around our backyard and have run into a big bummer of a problem. Due to local fence regulations and our type of property, we will be required to set our side-yard fence 10 feet back from the sidewalk. Not only does this "steal" 8 1/2 feet from our backyard, it also creates an awkward 10 foot side yard outside the fence. We're allowed to put an open-style 42" or shorter fence 18 inches from the sidewalk, but can't put our 6' privacy fence any closer than the 10 feet. Now we're at a loss for what to do with that 10 feet of "wasted" space facing the street. The one other house in our neighborhood that has the same issue has just filled the space up with white rocks. Our yard is so small to begin with, though, that I really hate to do that! Any suggestions on how to creatively landscape such an awkward strip into something enjoyable? Thanks!!
ANSWER
Hi Meg,
Above photo is a project of mine where Arborvitea evergreen trees were used instead of a privacy fence. See my last comments at end.
If you still want to install the privacy fence, you could plant some substantially sized shrubs along the fence with some perennials in front. The shrubs could be, for example, 5 feet wide. In front of those, towards the sidewalk, plant a perennial garden. You could use low maintenance perennials such as Sedum 'Autmumn Joy', Catmint 'Walkers Low' and some ornamental Grasses. In front of this you could plant groundcover or additional perennials that are shorter.
The idea would be to plant the entire area. Another idea, however, would be to plant the shrubs along the fence and leave a strip of lawn...about 4 feet wide, along the sidewalk.
You could plant Roses also, which look nice in front of a fence. They could be in a curvilinear bed (or a straight one) with, once again, lawn in front and along the sidewalk.
There is one other option. Do not use a fence at all, and instead, plant Arborvitae as a hedge. These will give you very dense privacy.Many varieties only get about 24" to 30" wide, so they won't even take up that much space...and they would get tall enough for a true screen. If they are letting you install a 42" fence, 18" from the sidewalk, they might let you plant these evergreen trees instead...possibly even closer to the sidewalk.