Driveway Entrance Gates
Pictures and Ideas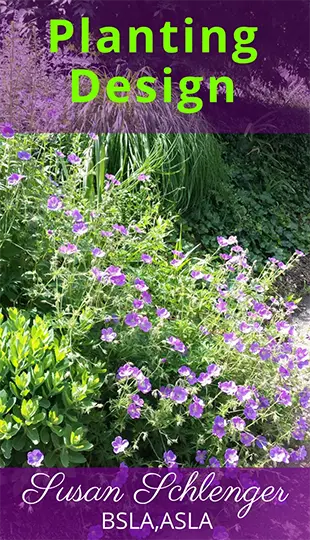 Get your free planting design guide!


Driveway entrance gates...an elegant welcoming feature! They are grand, they are beautiful and they are very estate-like. They are appropriate for properties with rather long driveways and typically operate electronically.
The most common entry gate material is aluminum, although wood, steel and wrought iron are also options. As far as aluminum driveway gates go, here are some facts:
1. Aluminum will not rust.
2. It looks like wrought iron but it is much more lightweight and there is little or no maintenance.
3. Aluminum gates are available in different grades.
There are many different styles to choose from.


You can find lots of gates that are standard where you just choose and order. For taller gates, you will have to use a company that customizes them. I have found this to be true for gates that are over 7 feet tall.
Why would you want a fence over 7 feet tall? You might want it for a sense of scale, but more important, to keep out deer.




Here is a driveway design incorporating driveway gates. You'll notice that they attach to driveway entry piers as most gates do.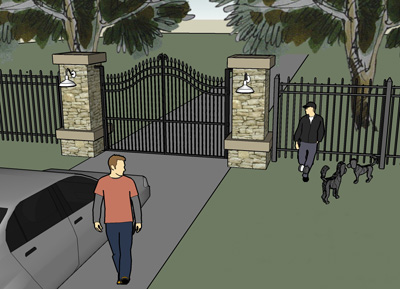 This 3D design of columns and gates was done for one of my clients so that they could actually see what it would look like. Notice that caps at the top are wider than the piers and the bases are also more substantial. Face stone will be used which is a flat stone that gets mortared onto a concrete block column. Attached to the columns is aluminum fencing
See pictures of different types of wall stone to use.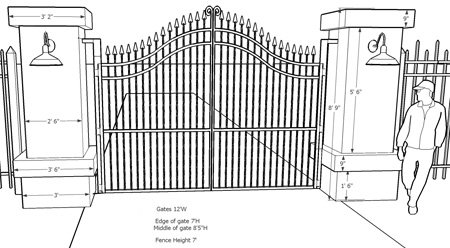 Here are the dimensions of the gates and piers. The numbers may be hard to read in the drawing so I am listing them for you. The piers are especially tall as adjacent 7 foot high fencing will be used to keep deer out of the property.
12' wide - gate width
7' high - outer edge of gates, where they joint the piers
8'6"'high - high point of gate
7' high - fence height
8'9"' high - height of piers
3'2"' wide - top caps
3'6"' wide - lower caps
2'6"' wide - width of columns
9" high - height of caps
If you enlarge the image, you will be able to see the few dimensions that are left. The piers, driveway entrance gates and fencing had to be designed in the right proportions so that everything looked right.
Here is a video of the front driveway design!

Related Pages
Driveway Paving
Driveway Edgings
Driveway Apron
Driveway Landscape
Driveway Lighting
Driveway Drainage



| | |
| --- | --- |
| I wrote this ebook to provide even more help specifically with front yard designs. Take a look to find out how it can help you. | And if you'd like to know real pricing for almost all areas of landscaping, you will find this book extremely informative! |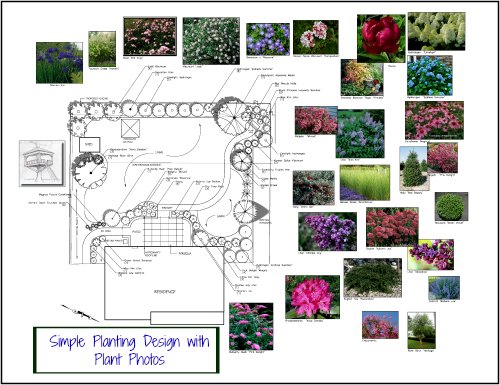 If you enjoyed this page, please share it!

Landscape Design Advice

›
Driveway Designs

›
Driveway Entrance Gates