Driveway Brick
Creative Ideas To Consider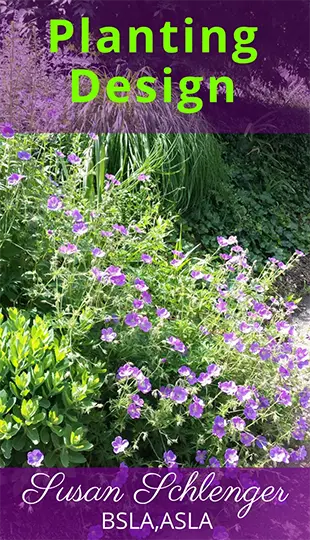 Get your free planting design guide!

Are you considering driveway brick for your project? This is a great choice as brick is a natural material. I usually prefer natural materials (there are exceptions of course!) to man made paving.
If you are worried about brick holding up or being strong enough for a driveway, please read further and take a look at the numerous pictures of brick driveways below. Also see my note about the Charlottesville Downtown Mall at the end!
Here are some notes about confusing terms and misconceptions.
Brick pavers are thicker than regular brick and used for surfaces, such as driveways and walkways.
Brick pavers are different from concrete pavers, which resemble brick. Pavers are made from concrete, while brick is made from clay. The natural clay material adds to their beauty.
Much brick of today has a high PSI and thus will be strong enough for vehicular traffic. It's even used on streets.



There are many types of driveway designs you can create with driveway brick paving. Circle designs, various patterns and numerous brick colors can all be had to make your brick pavers driveway unique and interesting.
Take a look at some of the lovely driveway brick below.



Circular Patterned Brick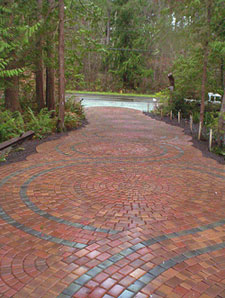 What a creative design!
They have used numerous circles and connected them all into a flowing pattern.
In addition, the circles have been outlined by two darker colored brick rows to further emphasize the circles and curves.
Notice how the driveway edges are not straight? They have become the edges of the circles.
If you would like to see some ways to use brick with asphalt for some creative looks, see my page showing 3D driveway designs. Here I discuss pavers, but certainly brick can be used too.



Simple Brick Design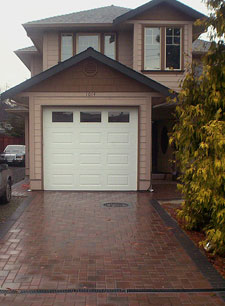 On the other end of the spectrum, you can opt for a very simple driveway pattern.
This is a simple (but very nice) herringbone pattern laid parallel and perpendicular to the garage.
A driveway trench drain has been installed to collect surface water. This is just one driveway drainage solution.
Above photos courtesy of stonetaffy.com










Circular Driveway - Reclaimed Brick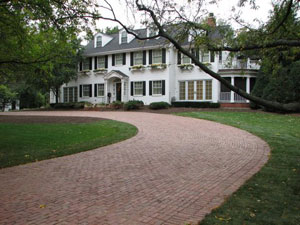 Here is a lovely curvilinear brick driveway. But instead of using newly manufactured bricks, old bricks were installed.


This brick has been reclaimed from old brick installations, many of them streets.
Reclaimed brick is available from Historical Bricks and other companies.
Old brick supplies (and granite cobblestone) change periodically based on what is available.
This makes for a very unique driveway in that it's not likely you will see this brick around.


Herringbone Design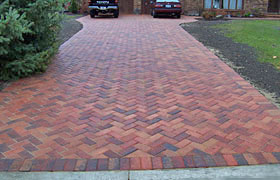 Once again, the herringbone brick pattern has been used on this project by Accent Brick. But do you notice the difference between this photo and the straight driveway above?
The direction of the pattern has changed. The bricks were laid on the diagonal to add even more interest.
There are many different driveway brick patterns (see photos) that can be used for a driveway.



Multi-Colored - Simple Pattern

This is probably the most simple pattern shown here. Yet it's beautiful.
The curve of the driveway, the soft brick color and the nice soldier course all add something to the design.
Even the sidewalk works well.
Bricks are multi-colored, but soft.




All of these projects have been dry laid with no concrete. With this type of brick installation, concrete joint cracking will never be a problem. It is also much less expensive. Driveways can have a huge amount of square footage.



My Helpful Ebooks

| | |
| --- | --- |
| I wrote this ebook to provide even more help specifically with front yard designs. Take a look to find out how it can help you. | And if you'd like to know real pricing for almost all areas of landscaping, you will find this book extremely informative! |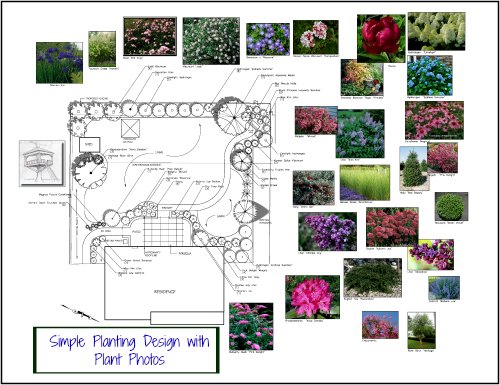 If you enjoyed this page, please share it!

Landscape Design Advice

›
Driveway Designs

›
Driveway Brick